We Very Likely Have Seen An Equity Market Peak As Biotech, Junk Fall Along With Bond Yields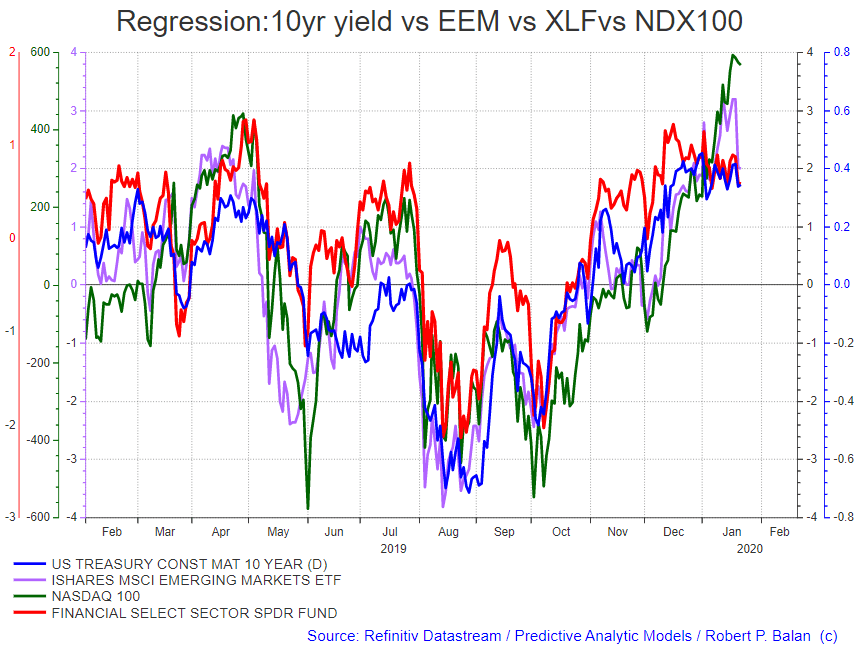 We were also ecstatic because there were other important developments in the Federal Reserve's management of systemic financial liquidity, which were telling us that the market has to quickly adjust its perception of the central bank's easy money policies. In other words, Fed Chair Jerome Powell's supposed "put" on the equity market is starting to be dismantled.
Here is the first significant indication that the Fed is clawing back the liquidity flood it unleashed in Q4 2019 - repo purchases are now collapsing in nominal (stock) levels, as shown in the chart below (dashed black line).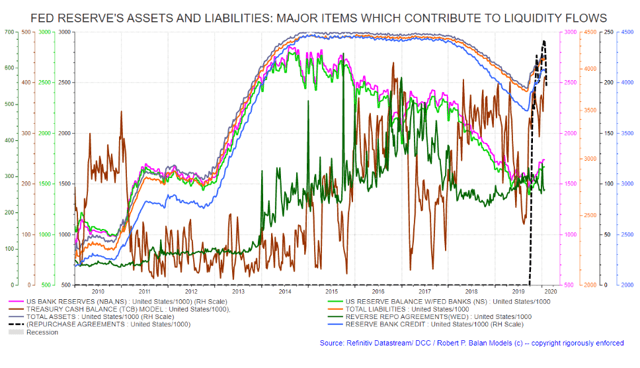 Here is another (an off-shoot of the repo purchase drop illustrated in the chart above):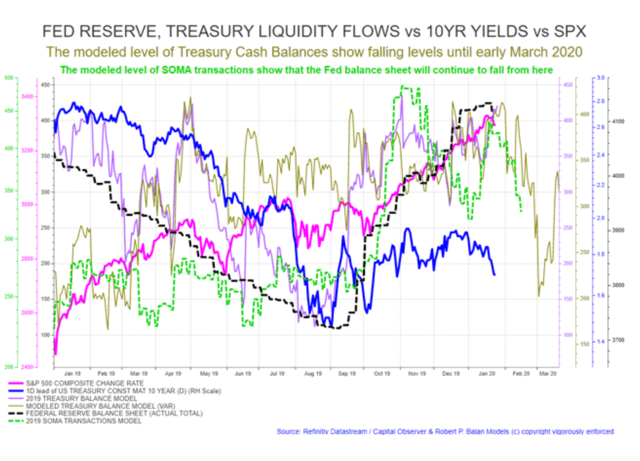 The total dollar value of the Fed's balance sheet is starting to fall (dashed black line, chart above). Our modeled change rate for the balance sheet falls sharply until at least the middle of February. Moreover, our modeled changes for the Treasury Cash Balance suggest this account will fall until early March, suggesting that SOMA activities (in dollar-value basis) will be falling until then.
That means total assets in the Fed balance sheet will fall, as well as its liabilities, meaning bank reserves and Treasury cash balances, as well as bank credit (credit provided by the Fed to commercial banks) will also fall. These are developments that are definitely not friendly to risk assets. Bond yields should therefore fall even further, as less liquidity pushes up the price of credit/bonds.
"Not QE" stimulus will end in March 2020, period
It is important to note that the "Not QE" stimulus, which many mistakenly tout as the next QE4, was undertaken by the Federal Reserve as auxiliary measure to ease the repo market seizure during Q4 last year. The Fed never promised to turn it into a full-scale Large-Scale Asset Asset Purchases (LSAPs) program, and indeed $60 billion monthly T-Bill purchases are scheduled to end in March 2020.
The Fed Reserve undertook that Permanent Open Market Operations (POMOs) to increase bank reserves, whose supply was then plummeting. Falling bank reserves always push up repo rates at unpredictable pace (see chart below), hence the Fed wanted to add more bank reserves to the system to anchor the rise of repo rates, if it happens.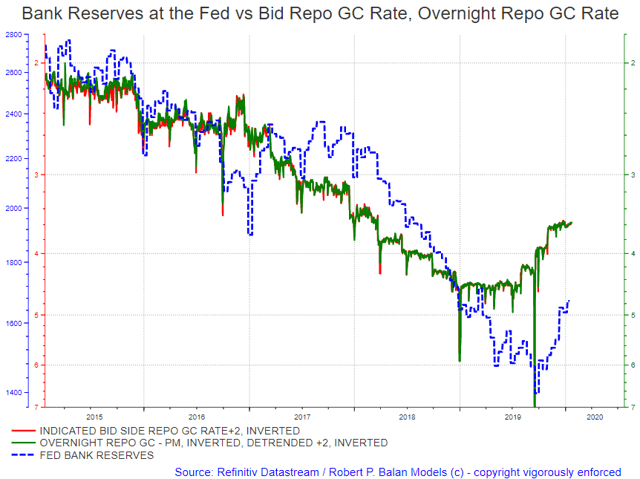 In Q4 2019, bank reserves have been falling due to the Fed's previous Quantitative Tightening (QT) program, and due to the machinations of large US banks like JPMorgan (NYSE:JPM), which siphoned off and withheld bank reserves from the repo markets, causing large-scale shortages and the subsequent blow-ups in repo rates. However, given the smooth transition of the repo market from a feared year-end debacle, the Fed will likely wind down "Not QE" program in March as scheduled.
Disclosure:
I am/we are long GOLD, BONDS, EURO.
I wrote this article myself, and it expresses my own opinions. I am not receiving compensation for ...
more