US Yields Are Ignoring Inflation - Here's Another Reason Why
The idea in this static state is you get what you see. Nothing wrong with this, by the way. The advantage of this strategy is it is based off what we know, rather than what we forecast.
When it comes to a non-static state, the biggest risk is that US rates head higher again. Despite the demand factors that support fixed income right now, there is an oomph to the US macro economy that is manifesting in higher inflation. That should result in higher market rates, and a wider spread into US Treasuries.
History shows that the fully FX adjusted spread between German Bunds and US Treasuries trades in a range between +1.5% and -1.5% (see the chart above). At 1% now, it's nearing an extreme. That present opportunity. But based off our own forecasts, it is likely to peak out at closer to 1.5%. So the opportunity can improve, if rates do move higher.
The long term all-in spread to US Treasuries out of the German Bund when FX-adjusted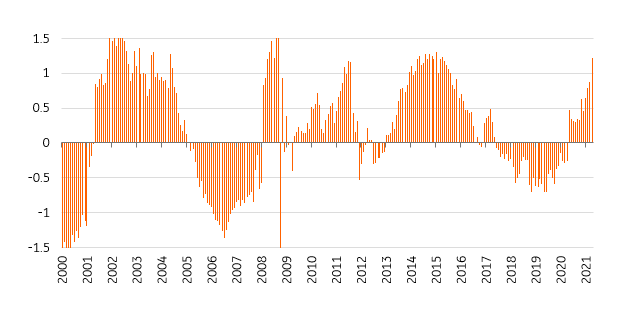 Source: ING estimates, Macrobond
At the same time, that spread at 100bp today does in part explain why there is demand for US Treasuries when they optically present little real value when compared with core US inflation running at 3% (and headline heading for 5%).
We still think the US 10yr heads for 2%. But if we are wrong, it will reflect factors likes the ones described here. Ultimately, the US 10yr at 1.65% is a number that players can take or leave. The macro story suggests it should not be touched. But a glean of alternatives shows that on some measures it might be the best that's attainable.
Some assets managers will use this as a rationale to accept buying into current US yield levels, perhaps adding more as market rates head higher. The same approach sees some liability managers choosing to receive the fixed rate on interest rate swaps, and again adding more should those fixed move higher.
These approaches are conservative means to approaching current quite tough-to-call market circumstances.
Disclaimer: This publication has been prepared by the Economic and Financial Analysis Division of ING Bank N.V. ("ING") solely for information purposes without regard to any ...
more