US Yields Are Ignoring Inflation - Here's Another Reason Why
The implied arbitrage in 2019 then, was for holders of German Bunds to lend (bond repurchase) them for cash and employ that to buy USD 3-months forward. On an annualized basis that produced a 50bp pickup from US Treasuries into German Bunds synthetically transformed to USD. The implied pick-up in yield was even more in interest rate swaps, where an implied alpha of 100bp was attainable. That can be gleaned from the left half of the graph below (mostly 2019).
This is the difference between the US Treasury yield and the 10yr Bund yield when the latter is FX adjusted (%)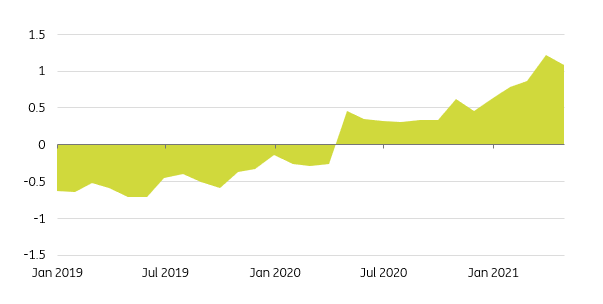 Source: ING Estimates, Macrobond
But as we progress towards today, a clear yield advantage in US Treasuries is in evidence (right hand side of the chart above). This has come from the Federal Reserve cutting rates as Covid first broke (reducing the FX hedge value to the synthetic Bund), and then the subsequent rise in Treasury yields added to the concession in Treasuries.
We now find there is an implied 100bp spread from German Bunds to US Treasuries, where the German Bunds are FX adjusted as described above (so we compare synthetic USD to vanilla Treasuries). And in interest rate swaps, and the equivalent spread is 70bp.
In a static state, this is a rationale for global asset managers to like vanilla Treasuries. It also supports liability managers that borrow in EUR (or JPY). Simplistically, asset managers should be where FX adjusted yields are highest (maximise returns), while liability managers should be funding where FX adjusted rates are lowest (minimise funding costs).
There are issues with this simple methodology, but it does reflect well where the value is in a static state
The above is applicable in a static state, one where effectively FX rates and market rates don't move. So, FX rates don't converge on the forwards. And we are implicitly agnostic as to maturity. These are eminently challengeable assumptions.
Disclaimer: This publication has been prepared by the Economic and Financial Analysis Division of ING Bank N.V. ("ING") solely for information purposes without regard to any ...
more