'Uber-Dovish' FOMC Statement Confirms Nothing Will Change On Rates, Policy Through 2023
According to the just-released statement, the Fed is keeping rates and policy actions unchanged and while it adjusted its dot-plots, the median level of rates (zero) was unchanged.
To wit, while four Fed members now see at least one rate hike in 2022, up from 1 in Dec 2020, the majority see no rate hike in 2023! In December, five of the then-17 members saw a rate hike in 2023. The committee now has 18 members and 7 of them now see at least one rate hike by 2023 (two see as much as 4 rate hikes, three see 3 hikes, 1 sees 2 hikes, 1 sees 1 hike)...
(Click on image to enlarge)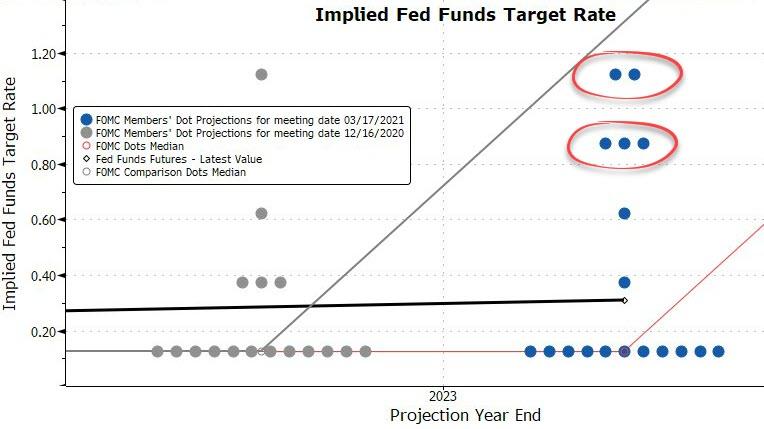 And while FOMC GDP/unemployment projections go suborbital...
(Click on image to enlarge)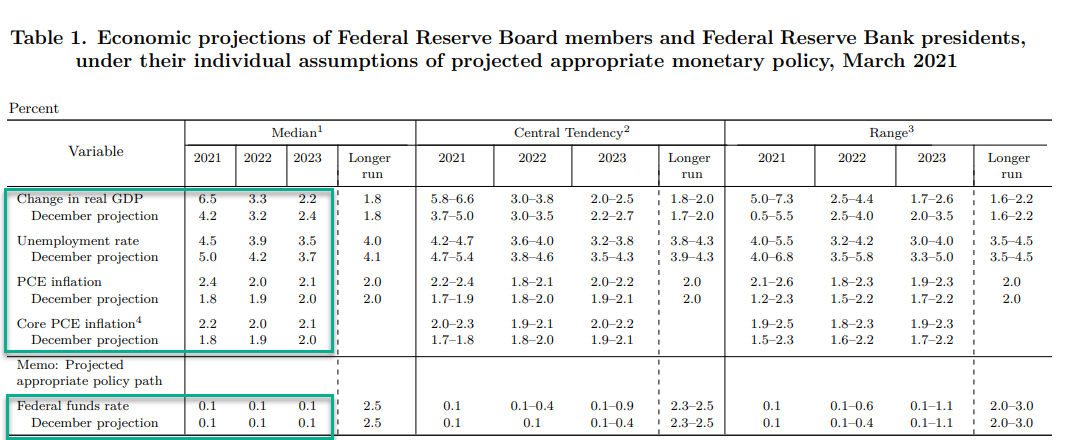 ... not a mouse is stirring in rates because core CPI barely budged:
2020: 1.8% to 2.2%
2021: 1.9% to 2.0%
2022: 2.0% to 2.1%
Oh, and curiously, there was no mention of SLR at all, but considered the flood of dovishness in the Fed's statement, we can only assume that the Fed will promptly kick the can on that particular issue as well.
As Bloomberg correctly notes, "reading the policy statement, you would never know the Congress just passed an historically large fiscal stimulus package and the Treasury has now sent out $242 billion in stimulus checks to Americans just in the last five days!"
As a reminder, here's what Powell said in his early March comments:
"I would be concerned by disorderly conditions in markets or a persistent tightening in financial conditions that threatens the achievement of our goals."
Let's see if he can tame the vol during the press conference.
***
Full Redline below, showing barely any changes from January:
(Click on image to enlarge)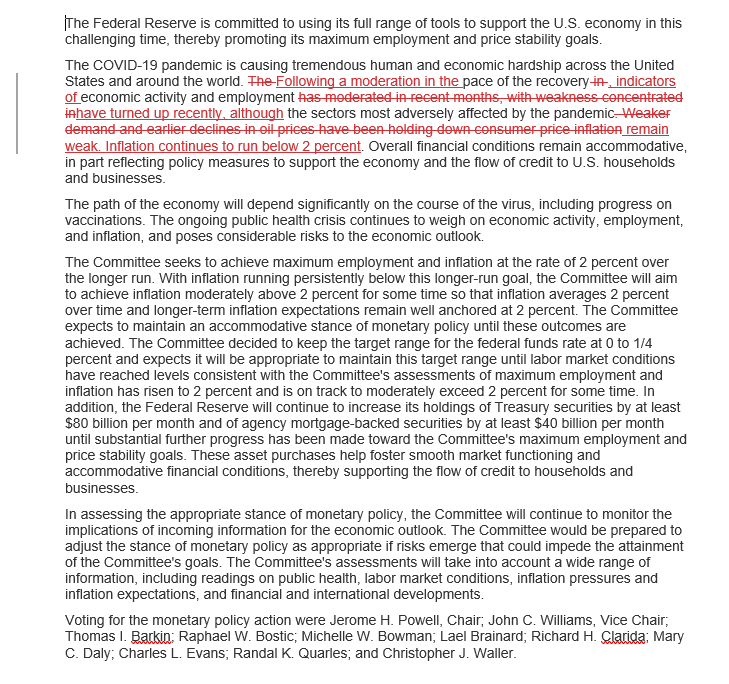 Disclaimer: Copyright ©2009-2021 ZeroHedge.com/ABC Media, LTD; All Rights Reserved. Zero Hedge is intended for Mature Audiences. Familiarize yourself with our legal and use policies every time ...
more