'Uber-Dovish' FOMC Statement Confirms Nothing Will Change On Rates, Policy Through 2023
Neil Dutta at Renaissance Macro sums up today's nothingburger from The Fed:
"Passive easing continues. GDP has been revised up. Inflation has been revised up. Unemployment revised down. Despite all this, the median dot still at zero through 2023 though a few more see a hike. Chair Powell probably has time to help these folks understand the new policy framework."
***
Today's market chaos is brought to you by the word "SLR" and the number "2023" - whether The Fed will mention its thoughts on the now-politicized Supplemental Liquidity Ratio exemption decision (which will spark turbulence in bank stocks and Treasuries); and whether the Fed's forward-looking dot-plot of rate expectations is adjusted hawkishly for 2023 (if no adjustment, stonks will soar).
Going into the event, there was no fear.
Since the last FOMC Statement, Jan 27th, Bitcoin has doubled, stocks have soared, along with bond yields (prices plunged) and as the dollar gained, gold tumbled...
(Click on image to enlarge)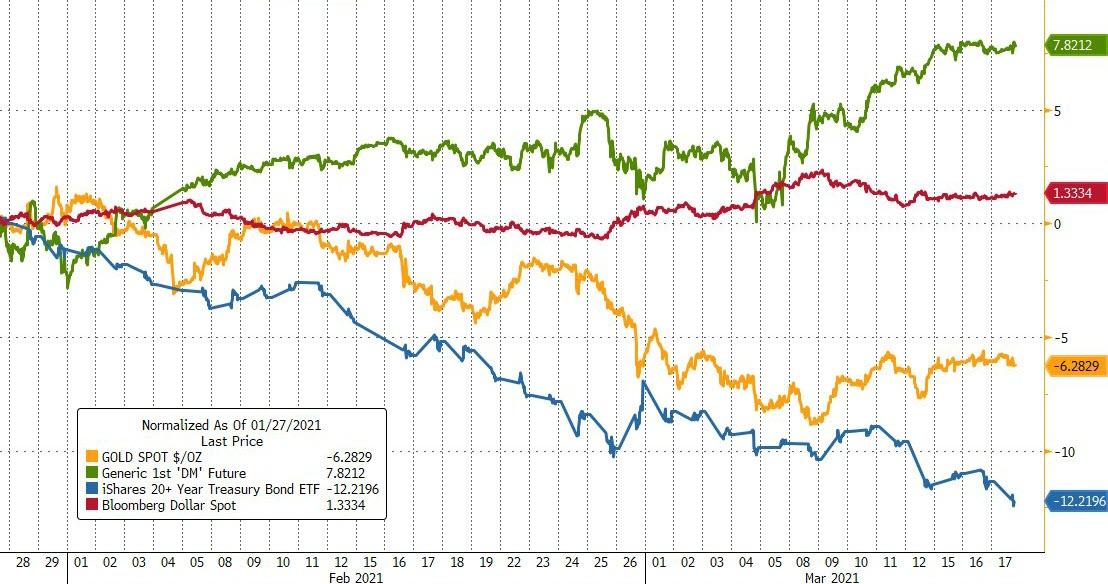 Source: Bloomberg
Inflation expectations have exploded...
(Click on image to enlarge)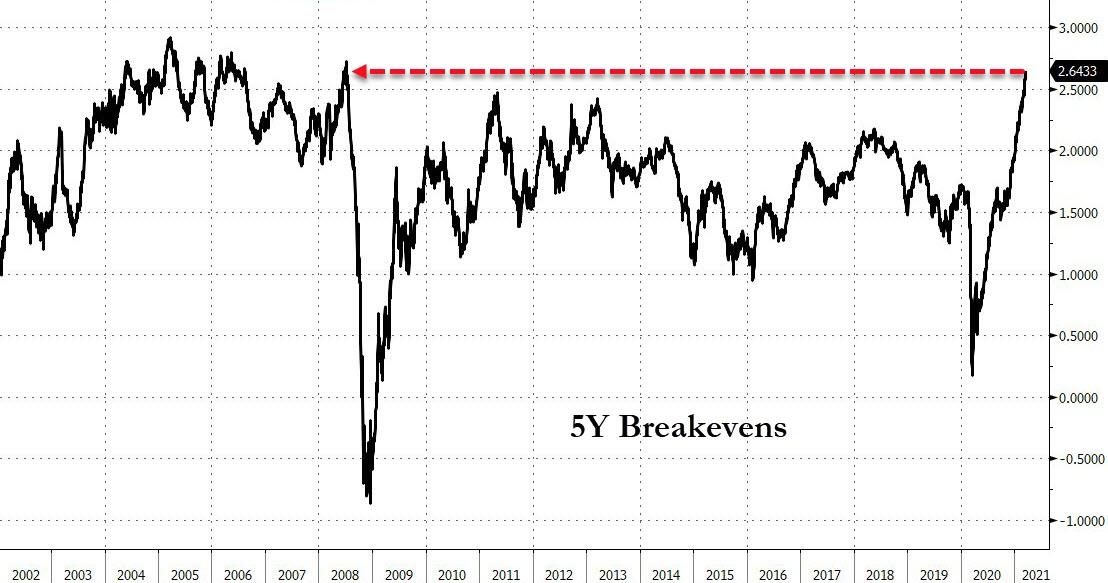 Source: Bloomberg
Overall, Financial Conditions have been volatile but are easier now than at the last FOMC meeting...
(Click on image to enlarge)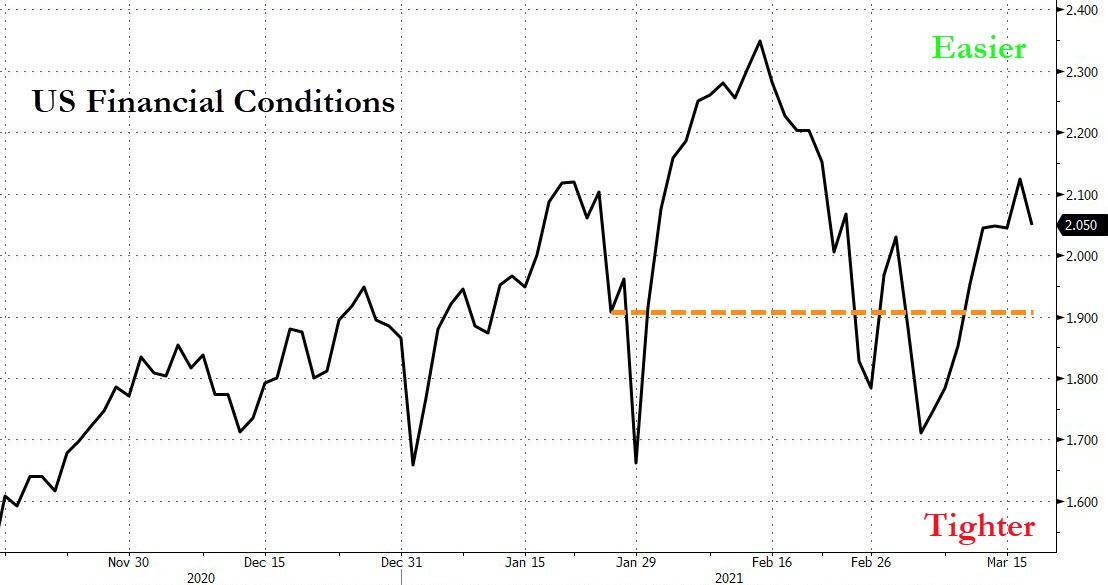 Source: Bloomberg
But the short-end of the yield curve has seen a dramatic hawkish shift in the Fed-rate-hike trajectory (the expectation has soared 65bps since the last Fed meeting)...
(Click on image to enlarge)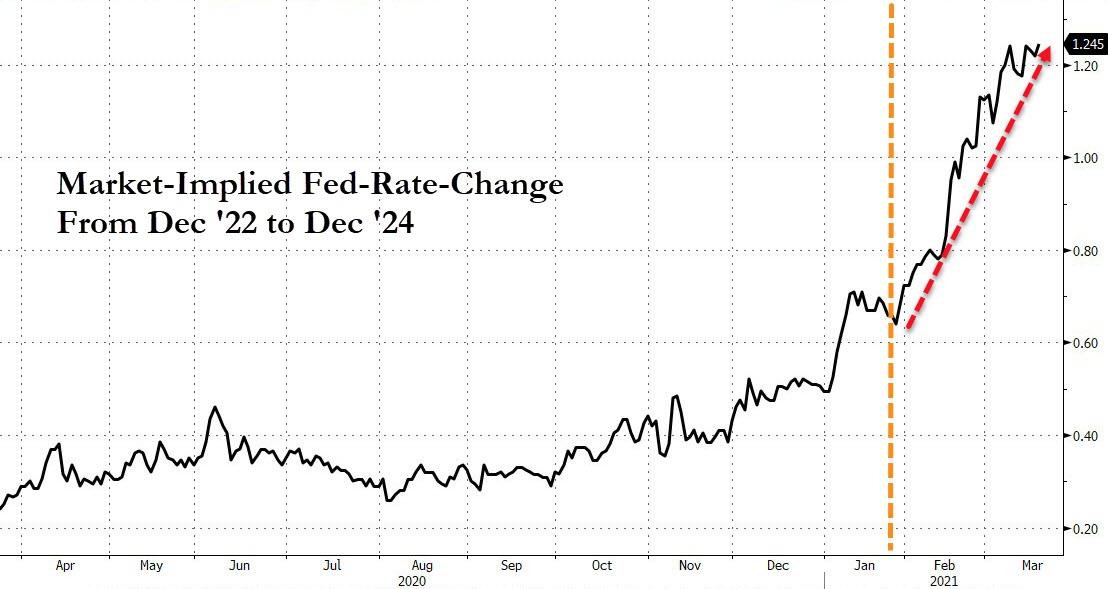 Source: Bloomberg
And the first rate-hike is getting closer...
(Click on image to enlarge)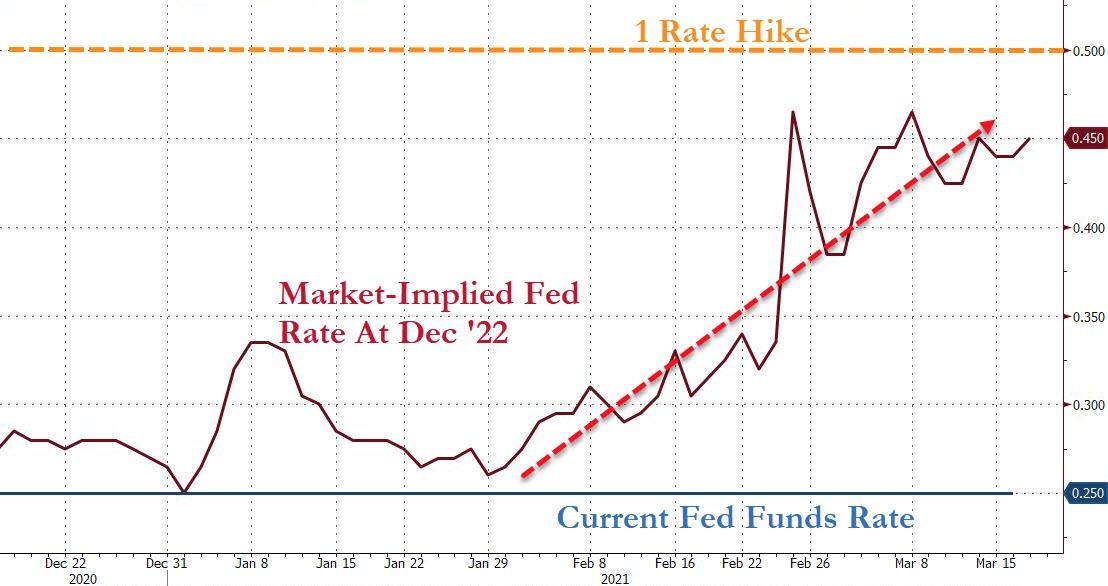 Source: Bloomberg
***
So what will The Fed do?
Either tell the market it's wrong and send stocks soaring while losing even more credibility; or...
Raise the 2023 median 'dot' to 1 hike and spark a "repricing in rates" as JPMorgan warned.
So what happened?
Well, as expected, the Fed picked the less painful option, unleashing a massive buying spree while accepting that at some point in the next 6-12 months it will be forced to catch up with runaway rate hike reality and burst the bubble.
Disclaimer: Copyright ©2009-2021 ZeroHedge.com/ABC Media, LTD; All Rights Reserved. Zero Hedge is intended for Mature Audiences. Familiarize yourself with our legal and use policies every time ...
more