The World's Most Bearish Hedge Fund Just Did Something It Hasn't Done In 8 Years
At the start of 2012 Horseman Global did something which virtually none of its peers dared or would dare to do: it took its formerly 100% equity net long exposure to deep net short, launching an eight-year period in which the fund would be bearish month after month on stocks, yet as the monthly P&L table below shows, it also managed to generate impressive annual returns over this same period (with the exceptions of 2016 and 2019) despite constant central bank intervention pushing stocks relentlessly higher, largely thanks to the Fund's significant bond long position.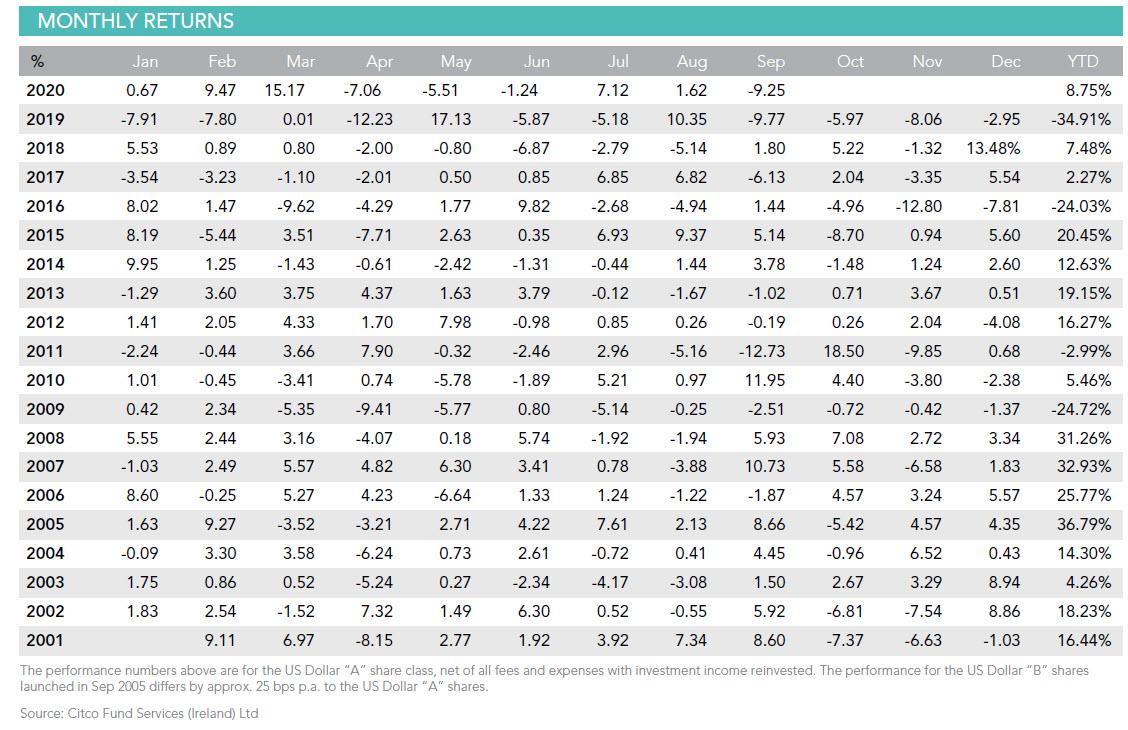 Yet after a dismal 2019, in which fund CIO Russell Clark finally met his match in Powell as it full-on fought the Fed and the Fed won, resulting in a 35% drop last year, things changed dramatically at Horseman, which has since rebranded itself as Russell Clark Investment Management.
First, as we reported back in April, the fund suddenly ditched its long-running bet on deflation, with Clark saying he used the opportunity offered by the Covid-19 crisis "to exit deflationary positions. We have sold all our government bonds, and I am now trying to short assets that have benefited from very low interest rates, wages and commodity prices, namely commercial property, restaurants and utilities (and potentially private equity)."
And yet, the fund was still net bearish on stocks, because as Clarke explained, "if inflation appears, then US markets are in big trouble. For me, the 1970s and stagflation beckons. Short bonds and long commodities look right, with a bias to shorting US equities. I see inflationary assets outperforming deflationary assets."
Fast forward six months later, when things aren't working out quite as expected because in a year that had seen wild swing in the fund's P&L, September proved to be the worst month of 2020 for Clark, with the fund losing 9.25%, and cutting its return for the year by more than half to 8.75%. Worse, it also meant that the AUM for the Russell Clark Investment Management strategy had dropped to just $100 million, from $150MM at the start of the year.
Disclaimer: Copyright ©2009-2020 ZeroHedge.com/ABC Media, LTD; All Rights Reserved. Zero Hedge is intended for Mature Audiences. Familiarize yourself with our legal and use policies every ...
more