The Scary Fed Number Everyone Is Talking About
"High reverse repo volumes? No problem here! As a simple heuristic, if the Fed uses repos to implement its QE program, thereby bringing liquidity to financial markets, then high reverse repo volumes could be interpreted as a taper. And that's a good thing! The system is well-capitalized, and high reverse repo volumes are evidence that the US economy has weathered the pandemic. This is a feature, not a bug, of the Fed's pandemic era policies, and should be expected as normalization comes. No assets are mispriced."
PERSPECTIVE #2 – CAUSE FOR CONCERN
"High reverse repo volumes! This is cause for concern! This means prime brokers and certain other qualified entities are flush with capital and need a place to park it. The financial system is drowning in liquidity – this is the reason why commodities have been rallying so sharpy this year. This liquidity has contributed to high inflation, which looks more than transitory. If we saw a 'taperless tantrum' earlier this year, now we're seeing a 'tantrumless taper'. US Treasury yields are mispriced and should be higher."
US TREASURY YIELD CURVE (1-YEAR TO 30-YEARS) (FEBRUARY 2020 TO MAY 2021) (CHART 2)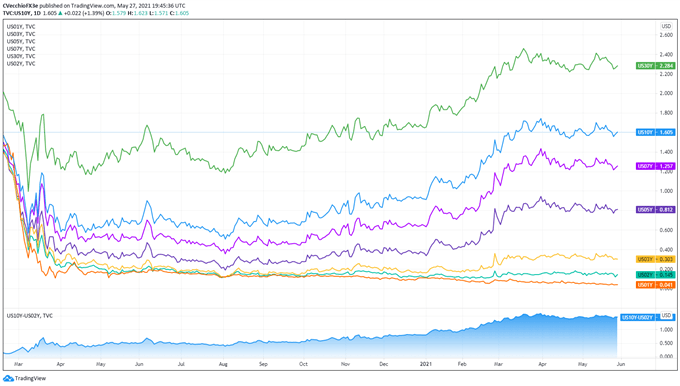 THE TRADER'S APPROACH
Considering various Fed officials have been teasing about a timeline for taper talk, the volume of RRP is worth monitoring heading into the June Fed meeting – but that's about it. Financial markets are barely reacting to the liquidity drain: the DXY Index is trading at the same levels it was this time last week; the US Treasury 10-year yield has been bounding in the same place for the past two-months.
DXY PRICE INDEX TECHNICAL ANALYSIS: DAILY CHART (MARCH 2020 TO MAY 2021) (CHART 3)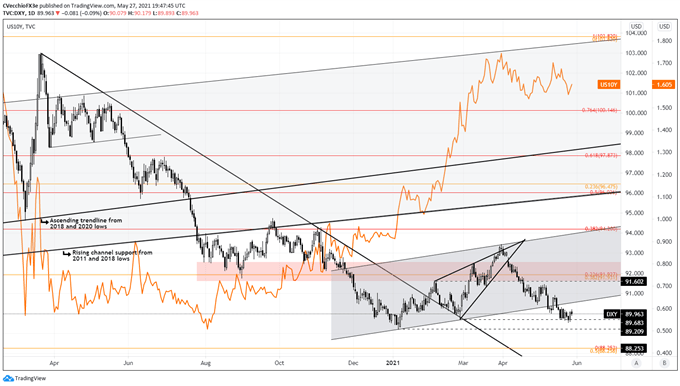 But if taper fears snowball, resulting in a kick higher in US Treasury yields, we could enter a similar trading environment akin to March, when rising yields spooked equity markets, helping the US Dollar produce a counter-trend rally amidst long-term bearish technical considerations.