The Angels Are Freefalling: Q1 Saw Record Downgrades To Junk And The Real Pain Is Coming
Back in November of 2017, this website was the first to suggest that a flood of "fallen angels", or the lowest, BBB-rated investment-grade bonds that are downgraded to junk, will be the event that triggers the next corporate debt crisis. In "Hunting Angels: What The World's Most Bearish Hedge Fund Will Short Next", we quoted from the IMF's Oct 2017 "Global Financial Stability Report" which issued an ominous warning:
... BBB bonds now make up nearly 50% of the index of investment grade bonds, an all time high. BBB bonds are only one notch above high yield, and are at the greatest risk of becoming fallen angels, that is bonds that were investment grade when issued, but subsequently get downgraded to below investment grade, or what is known these days as high yield. It then points out that investors have never been more at risk of capital loss if yields were to rise. In addition, it notes volatility targeting investors will mechanically increase leverage as volatility drops, with variable annuities investors having little flexibility to deviate from target volatility
Following this article, the topic of a tsunami in "fallen angel" credits took on greater urgency, because with over $3 trillion in bonds on the cusp of downgrade, as we discussed in "The $6.4 Trillion Question: How Many BBB Bonds Are About To Be Downgraded", countless asset managers warned (here, here and here) that this was the biggest threat to the credit pillar of both the US economy and stock market (recall the bulk of BBB rated issuance was used to fund the trillions in buybacks that levitated the stock market over the past few years).
(Click on image to enlarge)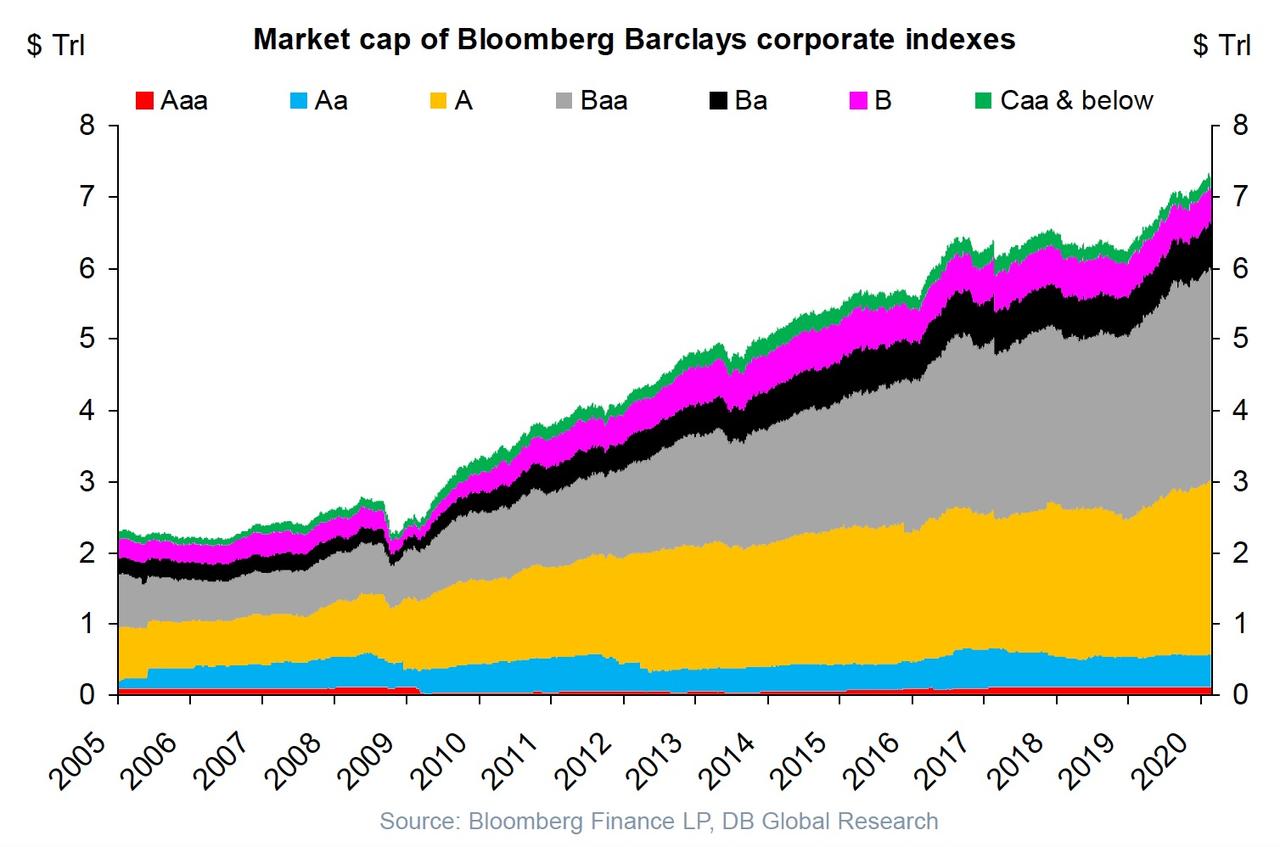 However, despite a few close scares, and the downgrades of some massive IG names to junk such as Ford and more recently, Macy's, there never emerged a clear catalyst that would trigger a wholesale downgrade of IG names to junk, especially since the Fed ending its monetary tightening in late 2018 and unleashed another rate cut cycle coupled with QE4 in 2019 sent IG and HY yields and spreads to record lows, even though as Morgan Stanley pointed out no less than 55% of BBB-rated investment-grade bonds, would have a junk rating based on leverage alone.
Disclaimer: Copyright ©2009-2020 ZeroHedge.com/ABC Media, LTD; All Rights Reserved. Zero Hedge is intended for Mature Audiences. Familiarize yourself with our legal and use policies every ...
more