The 2s10s Just Inverted: Here's What Happens Next
It's official: after 12 years - the longest artificial, central-bank propped expansion on record - the business cycle is once again officially in its death throes, and this morning the 2s10s Treasury yield curve inverted for the first time since May 2007.
(Click on image to enlarge)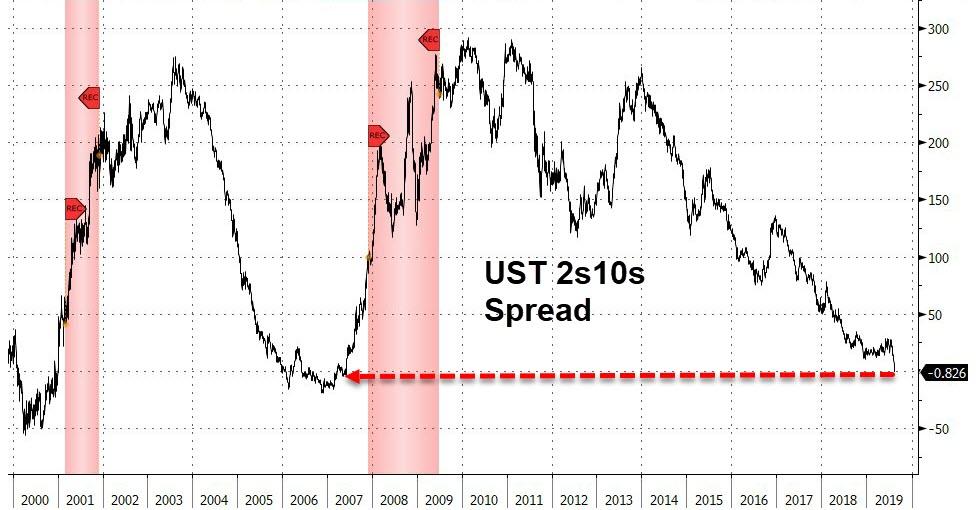 So why is the market freaking out? Because of all economic indicators, this one is, without doubt, the most foreboding and ominous. Consider that 2s-10s yield curve inversions have preceded the last seven recessions and nine out of the last 12 recessions. In fact, as Bank of America points out, there was one yield curve inversion in the mid-1960s that did not precede a recession and the yield curve did not invert ahead of the three recessions between the mid-1940s and early 1950s. However, in the past 5 decades, a 2s10s inversion has been a guaranteed signal that a recession is imminent.
(Click on image to enlarge)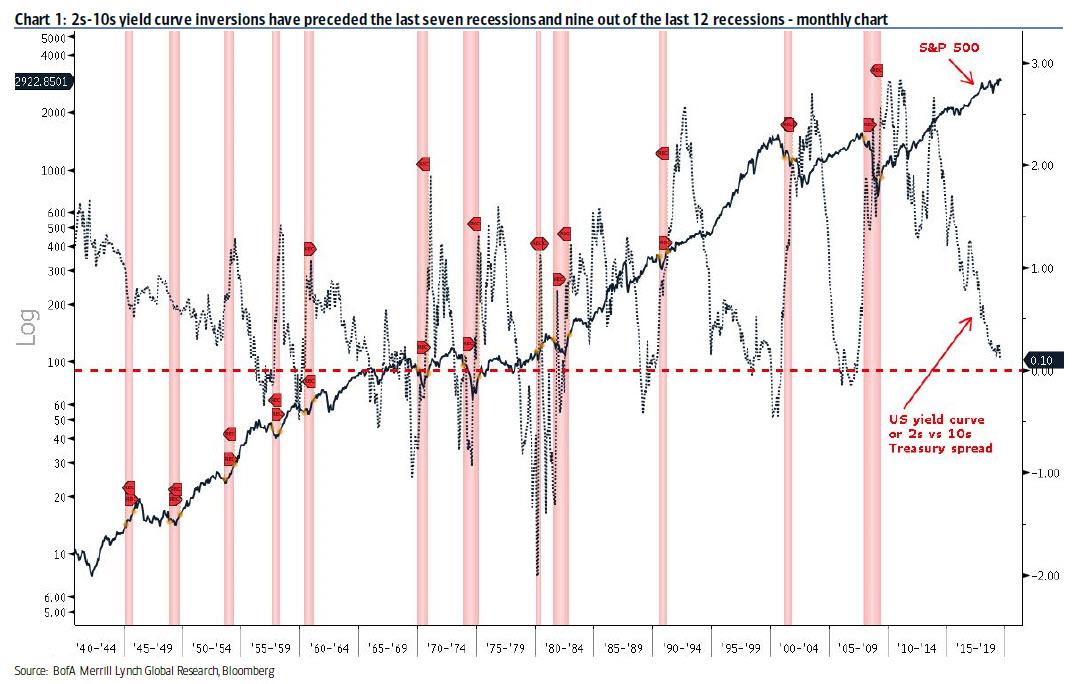 So when should one expect the recession to arrive? Going back to 1956 it has taken between eight (1959) and 24 months (1967) for a US recession to start after a yield curve inversion. The average and median length of time from inversion to the start of a recession are 15.1 and 16.3 months, respectively. It took a year or more for a recession to begin after six out the ten inversions (1956, 1967, 1978, 1989, 2000, and 2005).
(Click on image to enlarge)

But while a recession may now be just a matter of time, the bigger question for traders is what happens to the stock market next? According to an analysis from Bank of America, while much of the time the S&P 500 peaks within two to three months of a 2s10s yield curve inversion but it can take one to two years for an S&P 500 peak after an inversion.
For the ten yield curve inversions back to 1956, the S&P 500 topped out within approximately three months of the inversion six times (1956, 1959, 1965, 1973, 1980, and 2000). However, the S&P 500 took 11 to 22 months to peak after the other four inversions (1967, 1978, 1989, and 2005).
Disclosure: Copyright ©2009-2019 ZeroHedge.com/ABC Media, LTD; All Rights Reserved. Zero Hedge is intended for Mature Audiences. Familiarize yourself with our legal and use policies every ...
more