Stellar Demand For 10Y Auction As Shorts Squeezed
After yesterday's mediocre, record-large 3Y auction there was some consternation that today's issuance of benchmark 10Y notes (in the form of a 9-year 10-month reopening of cusip AC3) would be met with less than stellar demand especially following today's blowout in rates. Well, not so fast, because as we noted ahead of the auction, with a massive short overhand which pushed the 10Y to a -0.65% special rate in repo, it was likely that we would see significant short covering into today's auction...
10Y trading -0.65% special. Lots of shorts into auction. Should be a strong auction

— zerohedge (@zerohedge) January 12, 2021
.... despite the massive $38BN offered for sale today.
(Click on image to enlarge)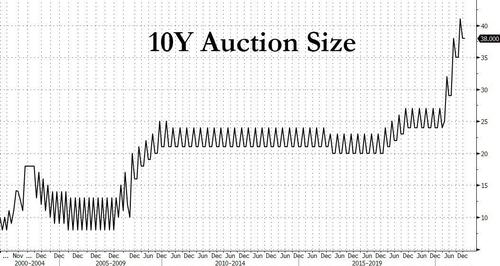 That's precisely what happened, because with the WI trading at 1.172% at 1 pm ET, the sale of $38BN in benchmark paper stopped at 1.164%, stopping through by 0.8bps, the biggest stop through July 2020, even if it was more than 21bps higher compared to the December 0.951% yield.
The Bid to Cover was also quite impressive, rising from 2.33 in Dec to 2.45, the highest since October and above the six-auction average of 2.41.
The internals were also solid, with Indirects taking down 62.2%, virtually unchanged from last month, and also above the 61.2 recent average. More notably, Directs took down 17.8%, the most since December 2019, leaving Dealers holding just 20% of the takedown.
(Click on image to enlarge)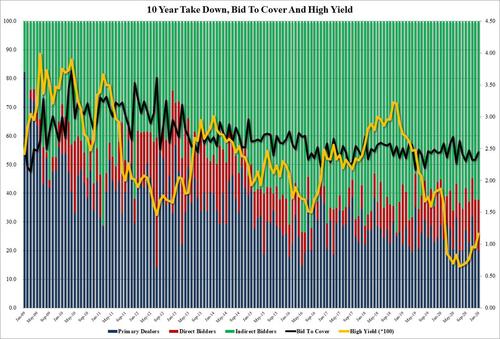 Altogether a very impressive auction, setting the bond market well for tomorrow's 30Y sale, and one which indicates that fears about fading demand amid rising yields remain largely unfounded. The market agreed and promptly pushed 10Y lower by about 1 basis point.
(Click on image to enlarge)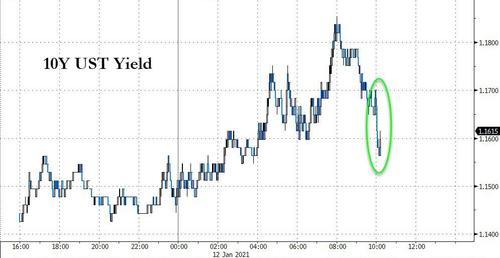 Disclaimer: Copyright ©2009-2021 ZeroHedge.com/ABC Media, LTD; All Rights Reserved. Zero Hedge is intended for Mature Audiences. Familiarize yourself with our legal and use policies every ...
more