S&P 500: Best Q1 Since 1998 Despite ETF Outflows
STOCK MARKET TALKING POINTS:
Elsewhere, government debt ETFs saw demand that reflects the recent yield curve inversion
S&P 500: BEST Q1 SINCE 1998 DESPITE ETF OUTFLOWS
The S&P 500 looks to cap off this week – and the first quarter – with a marginal increase from the prior session but large enough to solidify the best quarterly performance for the index since Q3, 2009 around 12.50%. Compared exclusively to other first quarters, Q1, 2019 offered the highest return since Q1, 1998.
S&P 500 QUARTERLY RETURNS (CHART 1)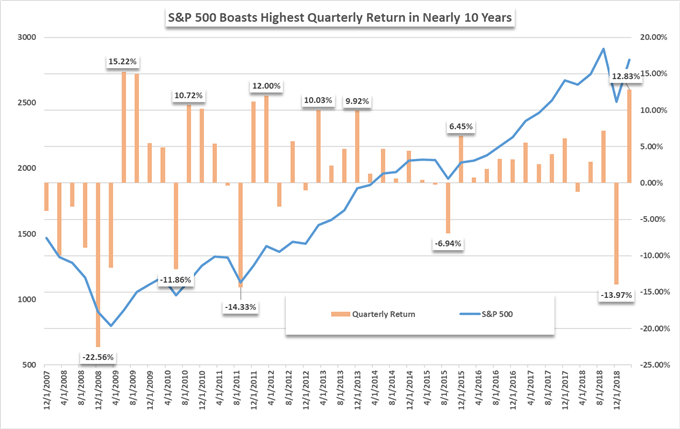 Despite the stellar quarterly return, the aggregate fund flows from SPY, IVV and VOO recorded an outflow of $1.6 billion during the period, assisted by the largest intraday outflow for the funds ever. It is also worth noting that the majority of inflows were recorded in the second half of the quarter, specifically during March which saw $9.1 billion in inflows.
AGGREGATE FUND FLOWS OF SPY, IVV AND VOO ETFS (CHART 2)
February saw $2.9 billion in net inflows while January notched a rather painful $13.6 billion in outflows following December's rout. It appears many investors were hesitant to buy into the recovery rally until it was well underway.
EXCHANGE TRADED FUNDS AND THE YIELD CURVE INVERSION
Elsewhere, fund flows offered further evidence for the recent yield curve inversion. The BIL ETF – which grants exposure similar to that of 1-3 month treasury bills – saw $146 million in inflows this week. Interestingly, the fund recorded net outflows of $617 million for the quarter with consistent outflows during January and February.
BIL ETF FUND FLOWS (CHART 3)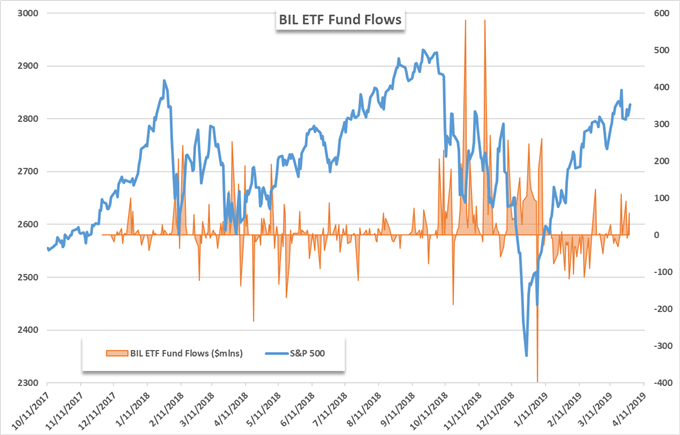 On the other hand, funds that grant exposure to longer-term treasuries recorded outflows this week as the yield curve inverts further. The TLT ETF saw net outflows reach $175 million for the week, nearly a perfect contrast to the inflows into BIL. For the quarter, TLT saw $775 million in fresh capital.