Record Big 3Y Auction Prices At Record Low Yield, Despite Unexpected Tail
As previewed last week, a record big $112BN quarterly refunding auction kicks off today with $48BN in 3-yr Notes, a record size for the tenor with yields edging up from 11bp to 15bp in the last week to make room for the supply.
AS SocGen's Kit Juckes notes, while selling humungous amounts of debt in the middle of August would never be easy - and with
large swathes of the market working from home, the whole process gets even harder - in this financial market enactment of the fight between King Kong and Godzilla, he expects the world's voracious appetite for safe assets to swallow up the US government's massive funding needs with barely a burp.
Was he right? Well, one month after the US sold a record amount of 3Y paper at a record low yield, it did so again at 1 pm today, when the Treasury placed a record $48BN in 3Y notes at another record low yield despite the recent rebound in yields.
(Click on image to enlarge)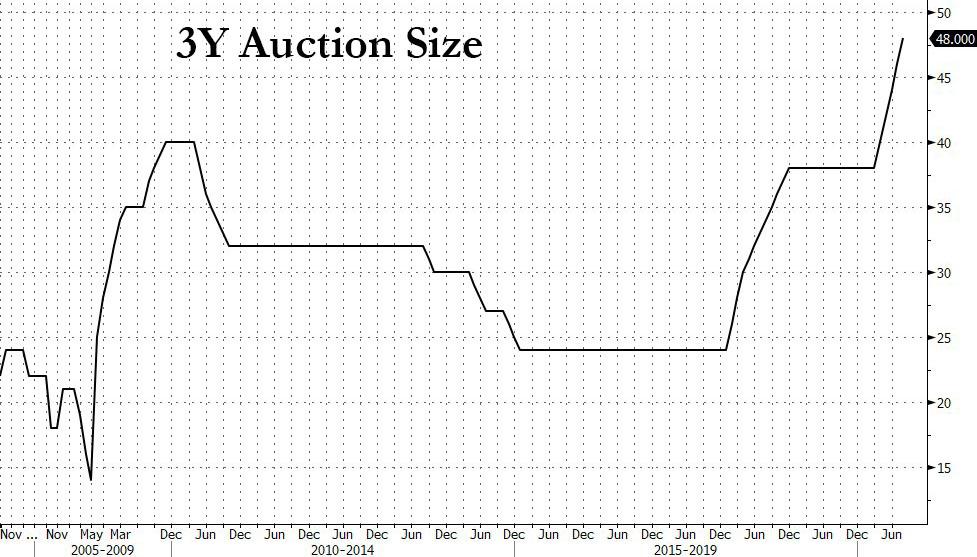 To be sure, there was a small burp, because while the yield was a new all-time low of 0.179% which benefited from the modest concession resulting from the recent selloff in rates, it did tail the When Issued 0.176% by a modest 0.3bps. That said, the market is still making it quite clear that it does not expect any rate hikes for more than 3 years.
The Bid to Cover of 2.44 was unchanged from last month, and just fractionally higher than then 6-auction average.
Finally, the internals were extremely solid with Indirects taking down 57.0%, far above last month's 54.3%, and the recent average of 52.3%; in fact it was the highest foreigner takedown since December 2017.
And with Directs taking down 12.3%, effectively on top of the 11.1% six auction average, Dealers were left holding 30.7% of the auction, below the 41.3% recent average and the lowest since December 2019.
Overall, a stellar auction despite the modest tail, and as Juckes said, a tremendous start to a record large refunding week.
(Click on image to enlarge)
Disclaimer: Copyright ©2009-2020 ZeroHedge.com/ABC Media, LTD; All Rights Reserved. Zero Hedge is intended for Mature Audiences. Familiarize yourself with our legal and use policies every time ...
more