Rates Are Blowing Out: A 1% Increase In 10Y Yields Will Slash P/E Multiples By 18%
As Bloomberg macro technician William Maloney writes this morning, after a lengthy period of meandering, the yield on 10-year U.S. Treasuries spiked above 1.0% and hit 1.052% amid an ascending triangle breakout, signaling a further rise could be on the way. According to Maloney, the breakout could set up a run to 1.09%, which is 76.4% Fibonacci of the March 19 peak to August low.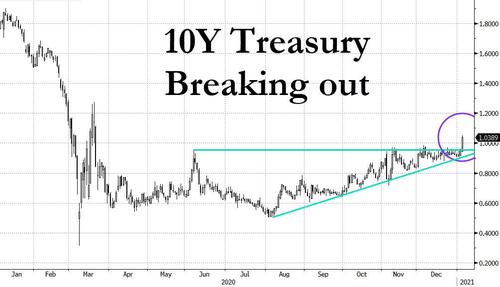 The reason for the breakout, as discussed earlier, is simple: the Democratic blue sweep which now paves the way for more spending, much more stimulus and a gaping budget deficit, pushing inflation expectations and nominal yields sharply higher. Indeed, long-bond rates were on track for their biggest one-day jump since March's pandemic-related turmoil and investors had already started to dust off reflation trades in anticipation of a so-called Blue Sweep.
"The result will certainly be seen as a driver of higher Treasury yields," said James Athey, a money manager at Aberdeen Standard Investments. "The reflation trade has already been sparked. The question really is how much further the Senate result will push that."
"I can see 10-year Treasury yields rising to 1.5% to 2% in short order if more and more uncertainty gets behind us," said Vishnu Varathan, head of economics and strategy at Mizuho Bank in Singapore.
To be sure, while a continuation of the move higher in yields is guaranteed, the reason why markets remain sanguine about a major, VaR-shock inducing move - one which would risk to violent deleveraging among the risk parity funds and hammer risk assets - is because the Fed has previously telegraphed it would step in with some form of Yield Curve Control to prevent just that from happening.
But what if the Fed is willing to let yields run? What if inflation is about to be unleashed and the next stop for the 10Y is not 1.50% but 2.0% or even 3.0% or more? What will happen to stocks then?
For the answer we go to the latest note from Morgan Stanley's Michael Wilson, who warned that surging yields is the biggest risk the market is unprepared for, and made some ominous observations. We excerpt them below:
Disclaimer: This is not investment advice.