Market Update For Early February 2019
The fears I recommend my readers should ignore are those having to do with gold and silver collapsing from their current levels. That's not to say that they can't go down from the close of this week; they could. But their lows of December 2015 are rock bottom. For the past three years the path of least resistance for gold and silver has been upward, and except for brief market corrections will continue to be for years to come.
Here's a metric James Turk once used, and I've kept track of it since: the BGMI / $ Price of gold. As Mr. Turk noted, in terms of the price of gold, gold mining shares haven't been this cheap since the early 1930s. Maybe someone else is also watching this. This week I noted the BGMI was up 10% since last Friday's close.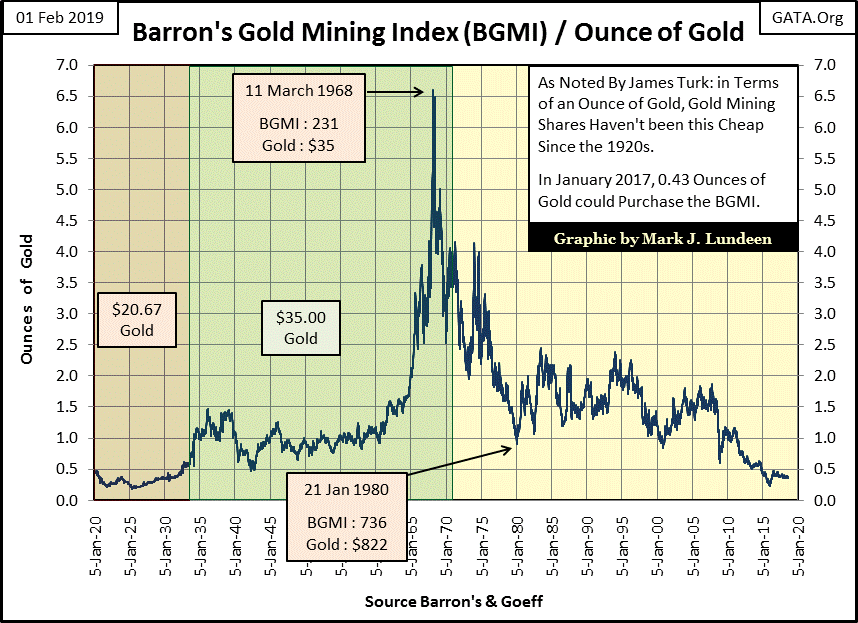 But just because something is cheap doesn't mean it's a bargain. Still, whenever I think of history's greatest investment opportunities they were all widely shunned bargains at the beginning; pre-WWII real estate in Hawaii and California, or blue-chip stocks in July 1932 and again in April 1942. Who wanted to buy shares in war-ravaged Japanese or German companies? In the mid-1960s John Templeton did, becoming a billionaire several times over in the following decades.
Gold, silver and their mining shares just have that feeling to me; that we are on the edge of something historic as decades of inflationary abuses by the central banking cartel to the global monetary system comes undone. In a crisis of confidence in the global financial system, gold, silver and their miners are where I want to be!
But so far in 2019, the financial markets have held up for the most part and the silver to gold ratio (SGR), or the number of ounces of silver one ounce of gold can be traded for has been stuck above 80 ounces of silver for one ounce of gold. As seen below, a SGR of +80 is on the high end of the range, meaning silver today is very cheap in terms of gold and anything else, like dollars, pounds, pesos or dinars.
We'll be able to identify when the old monetary metals once again resume their advance as the SRG will once again decline towards its 40 line. From current levels (+80) that would make gains in investing twice that of gold. A SGR of 20 would make investing in silver four times that of gold. So why doesn't everyone buy silver instead of gold?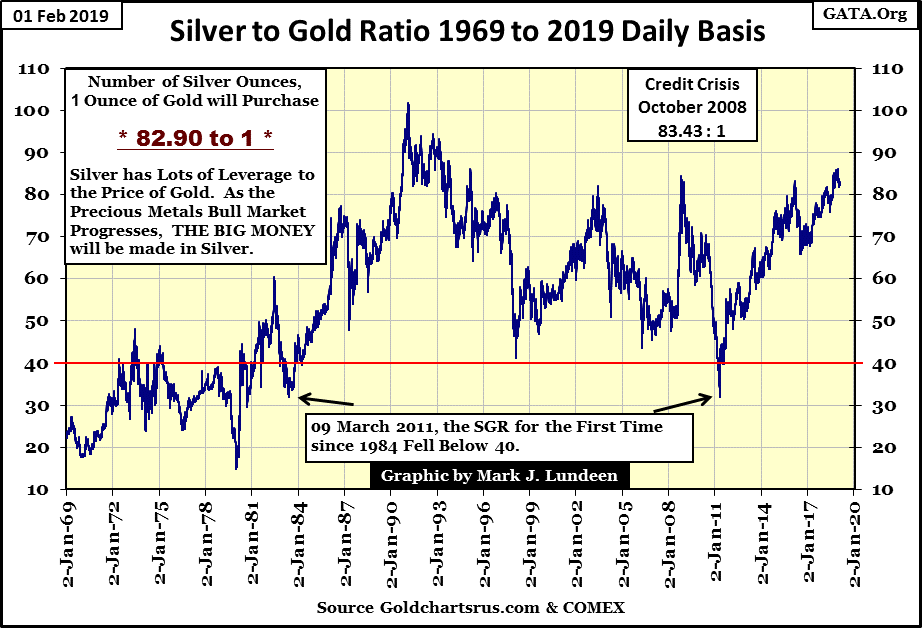 The biggest problem with silver is that where $1318 gets you one ounce of gold, the same amount of dollars will purchase over five pounds of silver. A box of gold eagles (500 one-ounce coins) costs about $660,000, and could be carried home by its new owner. An identical purchase of silver will purchase eighty boxes of silver eagles, or 40,000 silver eagles: 1.25 tons of metal.
This is why people with considerable wealth favor gold as storage is less of a problem. However, for someone considering purchasing an ounce of gold for $1318, I'd strongly recommend they choose the five pounds of silver instead. When the SGR begins to trend down in the coming bull market in gold and silver, gains made in investing in silver will become multiples of any gold makes.
I'm ready to give the bear box below a failing grade. Like I said a bear box is called a bear box as the bears (not the bulls) are supposed to be right. I close a bear box when the step sum (market sentiment), finally collapses after months or years of ignoring the decline in the price of an asset, and finally submits to market reality recognized by the bears long before.
I think this is a failed bear box, as the price trend (market reality) and the step sum (market sentiment) have both reversed upwards, while not seeing a collapse in the step sum. But I'm not ready just yet to admit the bulls were right. I want to see if the Dow Jones can break above the line of resistance seen in the Dow's daily bar chart above; that done this box has officially FAILED.