Market Update For Early February 2019
Let see, on December 24th the Dow Jones Index found itself on the BEV chart below at -18.77%. Twenty-seven NYSE trading sessions later, the close of this week, it has increased to -6.58%. As always, a big Bravo Zulu for the Plunge Protection Team (PPT) for manipulating the markets higher. No one does it better!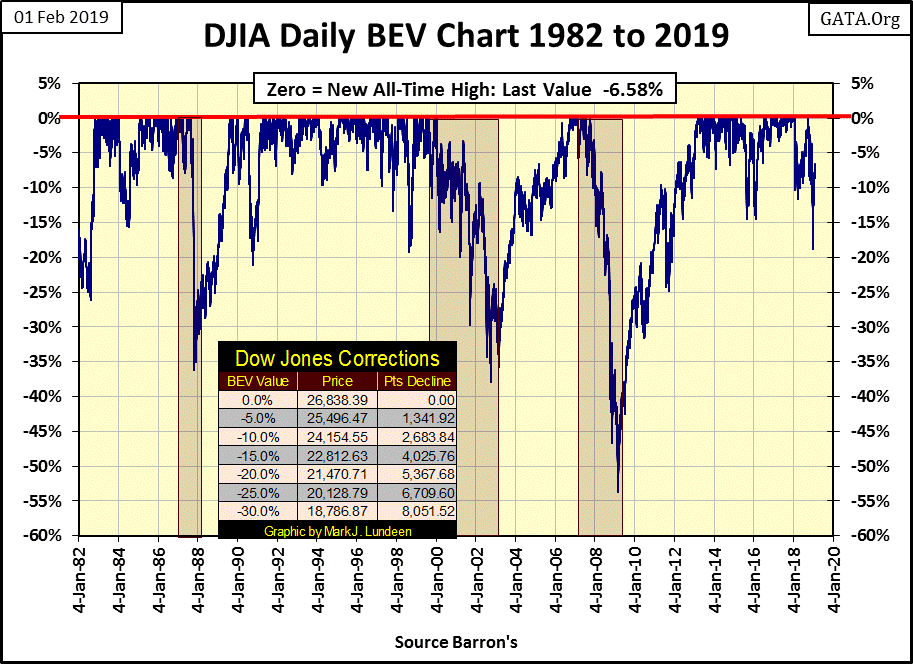 And it's not only that the Dow Jones is going higher. NYSE 52Wk Highs this week on Thursday hit 131 as 52Wk Lows never broke above 22 for the week, and saw only single digits on Thursday and Friday. Bond yields (Red Plot below) since early November are trending down; mind you nothing major but they are going the right way for an advancing stock market.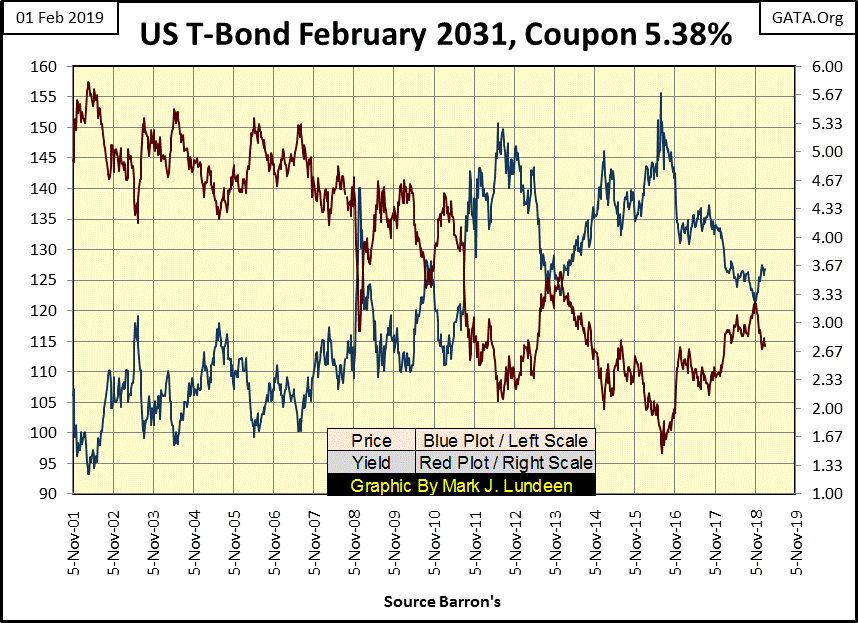 And volatility for the Dow Jones has become a huge positive for a market advance. In the daily bar chart below, for the past four weeks volatility has returned to where it was before the big 18% correction. That plus the Dow Jones closed this week right on the declining trend line I placed on the chart.
Three times before the advancing Dow Jones was stopped at this line of resistance; will touching this line a fourth time prove yet again this is a line-of-death for the advancing Dow Jones? Or is the Dow Jones committed to taking out its last all-time high of October 3rd and from there on to new all-time history?
Aw come on, these are hard questions; heck what do I know? I know in the coming weeks and months the answers to all these questions, and much more will be revealed to all. As things are going at the close of this week's trading, I'll bet a couple of bucks on the bulls taking the Dow Jones to new all-time highs before summer. However, a wager of two or three dollars isn't a ringing endorsement that being a bull in this market has much of a future.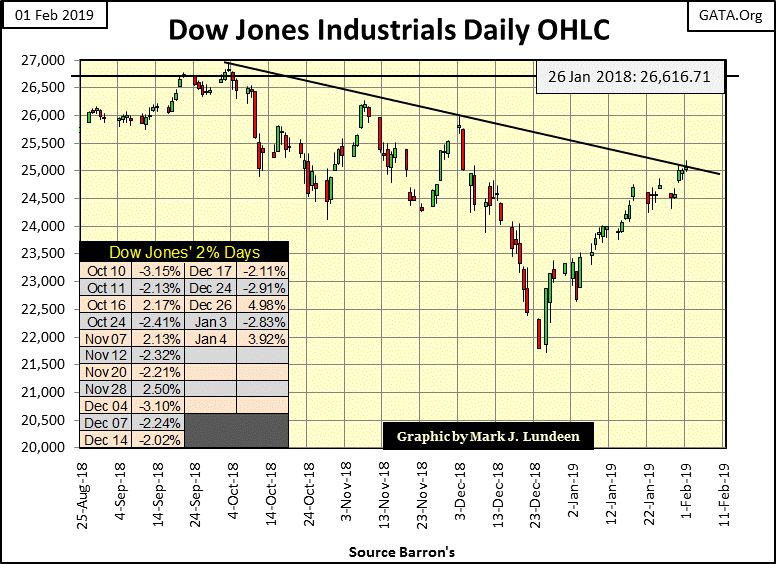 So what could go wrong with the stock market? Lots of stuff that at this moment is off everyone's radar. A small relatively unknown bank somewhere far, far away might default on their derivatives obligation, triggering a cascading train of defaulting mega-banks. Maybe the Best & Brightest in China or the EU does something really stupid; not that their Best & Brightest have a monopoly on stupidity.
Good grief, we've got lots of stupidity right here in the United States managing other people's money – remember Long-Term Capital Management? They had several Ph.Ds. and a Nobel Prize winner in economics managing that fiasco which almost took the global economy down with them.
Then there was the sub-prime mortgage fiasco, where America's Best & Brightest thought they could convert non-performing mortgages written for the chronically unemployed into AAA-rated debt by bundling them with derivatives. No one on Wall Street, or even at the Federal Reserve bothered to ask what could go wrong with that; including Alan Greenspan in the April 2008 quote below.
"Innovation has brought about a multitude of new products, such as subprime loans and niche credit programs for immigrants. With these advances in technology, lenders have taken advantage of credit-scoring models and other techniques for efficiently extending credit to a broader spectrum of consumers. These improvements have led to rapid growth in subprime mortgage lending . . . fostering constructive innovation that is both responsive to market demand and beneficial to consumers."

- Alan Greenspan (At the Federal Reserve System's Fourth Annual Community Affairs Research Conference, Wash D.C. April 8, 2005
Six months later, during his televised commercial-free Congressional testimony, Greenspan was talking a completely different line of BS as the global banking system began upchucking these "constructive innovations" in the American sub-prime mortgage market.
But there are always problems in life, so we should not take counsel of our fears, unless we find ourselves in a bull market that has advanced for the most part since August 1982. In such times I recommend you take any opportunity to find a reason, any will do to sell now and take your money far from the stock market.
Disclaimer: If ever a website needed a Disclaimer, this is it. Indeed, your very presence at any page within this Domain which is www.deMeadville.com has already bound you in the ...
more