Lousy 5Y Auction Flashes Red Ahead Of Tomorrow's Critical 7-Year
After yesterday's massive 2Y auction went swimmingly, nerves were soothed ahead of tomorrow's closely watched 7Y "bellybuster" auction because, as a reminder, it was the catastrophic 7Y auction that sparked turmoil in the bond market.
But maybe that was a bit premature because moments ago the US Treasury sold a record $61BN in five-year paper...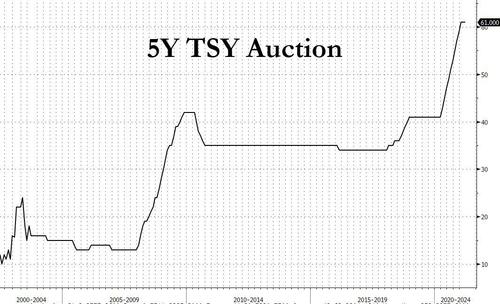 ... in what could best be described as a subpar auction.
The auction stopped at what was once seen as a red-line for 5Y paper, 0.850%, tailing the When Issued 0.847% by a somewhat concerning 0.3bps. Putting the lousy 1pm performance in context, this was the 4th auction in the last 5 when the 5Y has tailed.
The bid to cover was a modest improvement from last month's 2.24 (which like today, took place just before the disastrous 7Y auction), but was just below the six-auction average of 2.38.
The internals were also disappointing: the Indirects took down 58.1%, which was one percent higher than February but below the 59.2% recent average. And with Directs taking down more (like in yesterday's 2Y auction), allotted 16.6% of the auction, up from 14.4% last month and above the 15.4% average, Dealers were left holding a quarter of the auction, right in line with the six-auction average and modestly below last month's 28.6%.
Overall, this was a decidedly uglier auction than yesterday's 2Y, and one which all else equal, suggests that tomorrow's critical 7Y auction could face some significant headwinds, especially if the rates selloff observed today which pushed the 10Y from 1.59% to 1.64% accelerates.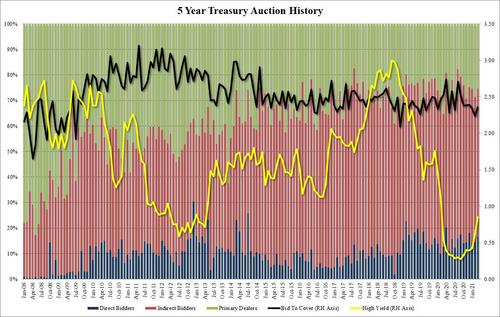 Disclaimer: Copyright ©2009-2021 ZeroHedge.com/ABC Media, LTD; All Rights Reserved. Zero Hedge is intended for Mature Audiences. Familiarize yourself with our legal and use policies every time ...
more