Latest Shipping Data Shows An Economy On The Verge Of Recession
Is the US "Schrodinger" economy on the verge of a boom or a recession? That is the question investors are increasingly asking, prompted by the record disconnect between record high stock prices and 10Y yields on the verge of dropping below 2%.
(Click on image to enlarge)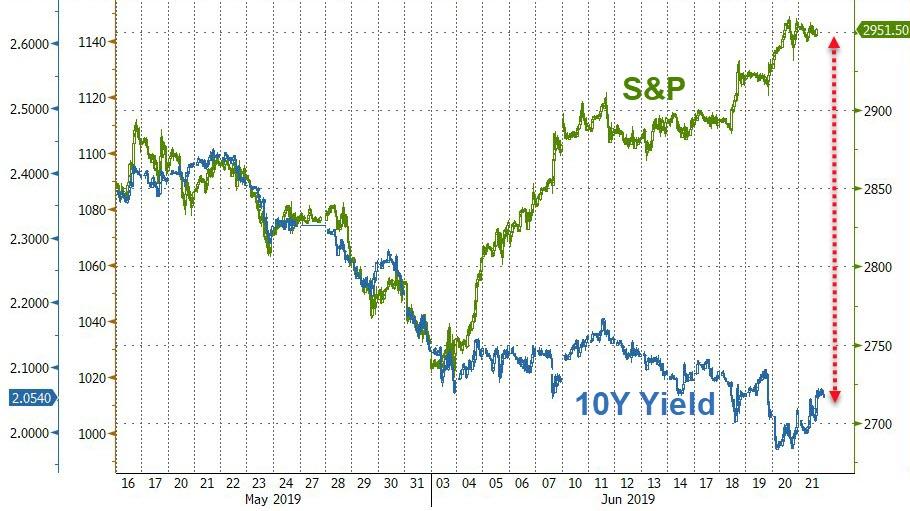 Over the weekend, two major banks shared their perspectives on the topic, with Deutsche Bank framing the issue in the terms of quantum superposition, whereby the Fed's intervention collapse the wave function of the US economy, and defines it as either in recession or growth, while JPMorgan was more pragmatic summarizing the divergence as one of growing dovish expectations and imbalanced positioning, and warning that "this is a major risk for equity markets going forward: if central banks fail to validate over the coming months market expectations of universal rate cuts, equities could be hit not only by a potential selloff in bonds that would mechanically make investors more OW in equities, but also by a potential increase in cash allocations as investors cover their currently extreme cash UW."
JPMorgan also pointed out that only one scenario, that of a pre-emptive Fed that is set to provide insurance similar to the 1995 and 1998 episodes, "is positive for equities" explaining that "preemptive means cutting rates when growth indicators are still good rather than waiting for growth indicators to weaken".
Which in turn brings up what JPMorgan believes is the most important question following this week's FOMC meeting: "If the Fed is truly committed to preemptive rate cuts in order to provide insurance why did it not cut its policy rate this week?"
On Monday morning, Morgan Stanley's increasingly bearish chief equity strategist, Michael Wilson, also waded into the debate, this time from the position of economic fundamentals, with a decidedly pessimistic take, cautioning that "the case for material upside is getting harder" and adding that his "view remains that the US economy is experiencing a material slowdown after running too hot last year and this slowdown is now manifesting itself in poor earnings growth and deteriorating economic conditions." Echoing JPMorgan, Wilson writes that "if the Fed is cutting rates because it's truly the end of the cycle, rather than the Fed simply taking out insurance against that outcome, it has much different implications for equity markets."
His conclusion: "The evidence is building that it's more the former than the latter."
But instead of relying on some questionable comparison which perceives the US economy in a quantum state of either alive or dead, the far more pragmatic Wilson instead looks at the recent deterioration in economic data, highlighting the following point which he has observed in the past:
The Morgan Stanley Business Conditions Index(MSBCI) showed the biggest one-month drop-off in its history going back to 2002 and very close to its lowest absolute reading since December 2008. This matter because the index correlates closely with ISM New Orders and earnings revisions as we discussed last week.
Weak jobs numbers from both non-farm payroll and ADP reports, with the latter indicating net firings among small businesses.
Lower commodity prices (CRB Rind Index) including weaker pricing for crude and its derivatives on the back of weaker than expected demand.
Weak earnings from retailers and restaurants indicating consumer spend that is slowing, on the margin.
Housing stocks that have failed to keep pace with the move lower in rates.
Disclosure: Copyright ©2009-2019 ZeroHedge.com/ABC Media, LTD; All Rights Reserved. Zero Hedge is intended for Mature Audiences. Familiarize yourself with our legal and use policies every ...
more