Key Week For Bond Yields With US CPI On Tap, Nasdaq And IEF At Risk Of A Downswing?
HOW TO TRADE HIGHER YIELDS?
While expectations are mixed, most traders seem to coalesce around the theory that the 10-year yield will end the year around 1.7%, about 40 basis points around current levels. In absolute terms, these are not huge moves, but they are still significant for the bond market and high-flying tech stocks with high-valuations. With this in mind, the Nasdaq 100, which currently hovers near all-time highs, appears to be in a vulnerable position and prone to a pullback during the next leg up in yields.
In any case, even if the tech benchmark has an asymmetric risk profile (more downside than upside potential), betting against the index may not be the most efficient way to exploit a rise in long term treasury yields. Another idea would be to short the IEF ETF (iShares 7-10 Year Treasury Bond) (or even TLT). As bond prices and rates move in opposite direction, this ETF could trend lower if long-end yields recover heading into the fourth quarter. As an alternative to shorting the IEF, a trader could approach the strategy through medium-term puts or a put debit spread transaction to reduce the initial cost of the position and limit risk (reminder: buying a put or establishing a bear put debit spread allows the trader to benefit from a stock's price decline).
IEF TECHNICAL CHART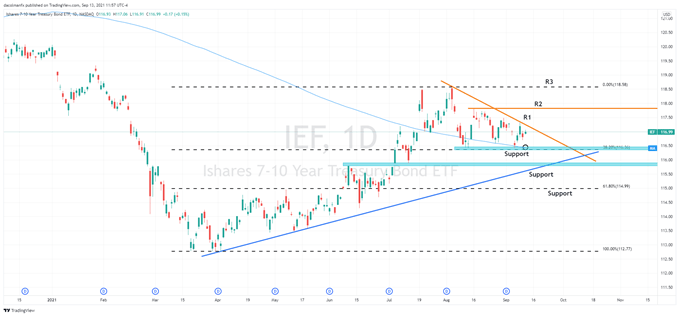 Disclaimer: See the full disclosure for DailyFX here.