Key Events This Holiday-Shortened, Quiet Week: Politics, PMIs, Claims
(Click on image to enlarge)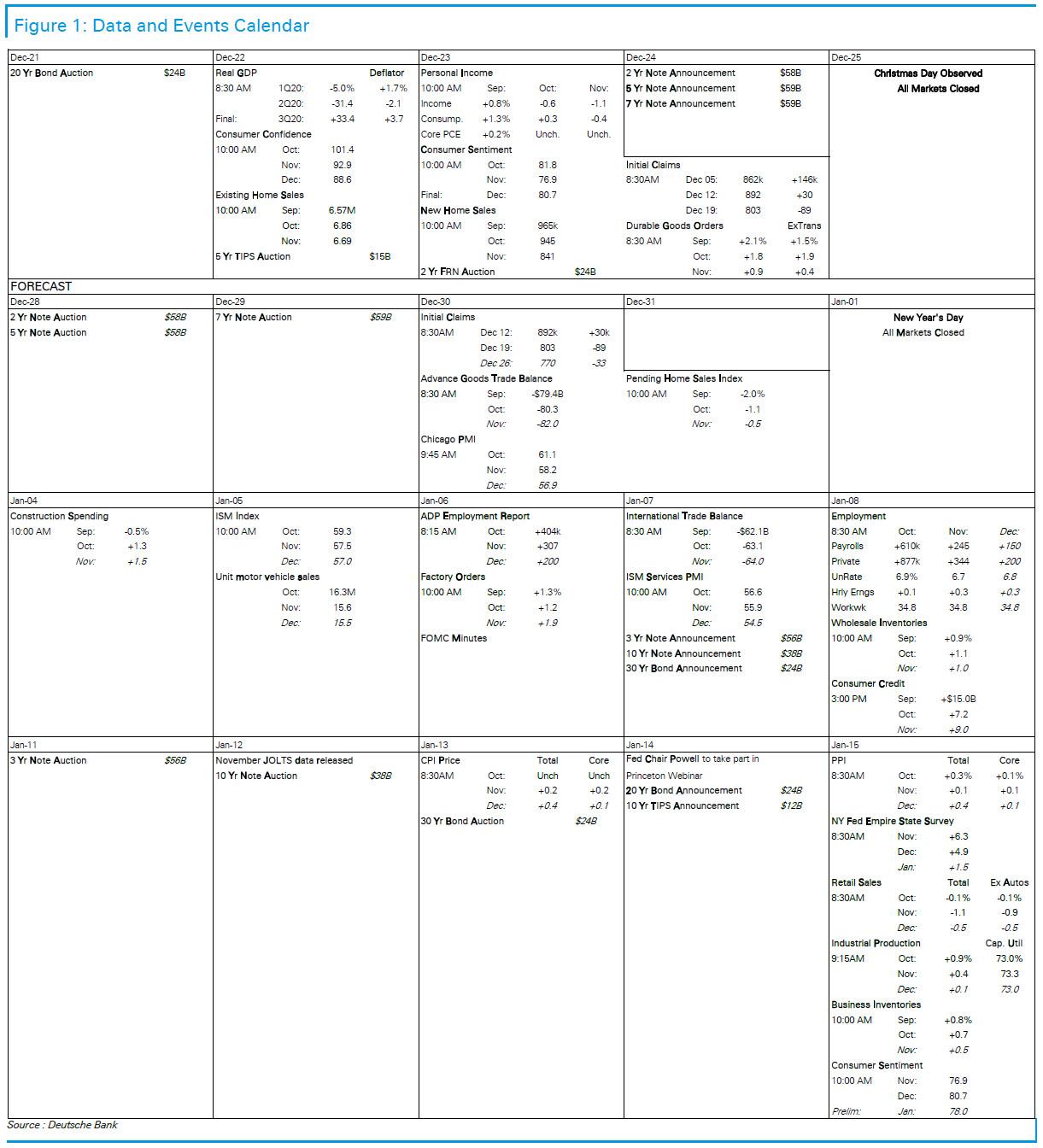 Looking at just the US, Goldman writes that the key economic data releases this week are the Chicago PMI on Wednesday and jobless claims on Thursday. There are no scheduled speaking engagements from Fed officials this week.
Monday, December 28
10:30 AM Dallas Fed manufacturing index, December (consensus 10.2, last 12.0)
Tuesday, December 29
09:00 AM S&P/Case-Shiller 20-city home price index, October (GS +1.1%, consensus +1.00%, last +1.27%): We estimate the S&P/Case-Shiller 20-city home price index rose by 1.1% in October, following a 1.3% increase in September.
Wednesday, December 30
08:30 AM Advance goods trade balance, November (GS -$81.0bn, consensus -$81.5bn, last -$80.3bn); We estimate that the goods trade deficit increased by $0.7bn to $81.0bn in November compared to the final October report, as imports and exports likely rose further.
08:30 AM Wholesale inventories, November preliminary (consensus +0.7%, last +1.1%); Retail inventories, November (last +0.8%)
09:45 AM Chicago PMI, December (GS 56.0, consensus 56.5, last 58.2); We estimate that the Chicago PMI declined by 2.2pt to 56.0 in December, reflecting a sharp rise in jobless claims in the region.
10:00 AM Pending home sales, November (GS -3.5%, consensus +0.1%, last -1.1%); We estimate that pending home sale declined by 3.5% in November, reflecting a further deceleration in regional home sales data.
Thursday, December 31
SIFMA recommends an early 2:00 PM close to bond markets.
08:30 AM Initial jobless claims, week ended December 26 (GS 810k, consensus 830k, last 803k); Continuing jobless claims, the week ended December 19 (consensus last 5,337k): We estimate initial jobless claims increased to 810k in the week ended December 26.
Friday, January 1
New Year's Day holiday. There are no major economic data releases scheduled. NYSE will be closed. SIFMA recommends bond markets also close.
Disclaimer: Copyright ©2009-2020 ZeroHedge.com/ABC Media, LTD; All Rights Reserved. Zero Hedge is intended for Mature Audiences. Familiarize yourself with our legal and use policies every time ...
more