Japan Emerges As Biggest Driver Behind Recent Plunge In Yields
Picking up on this, Hornbach writes that the "second derivative of daily cases in the US is peaking, which is in line with our biotechnology analysts' view that daily Covid case in the US could be peaking in late August/early September." As shown in the next chart, the rise and fall in Treasury yields over the last few months has a degree of inverse relationship with the rate of change of daily Covid cases (2nd derivative of total cases). In other words, "If Covid cases indeed peak, we would expect Treasury yields to rise."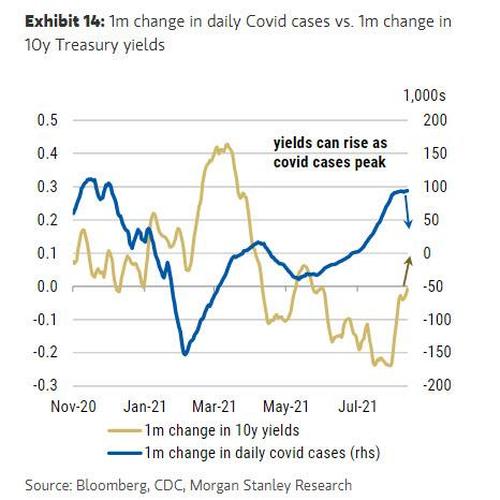 And finally, Hornbach who was broken with Wall Street's dovish trend and expects 10Y yields to hit 1.80% by year-end, notes that there may actually be long-term positive effects from the current wave of Covid cases in that it allows the US population to move faster toward herd immunity. This is because (1) more people have been vaccinated after the recent rise in cases, and (2) given the fast spread of the Delta variant in the unvaccinated population, more people gain immunity by developing antibodies after infection.
On that note, it is remarkable that the latest serological testing in New York City shows that 75% of the population has some form of antibody immunity vs. Covid - immunity whether due to vaccination or actually having defeated the virus - and thus the US is getting ever closer to "herd immunity".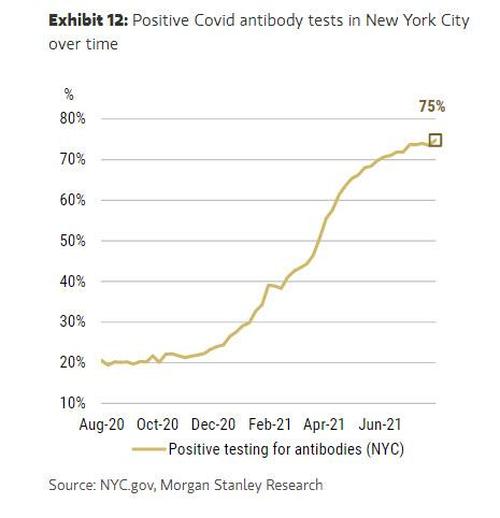 Disclosure: Copyright ©2009-2021 ZeroHedge.com/ABC Media, LTD; All Rights Reserved. Zero Hedge is intended for Mature Audiences. Familiarize yourself with our legal and use policies ...
more