Japan Emerges As Biggest Driver Behind Recent Plunge In Yields
As shown in the chart below, yields have declined in August only in the Tokyo session, while rising in London and NY sessions.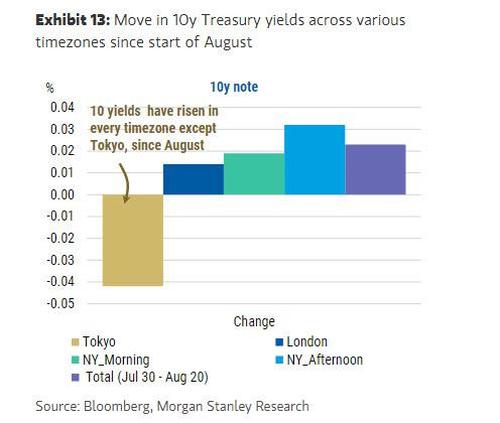 Furthermore, as Hornbach notes, the lack of follow-through in Treasury yields after the sharp decline in the University of Michigan consumer sentiment - which curiously saw yields rise despite the most bearish economic signal in the survey's recent history - "is encouraging in that regard."
Paradoxically, this bizarre dump out of Japan may also explain a strange observation in equities: as we noted last week, in the past month the S&P is down 4% in the overnight session and it is up 3.5% from 930am to 4pm. This is a stark reversal of the familiar "overnight futures ramp" which has led to most of the market's gains in the past decade.
So is the recent slide in yields the result of aggressive Japanese hedging and/or outright buying of Treasurys? After GPIF's Q1 stunner, when yields blew out as the pension fund was dumping its Treasury exposure, it certainly is conceivable that Japan's skittish bond managers have once again taken the entire bond market for the proverbial ride. Throw in the fact that Japan would be wrongfooting the entire market for the second time in six months, and the irony of all those rates experts being confounded by one nation's bond flow would be complete.
There's more: even if the move in rates is more than just "Japan", the bond market has now taken its downbeat view of the Delta variant too far. Just yesterday, we reported that according to the CDC, the Delta wave has "likely peaked across the Northeast." This confirms what Morgan Stanley said 10 days ago when it predicted that the Delta wave "will peak in 1-2 weeks." It's now almost two weeks later.

Also two weeks ago JPMorgan's Marko Kolanovic said that Delta cases are about to turn lower, an inflection point which prompted the quant to call for a bottom in yields and cyclicals.
Disclosure: Copyright ©2009-2021 ZeroHedge.com/ABC Media, LTD; All Rights Reserved. Zero Hedge is intended for Mature Audiences. Familiarize yourself with our legal and use policies ...
more