Japan Emerges As Biggest Driver Behind Recent Plunge In Yields
As Morgan Stanley's rates strategist Matthew Hornbach writes in his latest weekly Global Macro Strategist note, global macro markets continue to grapple with the fallout from rising Covid cases driven by the Delta variant, albeit to different extents. With higher vaccination rates, booster vaccines, and stronger fiscal support, most developed economies have some scope for mitigating the economic damage from the rise in cases. As Fed chair Powell noted earlier this week, he doesn't see "important effects" for the US economy just yet.
Powell, on August 18: I would say it's not yet clear whether the delta strain will have important effects on the economy. We'll have to see about that.
But while Powell may not have changed his view for the economy based on rising Covid cases yet, markets are grappling with the risk case that the rise in the Delta variant will have a negative effect on the economy. Nowhere is this more obvious than in the recent plunge in 10Y nominal yields to 1.15% and the crash in real yields to all-time lows.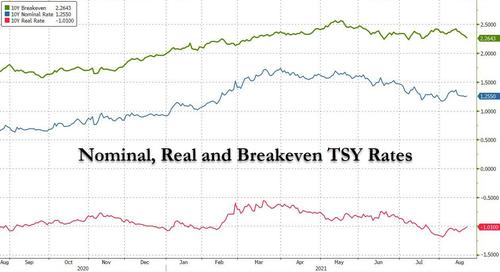 Of course, there is nothing revolutionary in arguing that the move lower in yields is a direct result of economic slowdown fears arising from the widespread of the covid Delta variant which has already prompted fresh lockdowns in various countries such as Australia, Japan, and New Zealand... but how much is too much? According to Morgan Stanley, "the decline in Treasury yields in the last two months, coincident with a rise of the Delta variant globally, already prices in that downside risk to a sizeable degree."
But a far more actionable observation courtesy of Morgan Stanley's Matthew Horbnach is that the buying of Treasurys (i.e., reducing yields) is hardly a uniform event. In fact, as shown in the chart below, the decline in yields has been coming exclusively from overnight buyers, particularly from Asian buyers - i.e., Japan, same Japan which in Q1 was busy dumping Treasurys - while US investors, as well as European investors, seem relatively bullish.
Disclosure: Copyright ©2009-2021 ZeroHedge.com/ABC Media, LTD; All Rights Reserved. Zero Hedge is intended for Mature Audiences. Familiarize yourself with our legal and use policies ...
more