Japan Emerges As Biggest Driver Behind Recent Plunge In Yields
As frequent readers will recall, one of the catalysts behind the forceful emergence of the reflation trade in the first quarter was the powerful move higher in yields which many interpreted as markets pricing in higher long-term inflation. In reality, we have since learned that this move - which coincided perfectly with the end of Japan's fiscal year on March 31 - was largely, if not exclusively, a byproduct of Japan's giant pension fund, the GPIF, drastically shifting out of treasuries as it slashed its US Treasury exposure by a record amount.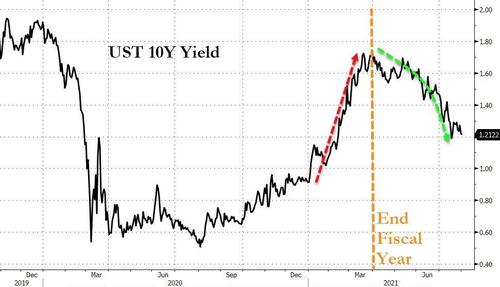 Furthermore, as Morgan Stanley said earlier this month when news of the GPIF's asset reallocation first emerged, "it is important to avoid the trap of forcibly goal-seeking a narrative to lower yields, trap investors dealt with merely four months ago":
Treasury yields rose sharply in March, largely due to selling from Japanese investors, based on their fiscal year-end considerations.

Yet, most investors mistook the rise in yields as validation for a super-hot economy, and the consensus bought into the idea that 10-year yields were headed above 2%. We cautioned investors that yields had overshot relative to the economic reality. Over the coming weeks, economic data in the US couldn't keep up with unrealistic expectations, and 10-year yields started grinding lower.
In other words, GPIF's decision to dump US Treasuries fooled the world into believing the recovery was accelerating, but now that yields are collapsing again, the asset gatherers and commission-rakers conveniently brush it off as "QE-driven distortion."
Fast forward to today when we may be experiencing a remarkable reversal of events from the first quarter.
As most know, in recent weeks the market has been obsessed with the ongoing plunge in yields with most interpreting this development as spelling the end of any reflationary hopes and signaling perhaps outright deflation. Yet as Morgan Stanley again points out, it could very well be that the recent sharp move lower in yields is again merely the result of country-specific asset reallocation. The country in question? Again Japan.
Disclosure: Copyright ©2009-2021 ZeroHedge.com/ABC Media, LTD; All Rights Reserved. Zero Hedge is intended for Mature Audiences. Familiarize yourself with our legal and use policies ...
more