Is Fed Playing Cat And Mouse With Investors?
Turning to the second major player in gold's bearish forecast, the USD Index is hitting its stride. And as sentiment shifts, the U.S. dollar is gaining significant support from speculators.
Please see below: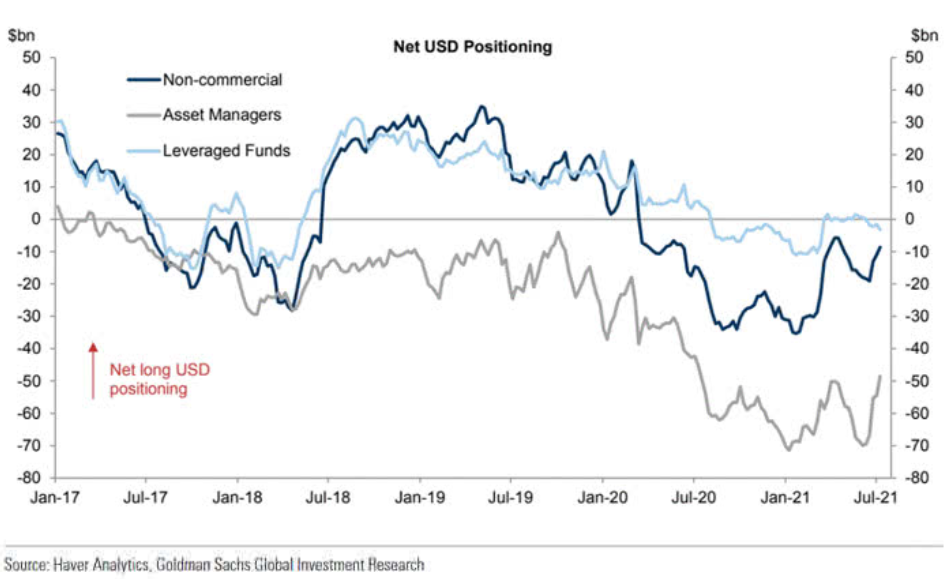 To explain, the dark blue, gray, and light blue lines above represent net-long positions of non-commercial (speculative) futures traders, asset managers, and leveraged funds. When the lines are falling, it means that the trio have reduced their net-long positions and are expecting a weaker U.S. dollar. Conversely, when the lines are rising, it means that the trio have increased their net-long positions and are expecting a stronger U.S. dollar. And if you analyze the right side of the chart, you can see that non-commercial futures traders and asset managers have completely changed their tune (though leveraged funds' movement has been minimal).
On top of that, the latest USD Outlook from Vanda Research offers an interesting take on the Fed's forthcoming taper. Predicting that a 'buy the rumor, sell the news event will unfold over the next several weeks, the firm believes that speculators will likely front-run the expected announcement.
Please see below: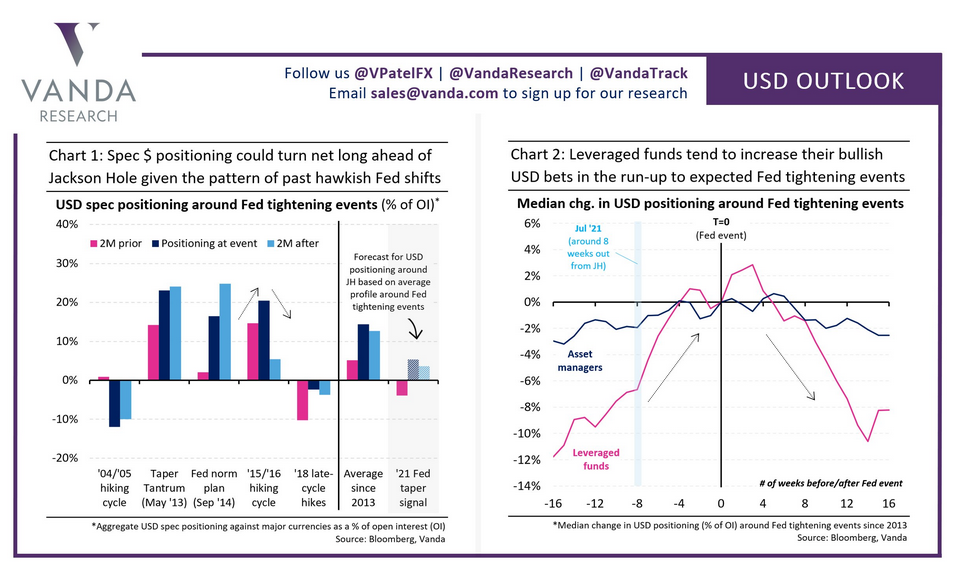 To explain, if you analyze the first chart on the left, the pink bars (two months before), the dark blue bars (actual event), and the light blue bars (two months after) depict speculators' USD positioning before, during, and after hawkish Fed announcements. And if you analyze the relationship, more often than not, speculators buy the U.S. dollar in anticipation, hold throughout the event and then bail after the drama unfolds. As further evidence, if you turn to the chart on the right, you can see that leveraged funds are notorious for front-running the Fed's actions. With eight weeks preceding major Fed events often resulting in significant increases in net-long positioning, leveraged funds aim to strike while the iron is hot. The bottom line? With the Jackson Hole Economic Policy Symposium scheduled for Aug. 26-28 (roughly six weeks away), another front-run could already be underway.
Disclaimer: All essays, research and information found on the Website represent the analyses and opinions of Mr. Radomski and Sunshine Profits' associates only. As such, it may prove wrong ...
more