If Yields Rise 7bps Today, Q1 Will Be The Worst Quarterly Rout For Treasuries In The 21st Century
On the last day of Q1, the quarter seems to be ending very much how it began, with Treasury yields rising to fresh highs as investors await the announcement of further spending proposals in President Biden's infrastructure package while buying stocks first (the S&P just hit a new all-time high) and asking questions later.
Indeed, as DB's Henry Allen writes, the rise in 10yr Treasury yields in Q1 so far had reached a massive +82.7bps (0.797bps at the time of writing), which puts them just shy of the 21st century's other quarterly records back in Q4 2016 (+85bps) when President Trump won the presidential election, and Q2 2009 (+87bps) as the global economy was climbing out of the financial crisis. Of note: even the 2013 taper tantrum was a far more modest, and slow move compared to what we have seen now.
And while everyone is waiting for Biden to reveal further details from his infrastructure package on Wednesday, should today's Biden speech spark a further climb in yields, that could then leave this as the biggest quarterly rise going all the way back to the Great Bond Massacre of Q1 1994, when yields blew out +94.4bps.
(Click on image to enlarge)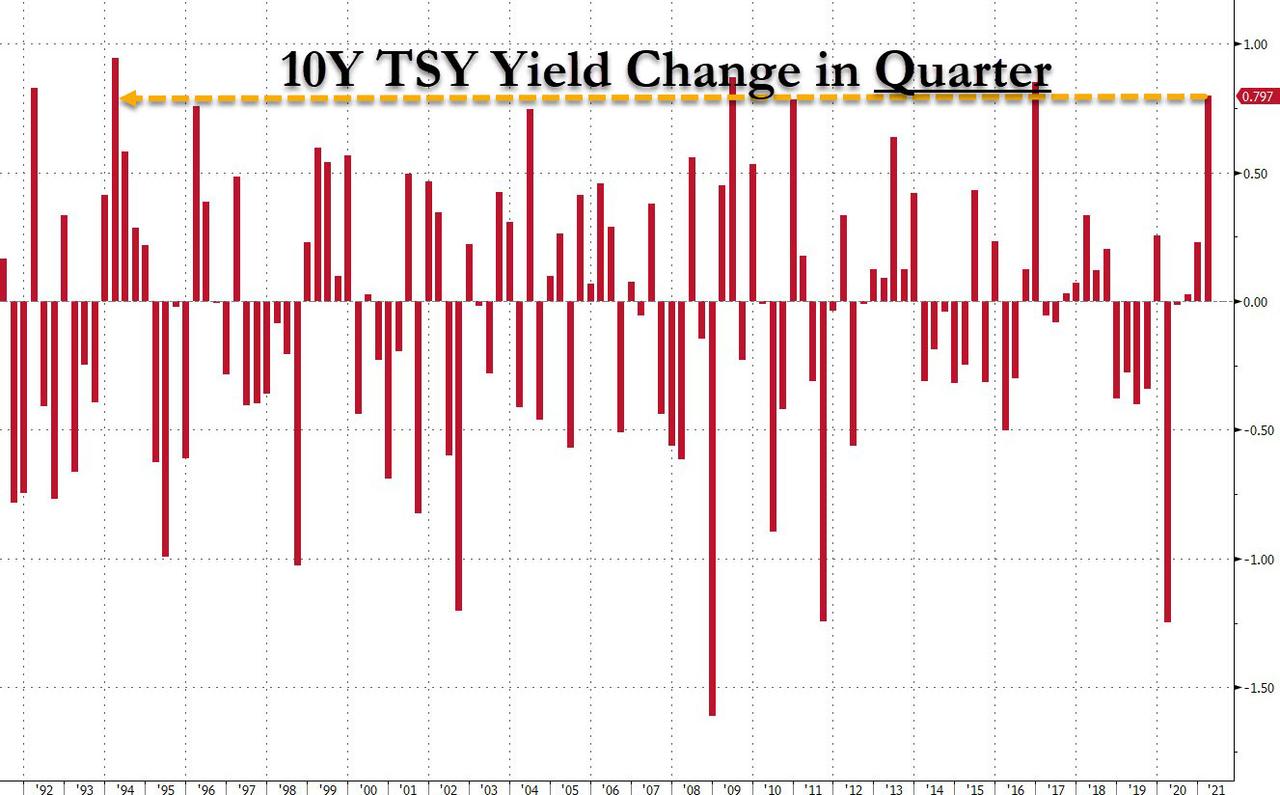 Incidentally, at their peak on Tuesday, the 10Y had reached a 14 month high of 1.77% - their highest level since January last year, aided by the prospect of further stimulus as well as continued progress on the vaccine rollout - which would make the Q1 yield blowout on par with the Q2 2009 yield surge. That said, yields on 10yr Treasuries actually fell back to 1.71% this morning. Real yields (+1.6bps) lost out to inflation expectations (-1.8bps) falling back, while the dollar index strengthened +0.38% to its highest level since Election Day last November.
In terms of what to expect today, Biden will be unveiling his plans in a speech later in Pittsburgh, which are part of his agenda to "Build Back Better" from the pandemic. We're yet to get the full details, but the Washington Post reported yesterday that it would be worth around $2.25tn, with the focus on physical infrastructure, housing, clean energy and manufacturing, among others.
Disclaimer: Copyright ©2009-2021 ZeroHedge.com/ABC Media, LTD; All Rights Reserved. Zero Hedge is intended for Mature Audiences. Familiarize yourself with our legal and use policies every time ...
more