HH

How The Eurozone Affects Gold, And Why You Should Care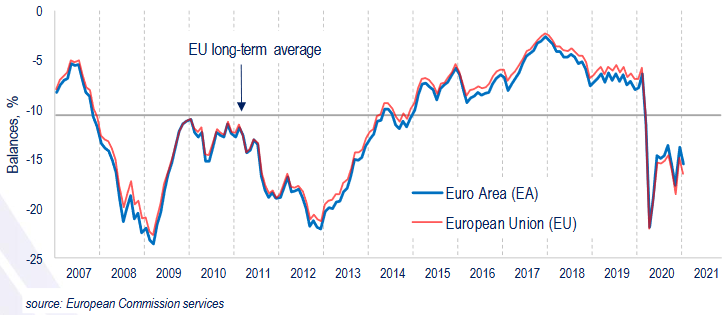 Figure 10
If that wasn't enough, the ECB essentially admitted it wants a weaker euro. On Tuesday (Jan. 26), reports surfaced that the ECB will investigate the causes of the euro's appreciation relative to the greenback. Translation? The central bank is studying ways to devalue the currency.
Adding more fuel to the fire, the yield differential between the U.S. and Europe foretells a higher USD Index. Dating back to 2003, after the U.S. 10-Year Treasury yield troughed and began rising, the USD Index (except for 2008-2009) always followed suit.
Please see below: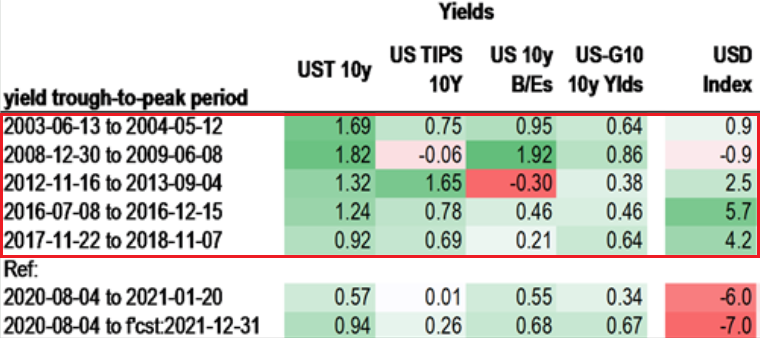 Figure 11 - Source: Daniel Lacalle
In contrast, if you analyze the area at the bottom, you can see that the U.S. 10-Year Treasury yield has bounced by 57 basis points from its August low. But moving in the opposite direction, the USD Index is lower now than it was it August.
Furthermore, notice the large divergence that's occurred since the beginning of December?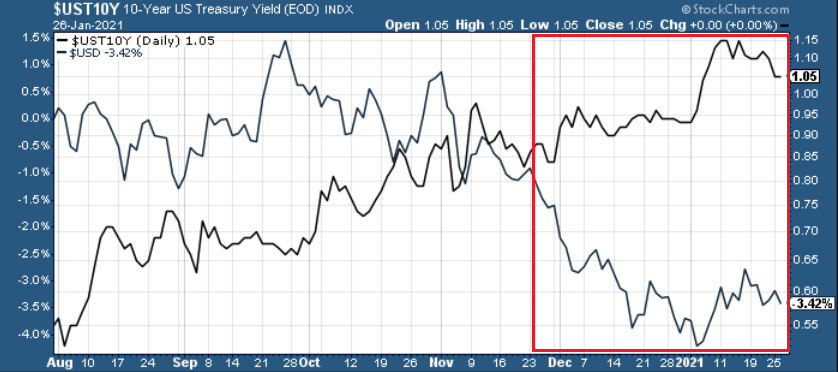 Figure 12
The abnormal behavior above highlights the power of sentiment. Because U.S. investors 'want' a lower USD Index, they're willing to overlook technicals, fundamentals, historical precedent, and essentially, reality. However, if the dynamic reverses, the USD Index is ripe for a resurgence.
Circling back to the euro, the currency is already starting to crack. On Monday (Jan. 25), I wrote that Janet Yellen's pledge to "act big" on the next coronavirus relief package ushered the EUR/GBP back above critical support.
However, on Tuesday (Jan. 26), the key level broke again.
Please see below: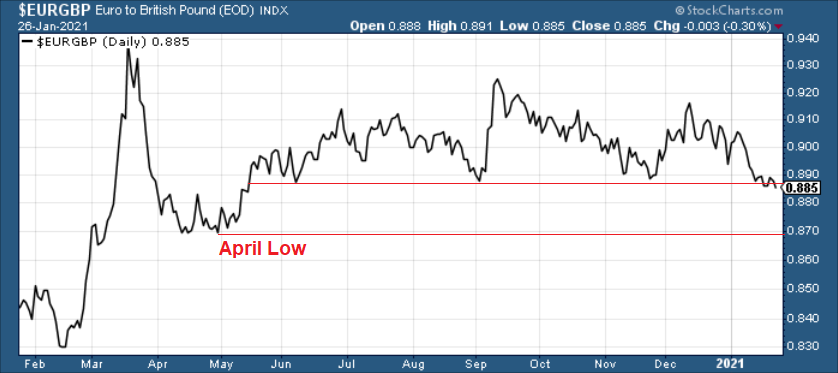 Figure 13
More importantly, though, a break in the EUR/GBP could be an early warning sign of a forthcoming break in the EUR/USD.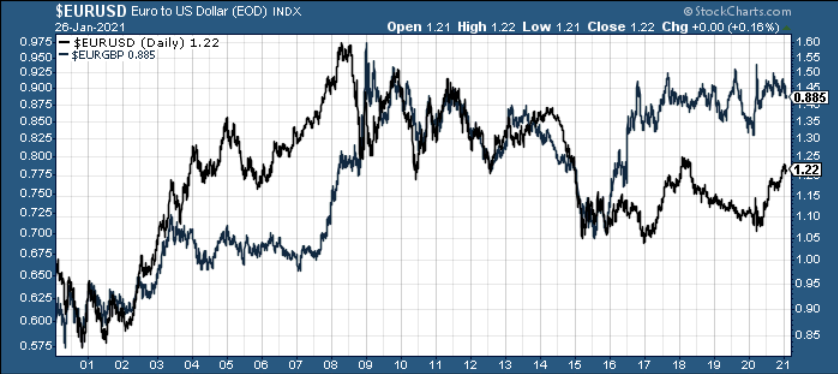 Figure 14
If you analyze the chart above, ~20 years of history shows that the EUR/GBP and the EUR/USD tend to follow in each other's footsteps. As a result, if the EUR/GBP retests its April low (the next support level), the EUR/USD is likely to tag along for the ride (which implies a move back to ~1.08).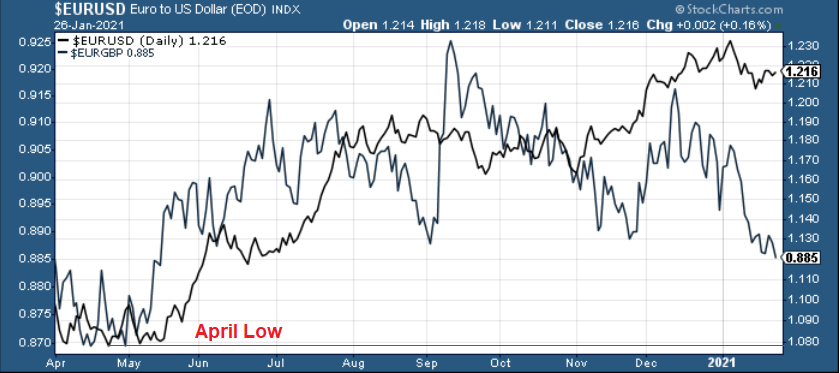 Figure 15
And like a falling string of dominoes, if the EUR/USD retests ~1.08, the PMs should come under significant pressure.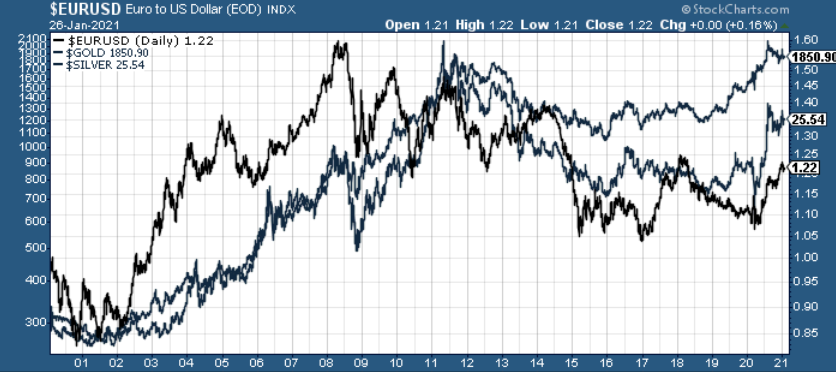 Figure 16
If you analyze the chart above, you can see that over the last ~20 years, gold and silver tend to live and die with the EUR/USD. Naturally, there are also other factors, but the point is that the performance of this currency pair shouldn't be ignored. As a result, a euro collapse (or at least a significant decline in it) could deliver plenty of fireworks. Conversely, once order is restored and weak Eurozone fundamentals are accurately priced into the EUR/USD, the precious metals will present us with an attractive buying opportunity.
Disclaimer: All essays, research, and information found on the Website represent the analyses and opinions of Mr. Radomski and Sunshine Profits' associates only. As such, it may prove wrong ...
more