How Equities And Yields Worsen Gold's Dejected State
Let's face it, gold is in the doldrums and needs to seek a psychiatrist. The strength to surge back is simply not there yet. Gold will eventually prevail, but not until it gets the support it needs. Will Powell's Operation Twist 3.0 save the day?
With U.S. equities suffering another derailment on Mar. 3, the precious metals were once again caught up in the wreckage. And because the PMs don't operate in a vacuum, I've warned on several occasions that equity-market stress often reverberates across the precious metals' market.
Please see below:

Figure 1
If you analyze the table above, you can see that Nasdaq 100 drawdowns of more than 2.00% tend to unnerve the PMs. Moreover, if you exclude silver's short squeeze on Jan. 29 and the NASDAQ 100's relatively 'quiet' 2.63% drawdown on Feb. 22, bouts of equity volatility significantly impact the PMs (especially the miners).
But what's causing the sudden crisis of confidence?
Well, to reiterate what I wrote on Feb. 24, Jerome Powell, Chairman of the U.S. Federal Reserve (FED), has lost control of the bond market.
Waking up to another spike on Mar. 3, the behavior of the U.S. 5-Year, 7-Year, and 10-Year Treasury yields continue to rattle investors. Surging by nearly 9% on the day, the U.S. 5-Year Treasury yield has become increasingly unhinged.
Please see below: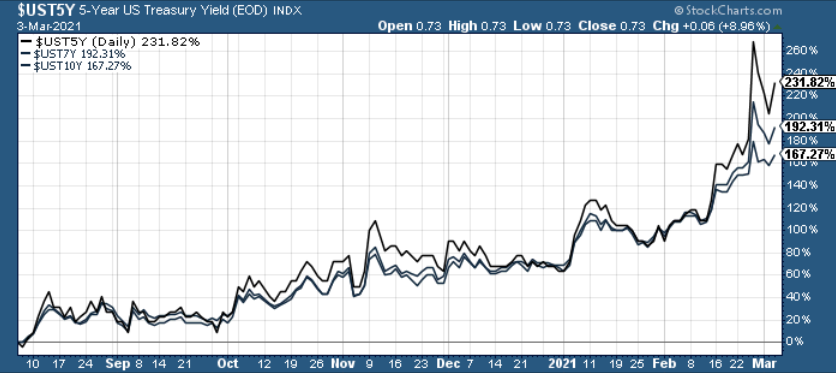 Figure 2
While he'll never admit it, it's clear that investors are starting to doubt Powell's ability to maintain a financial-market nirvana.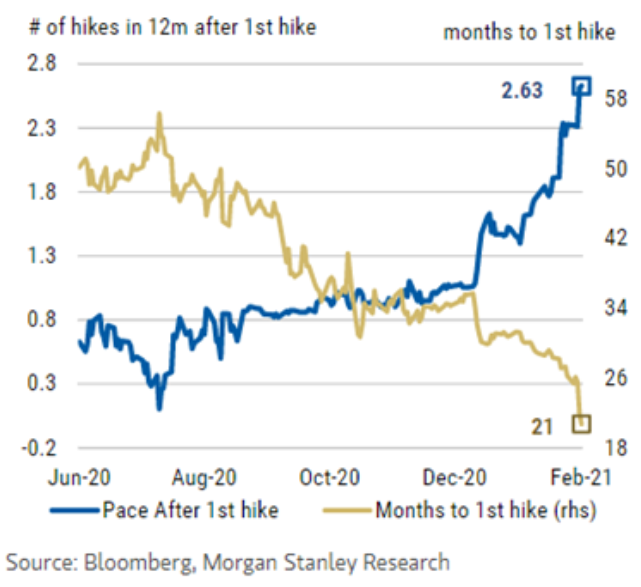 Figure 3
To explain, the gold line above tracks investors' belief in how long it will be until the FED raises interest rates. Likewise, the blue line tracks investors' belief in how quickly subsequent rate hikes will follow the initial rate hike. If you follow the gold line, you can see that at the end of December, investors expected roughly 36 months (three years) of bliss before the first rate hike (and only one rate hike occurring thereafter).
Disclaimer: All essays, research, and information found on the Website represent the analyses and opinions of Mr. Radomski and Sunshine Profits' associates only. As such, it may prove wrong ...
more