How Bond Yields Are Affecting Gold
And their current message to the Chairman? "We aren't buying what you're selling." As such, the yield curve is likely to continue its steepening stampede.
Circling back to gold, all of the above supports a continued decline of the copper/U.S. 10-Year Treasury yield ratio. With yields essentially released from captivity, even copper's 8.02% weekly surge wasn't enough to buck the trend.
As a result, gold's recent strength is likely a mirage. The yellow metal continues to bounce in fits and starts, thus, it's only a matter of time before the downtrend continues. Furthermore, with the USD Index still sitting on the sidelines, a resurgent greenback would add even more concrete to gold's wall of worry.
And speaking of gold's wall of worry, the sentiment surrounding it is far from being negative.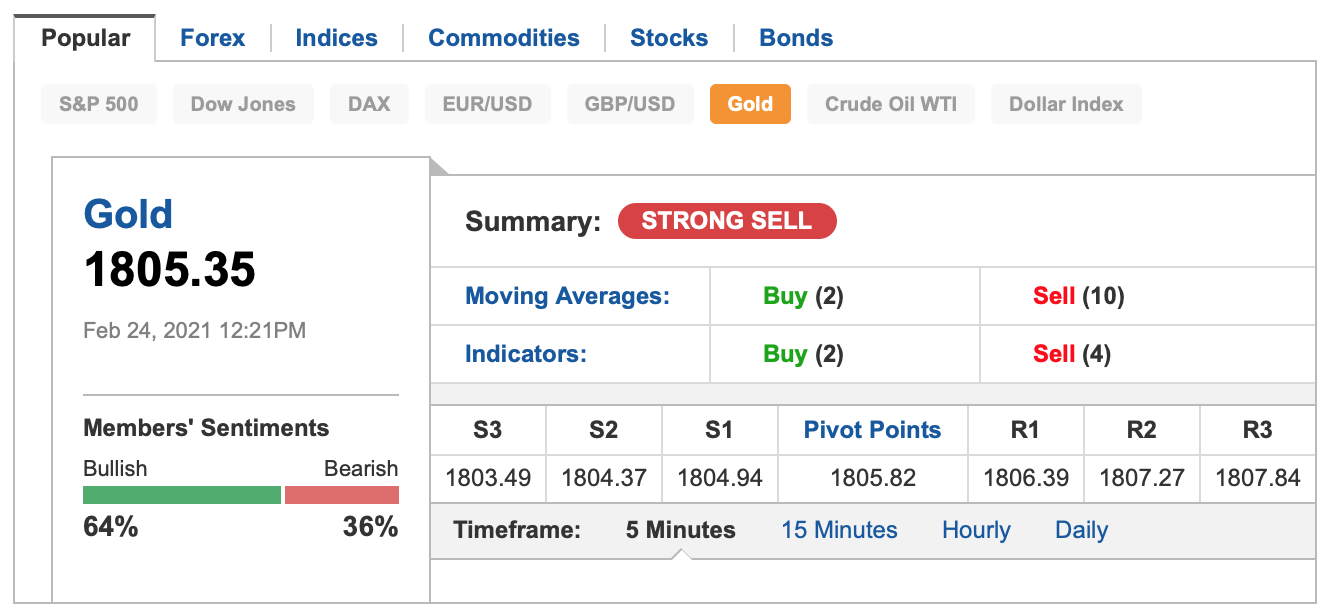 Figure 9 - Source: Investing.com
The above chart shows the sentiment of Investing.com's members. 64% of them are bullish on gold. As you can see above, there are also other popular markets listed: the S&P 500, Dow Jones, DAX, EUR/USD, GBP/USD, USD Index, and Crude oil. The sentiment for gold is the most bullish of all of them. Yes, the general stock market is climbing to new all-time highs every day now, and yet, people are even more bullish on gold than they are on stocks.
When gold slides, the sentiment is likely to get more bearish, and particularly high "bearish" readings – say, over 80% would likely indicate a good buying opportunity. Naturally, this is not the only factor that one should be paying attention to.
The bottom line? As it stands today, being long the precious metals offers a poor risk-reward proposition. However, in time (perhaps over the next several months), the dynamic will reverse, and the precious metals market will shine once again.
Disclaimer: All essays, research, and information found on the Website represent the analyses and opinions of Mr. Radomski and Sunshine Profits' associates only. As such, it may prove wrong ...
more