Historic Repo Market Insanity: 10Y Treasury Trades At -4% In Repo Ahead Of Monster Short Squeeze
Skyrm concludes by saying what we noted above, namely that "what's important is that trading below the Fail Charge implies a real deep short-base."
So what does this mean in the bit scheme of things? Recall what we showed yesterday using the latest data from Goldman - there is zero, nada, zilch liquidity in Treasurys. Indeed the last time the top-of-book depth was this low was during the peak of the Covid crisis last March.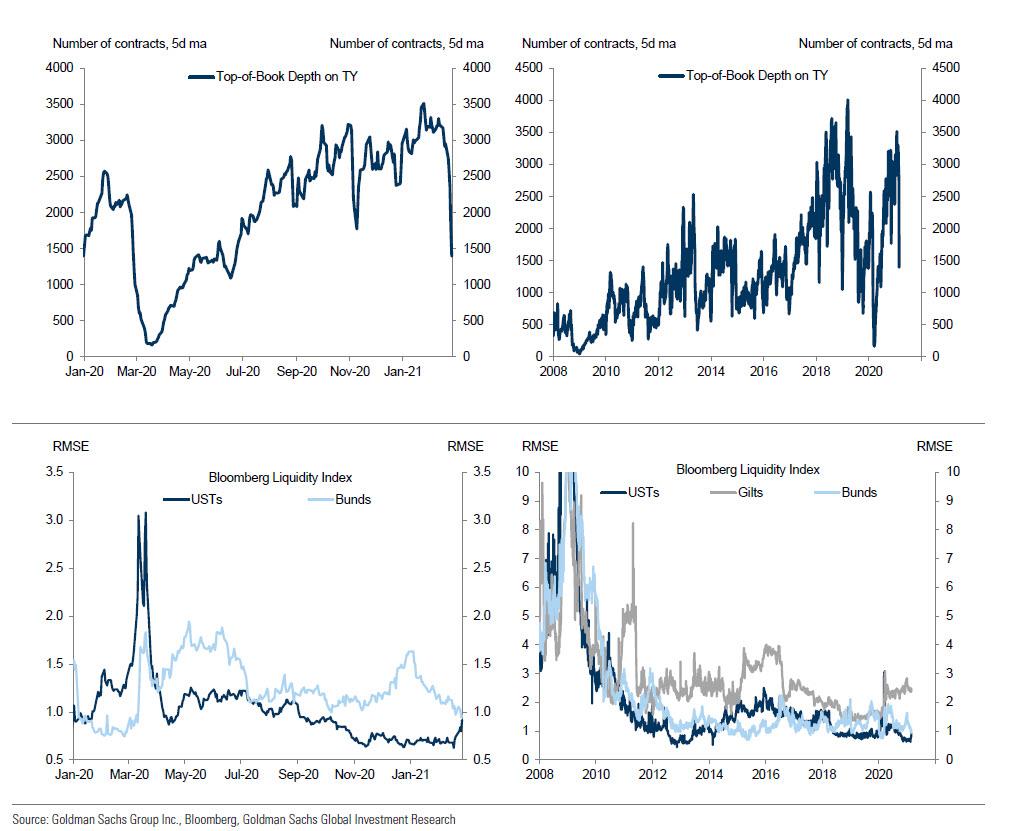 At the same time, the latest repo data merely confirms that all the price action is entirely on the short side and explains much of today's action. In fact, never before has there been such a massive pile-up of shorts in the 10Y.
This is important because it means that the imbalance in the bond market is no longer just a fundamental bet by traders expecting inflation: there is also something profoundly wrong with the actual market structure itself so much so that if left unchecked it could lead to catastrophic consequences for the world's (once upon a time) most liquidity market.
Meanwhile, none other than the Fed vice chair Lael Brainard, who was until very recently expected to become the next Treasury secretary and is widely considered to be Powell's replacement as Fed Chair, said on Tuesday that the Fed is now "paying attention":
I am paying close attention to market developments — some of those moves last week and the speed of those moves caught my eye. I would be concerned if I saw disorderly conditions or persistent tightening in financial conditions that could slow progress toward our goal.
Maybe on Tuesday, the Fed did not see "disorderly conditions" but in light of the historic move in repo on Wednesday, the Fed no longer has the luxury of waiting.
What this also means is that tomorrow, when Powell speaks at the Wall Street Journal virtual event which begins at noon, the Fed Chair will likely strongly hint that the Fed will either extend the SLR exemption by another 3-6 months (we explained the critical significance of the SLR term extension earlier in "Why The SLR Is All That Matters For Markets Right Now"), or that the IOER or RRP rates will be hiked to unclog the sudden build-up of collateral and push it back in the market. Perhaps the Fed will go so far as suggesting a new Operation Twist will be activated in the coming months (ahead of the Fed's taper announcement). Incidentally, our base case is that Powell will make it clear the current SLR term, will be extended as the Fed will want to hold on to YCC until just before it announces tapering in H2.
Disclaimer: Copyright ©2009-2021 ZeroHedge.com/ABC Media, LTD; All Rights Reserved. Zero Hedge is intended for Mature Audiences. Familiarize yourself with our legal and use policies every time ...
more