Historic Repo Market Insanity: 10Y Treasury Trades At -4% In Repo Ahead Of Monster Short Squeeze
Something crazy happened in the repo market today: according to Curvature repo guru Scott Skyrm, the 10Y traded as low as -4.00% in repo, a record low level and an unprecedented dislocation for the world's most liquid security, one with potentially tremendous consequences for what Jerome Powell may say tomorrow. Incidentally, Skyrm was far more dramatic about this historic move:
It's all over for the 10 Year Note! Clearly a significant amount of shorts rolled forward and now short-demand has overwhelmed the available supply. The issue traded as low as -4.00% today and already traded at -3.05% for tomorrow. Both of those rates are lower than Fail Charge, which is the equivalent of -3.00%.
What is remarkable is that the 10Y was barely "special" last Thursday when yields exploded higher amid the liquidation panic.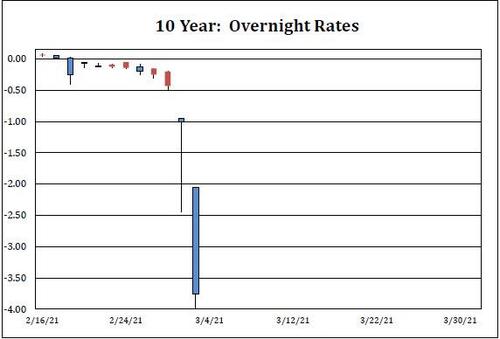 Actually scratch that: last week there were barely any shorts in the 10Y - that's why the massive stop-loss liquidation after last Thursday's 7Y auction was just longs puking. It was only after that the flood of shorts arrived and hammered the 10Y to "fails" levels in repo.
What does that mean in English?
As we have discussed in the past, TSYs trade special, or anywhere between 0% and -3% in repo (and while they may trade at, they never drop below the fails charge), whenever there is a massive pile-up of shorts. Think of it as a borrow on stock at some insane percentage: 100%, 1000%, etc. It's similar in rates, only such mechanics take places in the repo market and a rate of -3% is usually considered the equivalent of extremely hard to borrow. Even so, never before have we encountered a 10Y trading so special it was below the fails charge.
Why would anyone buy below the Fail Charge? As Skyrm explains, in the Treasury market, if you fail to deliver to a counterparty, there's a fail charge equal to 300 basis points below the lower bound of the fed funds target range. The equivalent of a -3.00% Repo rate. There are a variety of reasons why a Repo desk will cover a short below the Fail Charge rate - which include: keeping clients happy, avoiding internal meetings/explanations, and internal rules that require shorts to be covered. None of this explains why the repo rate would drop to the mathematically improbable -4%, except to suggest that something is starting to crack in the repo market itself.
Disclaimer: Copyright ©2009-2021 ZeroHedge.com/ABC Media, LTD; All Rights Reserved. Zero Hedge is intended for Mature Audiences. Familiarize yourself with our legal and use policies every time ...
more