Here Are The Best Performing Assets In April And YTD
Looking at the individual products, the big advances include sugar (+18.1%), wheat (+20.1%), and corn (+31.1%), which could have a big impact on many emerging markets as consumers there spend a larger proportion of their income on food. Indeed, for corn futures, April marked their biggest monthly increase since all the way back in June 1988. As DB wrote in a recent Chart of the Day, this is certainly one to watch, since sharp rises in food prices of this magnitude previously through history have been connected to periods of social unrest.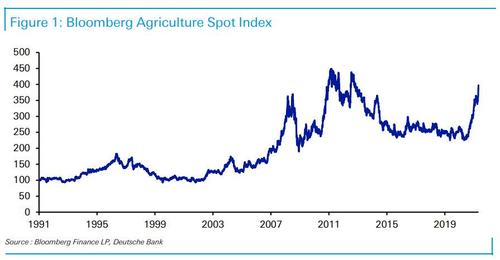 Elsewhere, equities had a great month on the whole in April, with the major global indices reaching new all-time highs. The US indices were among the strongest performers, with the S&P 500 (+5.3%) and the NASDAQ (+5.4%) seeing solid gains on a total returns basis, with the latter rising for a 6th consecutive month. Over in Europe, the STOXX 600 gained +2.4%, though Japan's Nikkei (-1.3%) was one of the few to lose ground on the month as the country grappled with a fresh wave of Covid19 cases.
Turning to sovereign bonds, US Treasuries ended a run of four consecutive monthly declines as they rose +0.8% in April. That came as the Fed continued to reassure investors that they were in no rush to roll back monetary stimulus, and wanted to see actual rather than just forecasted progress. Yields on 10-yr US Treasuries ended the month -11.5bps lower, which is the biggest monthly decline since last July. Over in Europe however, sovereign bonds lost ground, with bunds (-0.7%), OATs (-1.0%) and BTPs (-1.5%) all declining. And although gilts were actually up +0.5% over the month, they're now the worst performers in our sample on a YTD basis, with a -6.9% decline. This is because gold, which had been the worst performer in Q1 with a - 10.0% decline, managed to pare back some of this with a +3.6% gain over the month.
Finally in FX, the dollar (-2.1%) had a poor performance in April, following a relative strong Q1 (+3.7%). This helped other currencies on a relative basis, with the euro up +2.5% vs the US dollar, and the Japanese Yen up +1.3%. However, we also saw another big milestone in April, as bitcoin's run of 6 successive monthly gains came to an end. Although the cryptocurrency peaked at an all-time intraday high on April 14 of $64,870, a subsequent pullback over the last couple of weeks left the cryptocurrency down -3.6% over the month as a whole.
Disclosure: Copyright ©2009-2021 ZeroHedge.com/ABC Media, LTD; All Rights Reserved. Zero Hedge is intended for Mature Audiences. Familiarize yourself with our legal and use policies ...
more