Gold, USDX: The Board Is Set, The Pieces Are Moving
The current rally started at about 89, so if the "normal" (the above shows what is the normal course of action) happens, the USD Index is likely to rally to at least 94, but since the 5-index point rally seems to be the data outlier, it might be better to base the target on the remaining 5 cases. Consequently, one could expect the USD Index to rally by at least 11 – 20 index points, based on the net speculative positions alone. This means the upside target area of about 105 – 114. Consequently, a comeback to the 2020 highs is not only very likely but also the conservative scenario.
In addition, let's keep in mind that the very bullish analogy to the 2018 rally remains intact. If you analyze the chart below, you can see that back in 2018, the USD Index rallied sharply and then corrected back to its previous highs. And in a similar fashion, the current weakness is nearly identical. More importantly, though, with the 61.8% Fibonacci retracement level sitting just below the USD Index's 50-day MA, the cavalry is already on the way.
Please see below: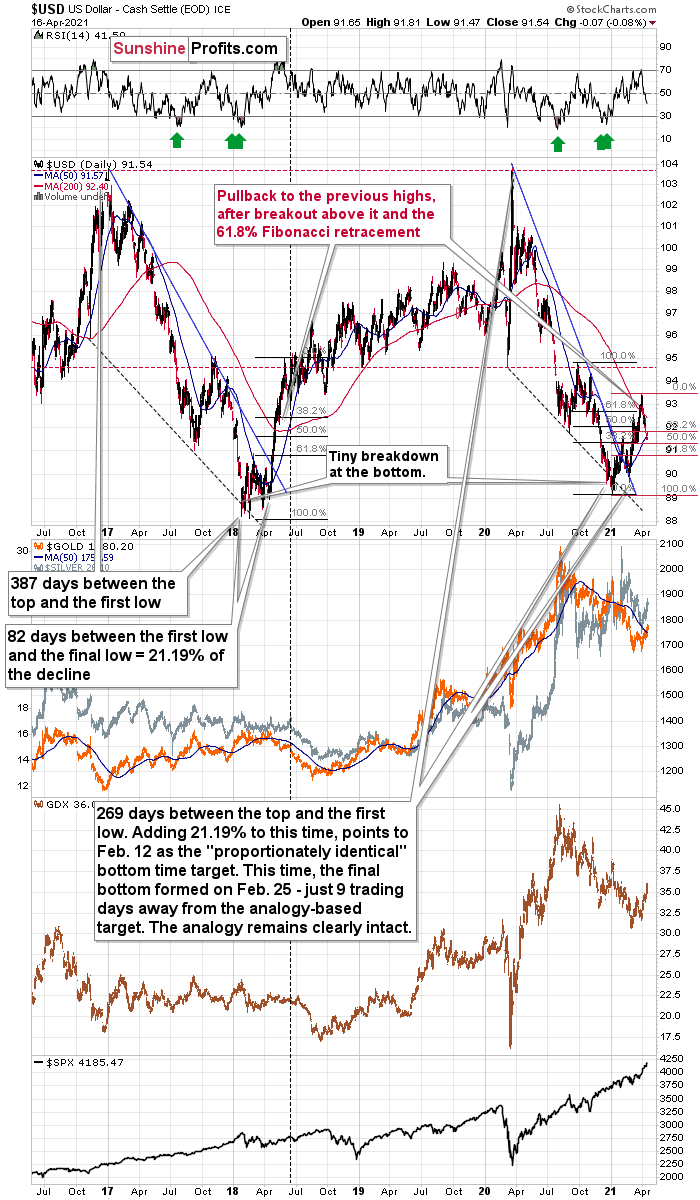 The current correction is much bigger than what we saw in mid-April 2018, so it seems that what we see right now is more of an analogy to what we saw in June 2018. That was the first big correction after the breakout – above the 50-day moving average and the declining blue resistance line – that definitively ended the yearly decline.
I marked the situation from 2018 that seems similar to what we see right now with a dashed, horizontal line. Back in 2018, the pullback ended when the USD Index moved to its first Fibonacci classic retracement level (the 38.2% one). In the case of the current rally, I marked those retracements with red. The USD Index is already below the first two (taking today's pre-market decline into account) and it seems to be on its way to reach the final – most classic – 61.8% retracement. This kind of retracement provides substantial short-term support and it's something that's likely to trigger a rebounding.
This retracement is slightly above the 90.7 level, and at the moment of writing these words, the USD Index is trading at 91.14. This means that the USD Index can reach its very strong short-term support any day – or hour – now.
The very important detail about the June 2018 decline (and bottom) is that while this was the moment after which the USD Index's started to move higher at a slower pace, it was also the moment after which the precious metals market started to decline faster.
Disclaimer: All essays, research, and information found above represent analyses and opinions of Matthew Levy, CFA and Sunshine Profits' associates only. As such, it may prove wrong and be ...
more