Gold, USDX: The Board Is Set, The Pieces Are Moving
A culminating point has been reached. With the USD Index being backed up by solid fundamentals, can gold hold the line?
Have you ever noticed how often the language of war is used in finance and economics articles? A given company is on the defensive or the offensive, a stock is pushing forward, something else is rallying, positions are being taken… who will fire first? It's the case of continuous push and pull factors that make military strategies and concepts relevant to the subject of money.
Now, when it comes to gold and the USD Index, it's not the great battle of our time (in reference to today's title), as Gandalf explained to Pippin in The Lord of the Rings, but it's a battle, nonetheless. For the yellow metal, it could even be a deep breath before the plunge. We'll soon find out.
With an epic struggle for supremacy set to unfold in the coming weeks, battle lines have officially been drawn: with the USD Index hovering near its 50-day moving average and gold recapturing its 50-day MA, negatively correlated assets have officially collided. And, as the rules of engagement specify that to the victor go the spoils, which one is likely to wave the white flag?
Well, with the USD Index built on a foundation of relative fundamentals and gold a beneficiary of shifting sentiment, the former remains locked and loaded and poised to neutralize the threat. Case in point: despite the USD Index's recent recoil, non-commercial (speculative) futures traders actually increased their net-long positions last week.
Please see below:

Source: COT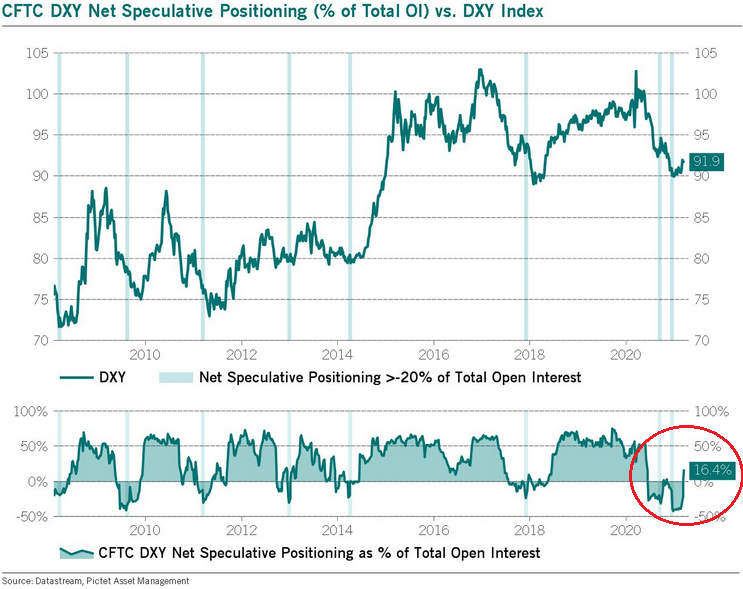 Moreover, let's keep in mind that when net-speculative short interest as a percentage of total open interest (based on the CoT data) became extremely high in 2014 and 2018, the USD Index recorded two of its sharpest rallies in history. How sharp? Well, let's take a look at how things developed in the past – after all, history tends to rhyme.
Let's focus on what happened when the net speculative positions were significantly (!) negative and then they became significantly (!) positive, without paying attention to tiny moves (like the one that we saw last summer).
In short, rallies that began with extreme pessimism include:
The big 2008 rally (over 16 index points)
The big 2009 – 2010 rally (over 14 index points)
The 2011 – 2012 rally (over 11 index points)
The 2013 rally ("only" over 5 index points)
The big 2014 – 2015 rally (over 20 index points)
The 2018 rally (over 15 index points)
Disclaimer: All essays, research, and information found above represent analyses and opinions of Matthew Levy, CFA and Sunshine Profits' associates only. As such, it may prove wrong and be ...
more