Gold: Logic Vs. Emotions, True Vs. Temporary
In the near term, the USD Index could once again test the very recent lows and perhaps reach the rising medium-term support line – at about 90.4 – 90.5. In response, gold might even rally to $1,830 or so, which I already wrote yesterday.
[Edit: I wrote the above in advance, and I'm adding this paragraph at 9 AM EST – the USD Index just reached the above-mentioned target area, so the bottom might be in at this time or it might be extremely close.]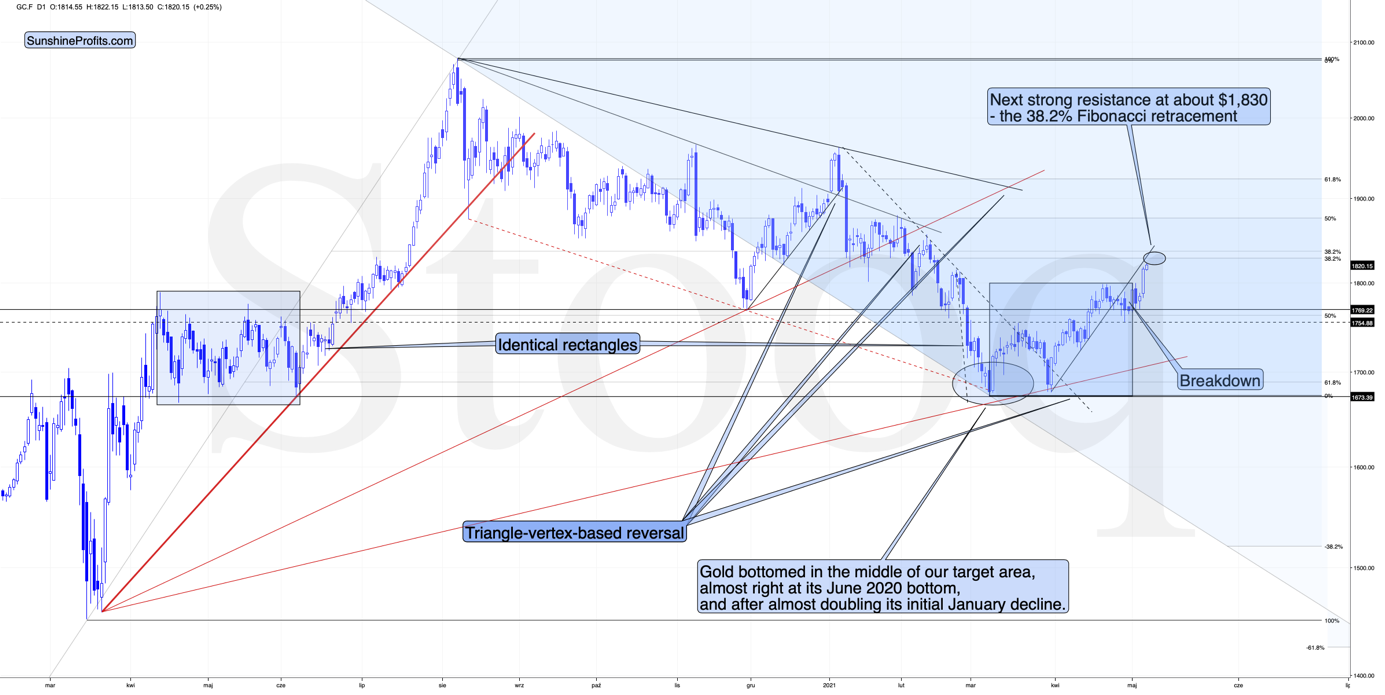 Quoting my yesterday's thoughts on that matter:
How high could gold rally in the very near term? Perhaps by another $15, to about $1,830 as that's where we have the 38.2% Fibonacci retracement level based on the August 2020 – March 2021 decline. However, even if gold does rally there (which is far from being certain – the top might form as early as today), it doesn't seem likely to me that GDXJ would soar substantially. Please note that miners tend to be particularly weak relative to gold right at or before the top and GDXJ is already underperforming.
Also, a quick rally to this level would imply a move back to the previously broken support line – it could work as resistance right now.
Gold moved beyond the blue rectangle that I marked on the above chart (a copy of the 2020 consolidation) but it is not required for the two shoulders of a head-and-shoulders pattern to be 100% identical, so it didn't invalidate the possibility of this pattern being formed in the following weeks.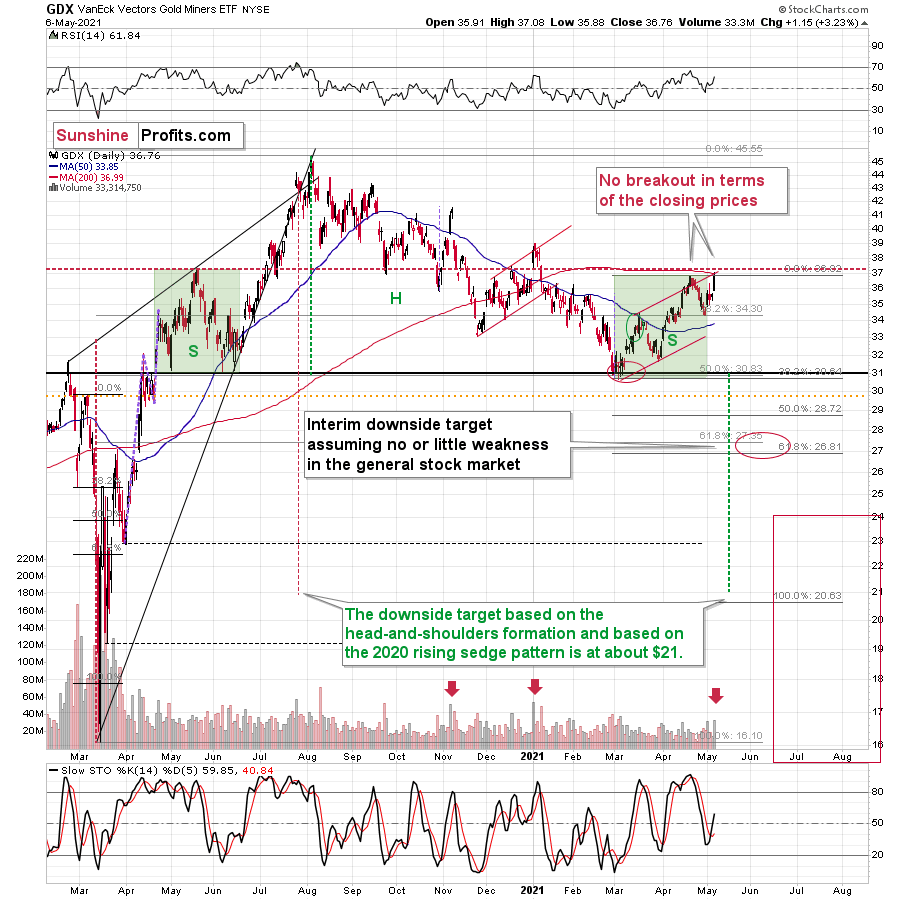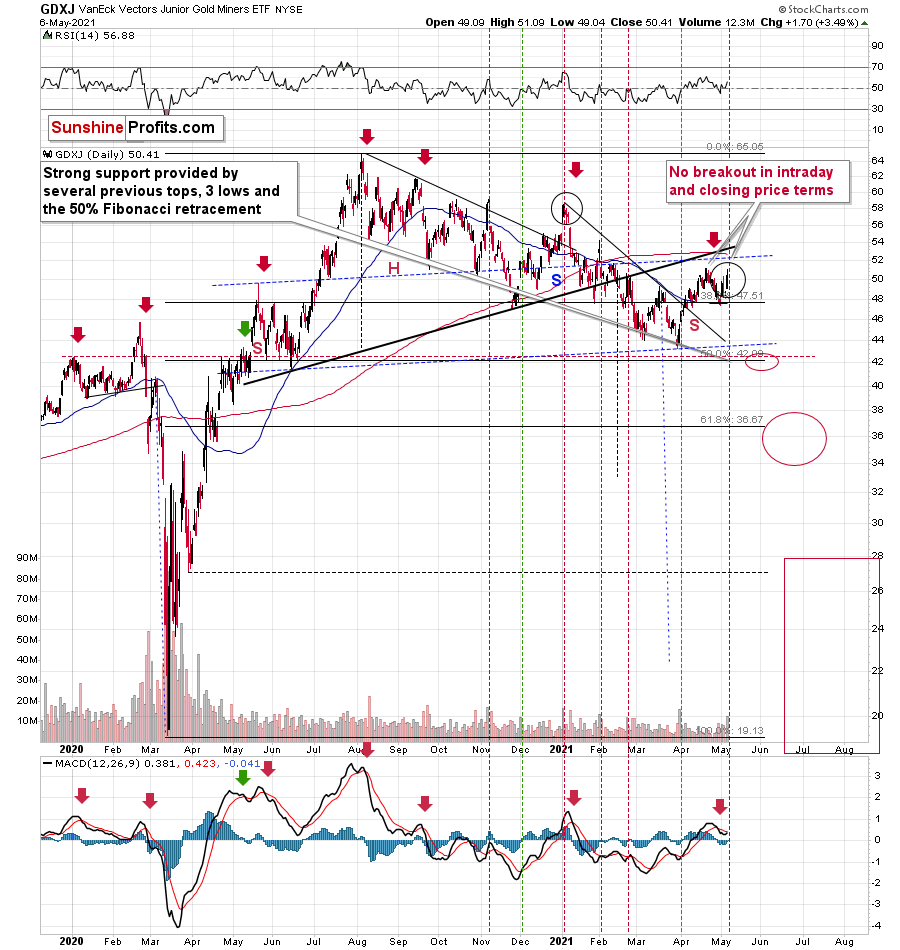 Mining stocks have indeed underperformed yesterday. The GDX ETF moved to new intraday highs, but it closed the day below the highest closing price of April. The GDXJ ETF was unable to rally to new intraday highs – it underperformed once again. In fact, looking at the GDXJ ETF chart reveals that yesterday's session wasn't really that important in terms of price changes… As long as one is sticking to the selection of assets that I'm featuring in the analyses.
Still, yesterday's session provides us with some interesting clues. The most interesting thing is the spike in volume that we've seen in both ETFs. It's particularly notable in the case of the GDXJ ETF.
On both charts, it's clear the spikes in volume during daily rallies are something that marks the end of the rally, not its beginning. On the GDXJ ETF chart, we see an additional layer of detail. Namely, the way the volume spikes are positioned relative to each other and how it all compares to the late-2020 and early-2021 performance.
In early November 2020, we saw a spike in volume which marked a local top. Then the early-December spike marked the start of a rally. Then after– more or less – an equal amount of time, we saw another spike in volume, which once again marked a local top – that was the early-2021 high.
Now, we saw a spike in volume in late February 2021 (local top), then in late March (start of the rally), and now – in early May, after a more or less equal amount of time – we can see another spike in volume. Consequently, it seems quite likely that what we see right now is similar to what we saw at the beginning of the year. The difference is that if miners decline from here, then the slide is likely to be much bigger as a move to new yearly lows would confirm the broad head-and-shoulders pattern in the miners.
Another obvious clue is that miners – unlike gold – didn't soar to new highs, so one might say that they continue to underperform gold, which is bearish, especially when combined with outperforming silver.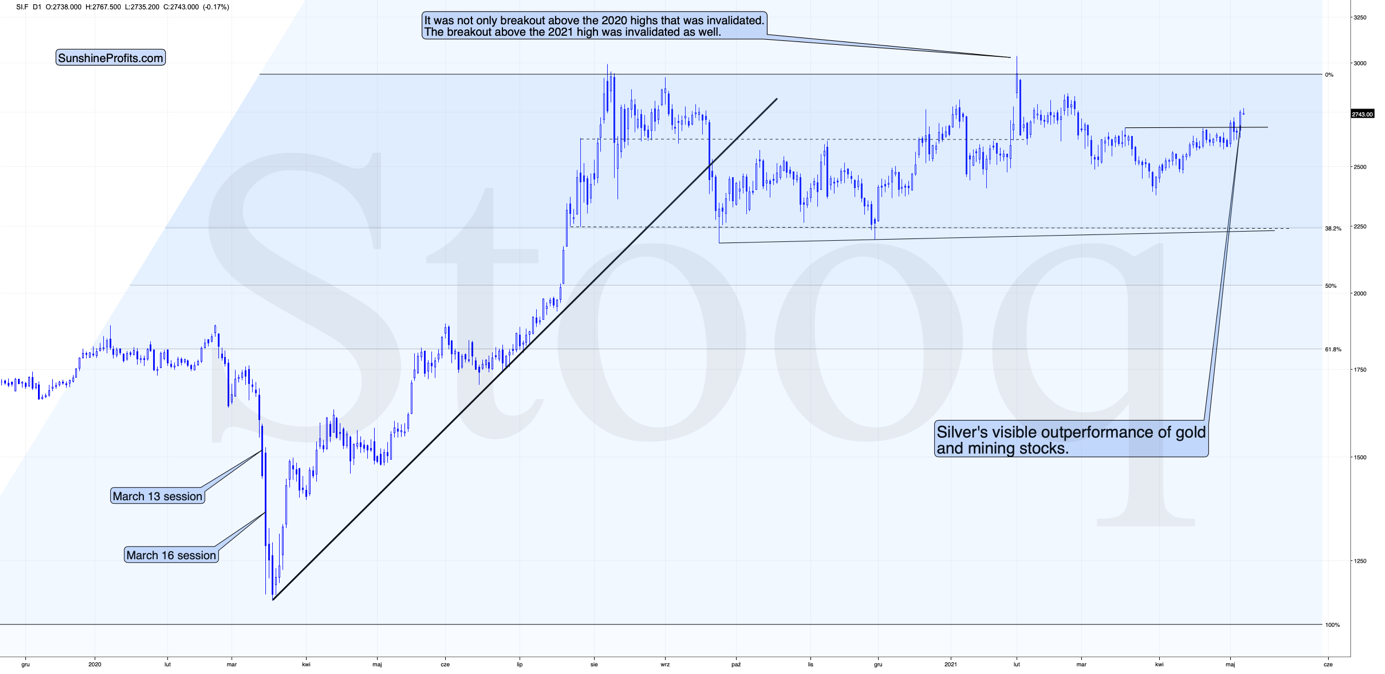 And that's exactly what silver is doing right now – it's outperforming gold on a short-term basis. This is what has been preceding major tops for many years, and it seems that the same fate awaits the precious metals market shortly.
Having said that, let's take a look at the markets from a more fundamental angle.
Taper Your Expectations
After the Bank of Canada (BOC) decided to scale back its asset purchases on Apr. 21, the Bank of England (BOE) announced on May 6th that it will reduce its bond purchases from £4.40 billion per week to £3.40 billion per week beginning some time in between May and August.
Please see below: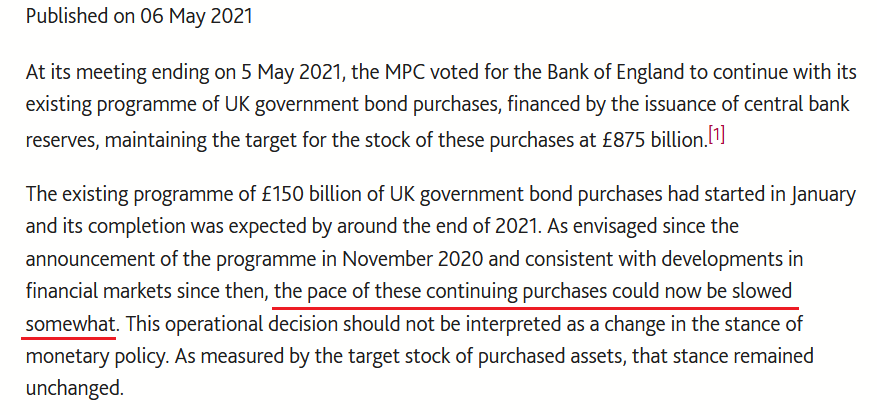 Source: BOE
And why is this so important?
Well, with the BOE following in the BOC's footsteps, the U.S. Federal Reserve (FED) is likely next in line. To explain, while the PMs enjoyed another strong rally on May 6th, their recent climb actually makes some fundamental sense: with inflation expectations surging and the U.S. 10-Year Treasury yield failing to participate, the U.S. 10-Year real yield has declined by 12 basis points since Apr. 30. However, with the U.S. 10-Year Treasury yield demonstrating an even wider divergence from the U.S. 10-Year breakeven inflation rate than before the taper tantrum in 2013, once the dam eventually breaks, the former's flood will likely drown the PMs in the process. (You likely remember very well how fast gold plunged in 2013.)
Disclaimer: All essays, research and information found on the Website represent the analyses and opinions of Mr. Radomski and Sunshine Profits' associates only. As such, it may prove wrong ...
more