Gold: Crisis Or Opportunity?
People…relax. It's a correction.
If you're a serious gold investor, then I sympathize.
If you're freaking out, then this is not for you. If you're anxious, then you need to check your premises.
After all, what's changed since gold reached a new all-time nominal high over $2,000 last August?
Actually, most of the fundamental drivers that support gold have simply gotten more entrenched. And that ultimately means much, much higher gold prices over the next few years.
So, the current rout becomes a matter of perspective. After all, we've set a lot of records lately…in a bad way. Unless you think record levels of debt, record low-interest rates, record-high stock valuations, and record levels of money supply will hurt gold prices, then relax.
In the meantime, it's helpful to just try and better understand what's pressuring gold. That way we can decide if its weakness is transitory, or structural.
Odds are you know where this is going. But let's work through it anyway, you know, for fun.
Rising Yields, Deficits, and Debts
My take on what's been pressuring gold for the last few months boils down to one main factor, the rise in long-term yields.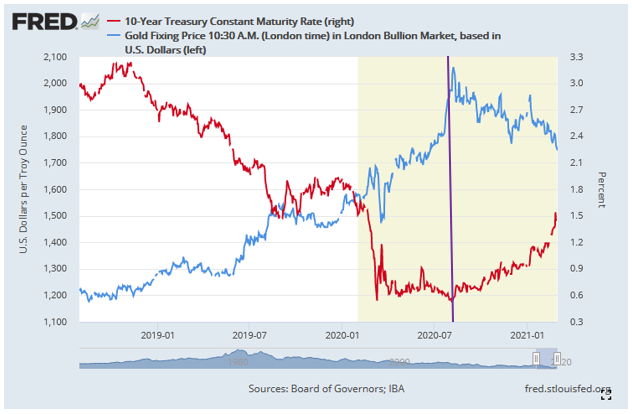 Bond yields have been on a path higher since early August. It's no coincidence that gold started to correct at virtually the same time. Gold pays no dividends. And investors have become attracted to higher bond yields as stocks have gotten even more pricey.
Intertwined with that is the rising U.S. dollar. As the rise in yields accelerated when we entered 2021, foreigners likely began converting their currencies to dollars to buy U.S. bonds. That has prompted a rally in the U.S. dollar index which could have a bit higher to go before peaking.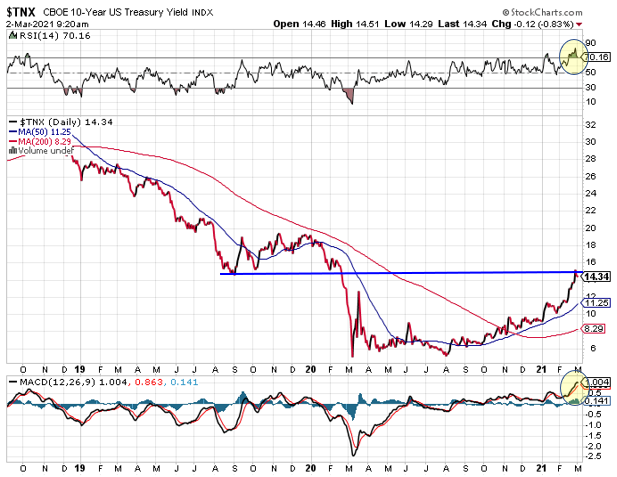 Judging by the RSI and MACD momentum indicators, the Ten-Year Treasury Index is looking overbought. And the 1.5% ten-year yield level, which acted as support several times in late 2019, may now become resistance.