Gold: Bearish Sentiment Makes A Bottom In Precious Metals
For the past seven months, gold and silver have been in the news based on a short squeeze and shortages. However, they went the other way and we have seen a Fibonacci correction in gold. The fundamentals do not seem to matter. Gold and silver are experiencing shortages. The physical prices are running far above the paper market prices, so we have a discrepancy between the physical and paper markets. The futures markets are more volatile because they do lead pricing for the cash market - at least traditionally. At some point, the paper markets will reflect the cash markets. But at this point, the precious metals are technical markets.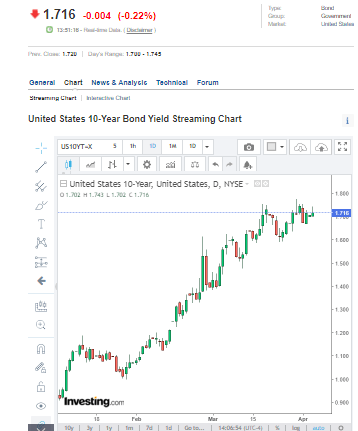 The government is pumping money into the system. The 10-year note reached 1.77, which indicates that fears of inflation are beginning to affect the market. The grains are also moving up rapidly, which will lead to higher food prices in the near future. These rises make the bond and credit market nervous. Everyone is talking about higher rates, which does not bode well for the US dollar, yet the stock market is making new highs in the face of possibly higher interest rates. A lot of things do not make sense. If interest rates are at risk of increasing, it is not bullish for stocks, yet stocks continue to make new highs. The rise in interest rates may be of short-term duration and we may soon go back down to lower interest rates or even negative rates. It is a possibility. Interest rates almost doubled from early this year/late December 2020, probably so the Fed could bring them down once again. The amount of money coming into the market from the government is unprecedented. Now the government is talking about pumping another $4 trillion into the markets. We are looking at an increasing percentage of GDP in terms of stimulus. It is a trading opportunity because we see a lot of volatility coming back into the market, especially in gold and silver.
The Markets
The markets are quiet this morning. Gold is turning positive at $1728.90 and silver is positive at $24.96. Copper is up 12 cents. Copper is picking up a lot of interest right now. There is anticipation about a shortage in silver and gold, so copper, platinum, and palladium are getting some interest. The derivatives, JNUG, are on the plus side this morning. We are getting a good indication that the aggregates are turning bullish in the gold market.
Disclosure: I am/we are long GDX. I wrote this article myself, and it expresses my own opinions. I am not receiving compensation for it (other than from SA). I have no business relationship ...
more