HH

Global Recession "Appears Inevitable" - Guggenheim's Minerd Fears Cascading 'Butterfly Effect'
Investment-Grade Bond Spreads Are Poised to Widen
(Click on image to enlarge)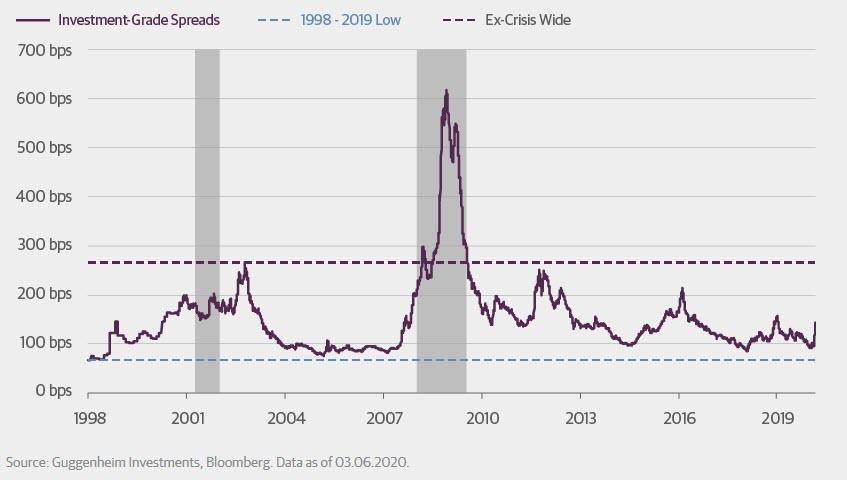 Source: Guggenheim Investments, Bloomberg. Data as of 03.06.2020.
And don't forget that a large number of investment-grade bonds already have leverage ratios equivalent to high yield. As the market learned in the case of Kraft Heinz (KHC) last month, rating agency forbearance may soon dissipate, especially as earnings and free cash flow declines. KHC, a well-known household brand with a market cap of over $30 billion, saw its corporate bond rating slashed from BBB- to BB+ by both S&P and Fitch in one day. The downgrade made 19 KHC bonds totaling $22 billion in total outstanding ineligible for the most broadly-followed investment-grade corporate bond index benchmarks.
Our estimate is that there is potentially as much as a trillion dollars of high-grade bonds heading to junk. That supply would swamp the high yield market as it would double the size of the below investment grade bond market. That alone would widen spreads even without the effect of increasing defaults.
As for stocks, technical analysis suggests that there should be support around 2600 on the S&P 500, but in a recession scenario, a level closer to 2000 could be the ultimate outcome.
Many skeptics have challenged this idea, saying that the panic is close to an end. In this circumstance I recall the quote from Winston Churchill:
"This is not the end. It is not even the beginning of the end. But it is, perhaps, the end of the beginning."