HH

Global Recession "Appears Inevitable" - Guggenheim's Minerd Fears Cascading 'Butterfly Effect'
Then there is the knock-on effect to corporate earnings and cash flows across a broad swath of industries once the world enters a global recession which now appears to be inevitable.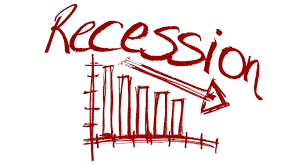 We arrive at this moment with the overleveraged corporate sector about to face the prospect that new-issue bond markets may seize up, as they did last week, and that even seemingly sound companies will find credit expensive or difficult to obtain.
The prospect of a crisis at maturity—that a borrower with maturing debt finds it impossible to roll the debt over to pay it off—is a very real prospect even for companies that are solvent. It has happened before, and it will happen again.
All of this points to the fact that it is virtually impossible to identify the next domino to fall but one thing seems certain: They will continue to fall.
How did we get into such a precarious position? After a decade of profligate borrowing by corporations, it would seem that any reasonable investor would have realized the fragility of the financial system.
Rumors are circulating in the market hoping for a return of crisis-era programs like TAF, TARP, TALF, TLGP, and TSLF. (Can anyone remember what all these alphabet programs stand for?) But resurrection of these programs may arrive in time for Easter.
For now, stocks are limit down, the entire yield curve for Treasury securities yields under 1 percent and credit spreads are exploding, especially in energy bonds.
What next?
I hate to admit this, but our proprietary models indicate that fair value on the 10-year Treasury note will reach -50 basis points before year-end and the possibility that rates could overshoot to -2 percent.
Credit spreads have a long way to expand. BBB bonds could easily reach a spread of 400 basis points over Treasurys while high yield would follow suit with BB bonds at 750 basis points over and single B bonds at 1100 basis points over. The risk is that it could be worse.
High-Yield Bond Spreads Have a Long Way to Expand
(Click on image to enlarge)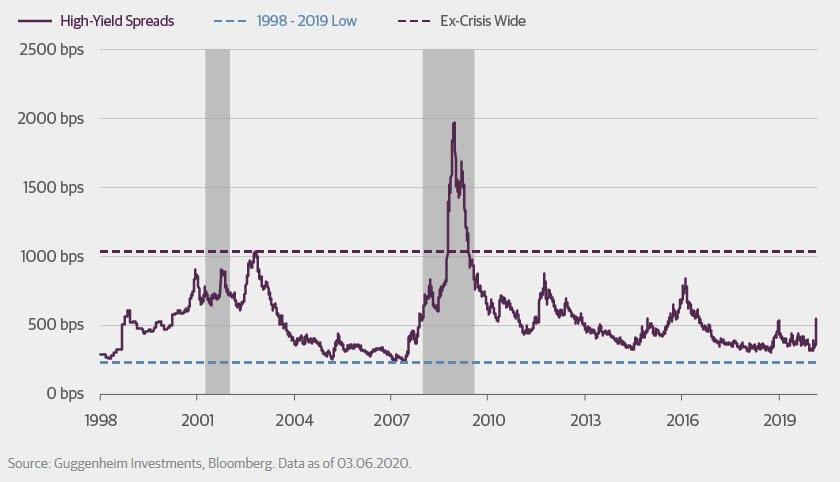 Source: Guggenheim Investments, Bloomberg. Data as of 03.06.2020.
And don't forget that a large number of investment-grade bonds already have leverage ratios equivalent to high yield. As the market learned in the case of Kraft Heinz (KHC) last month, rating agency forbearance may soon dissipate, especially as earnings and free cash flow declines. KHC, a well-known household brand with a market cap of over $30 billion, saw its corporate bond rating slashed from BBB- to BB+ by both S&P and Fitch in one day. The downgrade made 19 KHC bonds totaling $22 billion in total outstanding ineligible for the most broadly-followed investment-grade corporate bond index benchmarks.