FOMC Minutes Show Fed Sees "Elevated Asset Valuation Pressures", Will Ignore "Temporary" Inflation Factors
Bonds and bullion have been battered since the Jan 27th FOMC meeting as stocks and the dollar have rallied (despite ugly jobs data since the meeting)...
(Click on image to enlarge)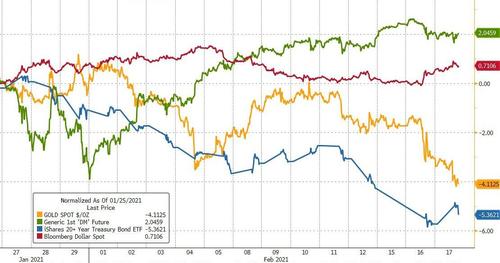 Source: Bloomberg
Treasury yields have blown wider amid re-inflationary impulses dominating the narrative, and the curve has steepened significantly (2s30s +28bps since the FOMC meeting)...
(Click on image to enlarge)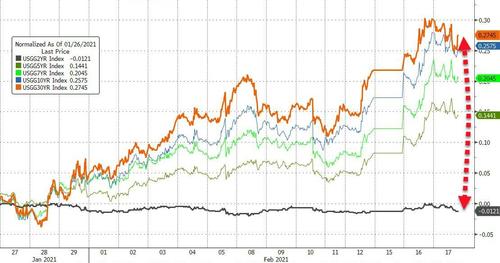 Source: Bloomberg
Real yields have soared since the last FOMC meeting (dragging down gold)...
(Click on image to enlarge)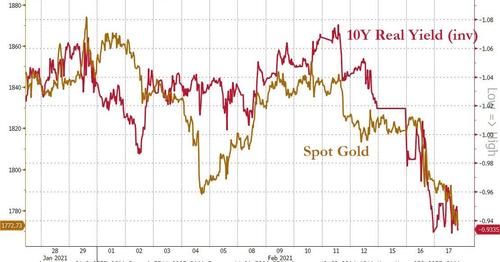 Source: Bloomberg
"It's an onus for investors to be cognizant about real yields," said Gary Pollack, head of fixed-income for private wealth management at Deutsche Bank.

The increase in real yields is "an omen for the future that interest rates could rise further."
And sure enough, too much of a good thing, etc., etc. and we have seen stocks fade as yields spiked (and the dollar jump) in the last couple of days amid surging inflation and retail sales spark concerns that 'good news is bad news'...
(Click on image to enlarge)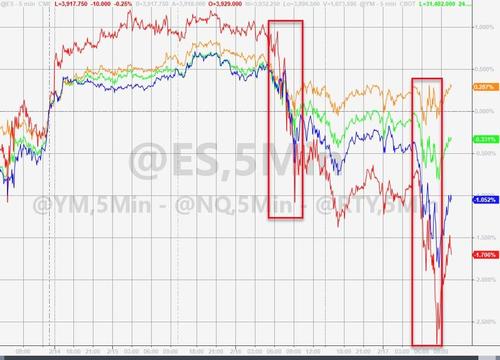 All of which brings us to The Fed minutes and whether there are any signals within it that Powell and his pals are - at the margin - concerned at record high equity valuations, record low credit spreads (amid record-high debt loads), and now soaring inflation expectations (and bond yields). Critically, any mention of yield curve control may just be the trigger to spoil the party and we humbly suggest the equity market is anything but prepared for that.
As a reminder, the committee made no changes to its monetary policy when it met Jan. 26-27, and Chair Jerome Powell said it's too soon to be thinking about when to taper asset purchases. Some Fed presidents have raised the possibility of tapering bond buying later this year.
"The tone from that meeting was quite comforting for markets: they said there wasn't a change in policy coming anytime soon, which is exactly what the market wants to hear," said Hugh Gimber, a strategist at J.P. Morgan Asset Management.

"Investors will be looking for a reiteration of the cautiousness that was struck at that meeting."
Disclaimer: Copyright ©2009-2020 ZeroHedge.com/ABC Media, LTD; All Rights Reserved. Zero Hedge is intended for Mature Audiences. Familiarize yourself with our legal and use policies every time ...
more