Dump These Bond Funds Everyone Else Thinks Are Safe
The recent, short-term, stock market crash has led to a "flight to quality," which means money running out of stocks and into safe investments such as U.S. Treasury notes. Demand for Treasuries lifts bond prices, which has the mathematical effect of pushing down yields. Over the last two weeks, the yield on the benchmark 10-year Treasury Note has crashed. The current yield is 1.08%. That's basically a one-percent yield on a security that doesn't mature for a decade.
The 10-year yield dropped by 43 basis points over the last month. A basis point is finance speak for 1/100th of a percent, so the bond yield is now 0.43% lower than it was 30 days ago. That roughly one-half a percent drop in the yield produced a 4.5% increase in the price of the 10-year Treasury. Buying bond funds a month ago, or even a year ago, was a great investment move as interest rates (as represented by the 10-year yield) declined by 168 basis points over the last 12 months.
Make sure you understand the mathematical fact that when interest rates fall, bond prices go up. The reverse is also true. With the 10-year rate now at one-percent, it is hard to imagine there will be more capital gains from owning longer-term bond funds. The best case now is that rates stay low and investors in a Treasury ETF or index fund will earn 1% a year for the next decade. If rates start to increase, bond fund prices will fall, resulting in what could be significant capital losses.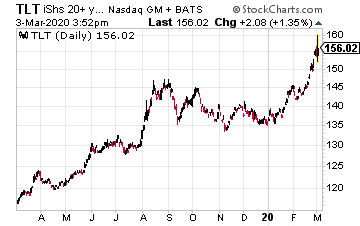 Point two to understand is that a bond fund/ETF is different from owning individual bonds. A bond will mature and pay off the principal amount. If a bond's market price falls due to rising rates, an investor can hold on until maturity and receive the full face value. In contrast, a bond fund portfolio owns bonds to match the fund's target maturity. It never holds bonds until they mature. For example, the iShares 20+ Year Treasury Bond ETF (TLT) will always match the market value and current yield of a 20-year Treasury bond.
Disclaimer: The information contained in this article is neither an offer nor a recommendation to buy or sell any security, options on equities, or cryptocurrency. Investors Alley Corp. and its ...
more