Dow, S&P Slammed As Treasuries, USD Show Violent Gyrations
S&P 500, FROM TOP DOWN
It was less than a month ago that the S&P marched up to a fresh all-time high. The Dow Jones was crawling closer to the 30k level, and the question at the time wasn't 'if' but 'when' the Dow would hit that new psychological watermark. A month later and, well, charts speak louder than words.
S&P 500 WEEKLY PRICE CHART
(Click on image to enlarge)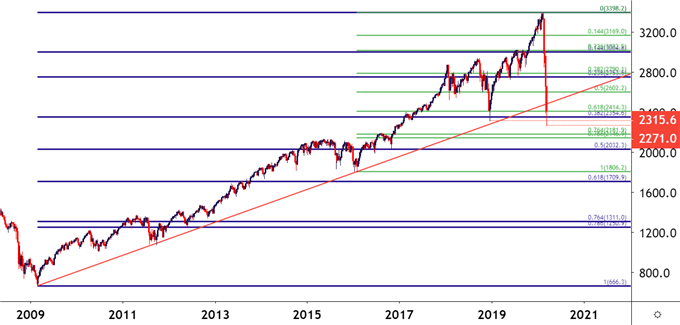 Chart prepared by James Stanley; SPX500 on Tradingview
Today the S&P 500 sold off yet again, breaking below a number of supports in the process and, as of today's US equity close – the index is now off a whopping 30.5% from the high set on February 19th. Today marks a fresh three-year-low in the index a mere 20 days after setting an all-time high. Remarkable.
Elsewhere - the Dow Jones Industrial Average has lost 32% since topping out in mid-February, highlighting outsized losses seen in blue-chip companies like Boeing, who is now beset by not only issues around the 737 max but the airline industry as a whole. The big item in the headlines today is the Dow re-crossing the 20k marker. But the 32% drawdown in a little over a month is also noteworthy.
DOW JONES WEEKLY PRICE CHART
(Click on image to enlarge)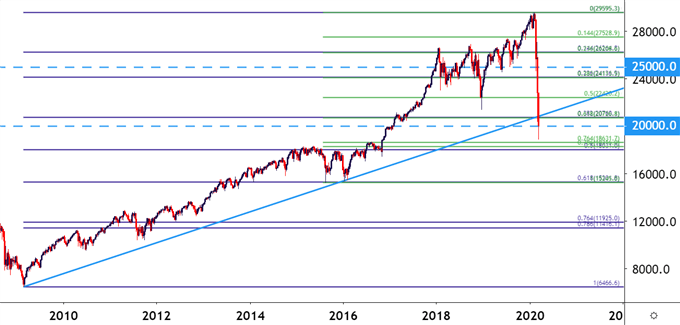 Chart prepared by James Stanley; Dow Jones on Tradingview
And its not just stocks where extreme moves are showing, as US Treasuries have been on a wild ride, taking on a closer resemblance to bitcoin or some random cryptocurrency rather than the stalwart of global sovereign bonds that it has always been.
Treasuries are like a baseline for the global financial system. US Treasuries are some of the largest debentures that aren't currently trading at negative rates, as 'pedal-to-the-floor' emergency accommodation in Europe and Japan have driven both German and Japanese debt into negative territory.
So, when there was a flight to quality, US Treasuries looked especially attractive, and there was a massive move of strength that shows very visibly in 'TLT,' which is the ticker symbol for an ETF representing US Treasuries with 20 years or more of maturity. The volatility here has spiked to extreme levels as last week's surge has been followed by a sell-off of extreme magnitude, with the 30-year yield driving down to .84% two weeks ago and then spiking back-up to 1.9% today.