Don't Worry About The 10-Year: Why Stocks Are Moving Higher From Here
There's been quite a bit of concern about an uptick in interest rates lately. In fact, the recent sharp rises in the 10-year Treasury as well as in other key rates helped push equities into correction territory. So, is this just the beginning? With rates on the rise, will market averages continue to slide? Or, can we expect markets to get accustomed to an "increased rate environment" and proceed higher from here?
There's No Exact Science Here
I sometimes hear market participants say "If the 10-year goes to 2%, how low will gold go, or how about the stock market?" and "What if the 10-year goes to 3%?" Well, there does not appear to be an exact science here. Nevertheless, let's examine several key factors to try to get a clearer image on what is likely going to occur next.
The apparent correlation between higher treasuries and lower prices in areas of the stock market appears to be a short-term phenomenon and is not likely to hold up in the intermediate and longer term.
Rates Just Part of the Image
If we examine the recent declines in the Nasdaq, the SPX, and in other major indexes, we see that the timing appears to coincide with a sharp increase in interest rates.
10-Year Treasury

Source: CNBC.com
Nasdaq Composite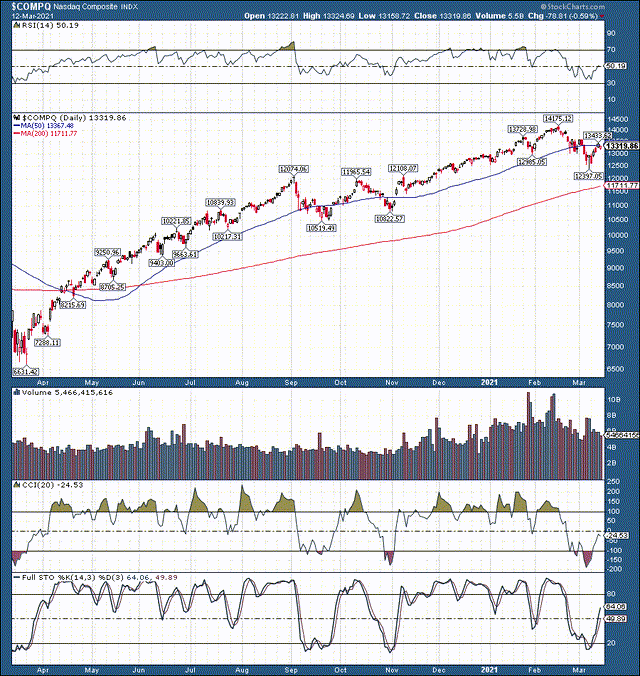 Source: StockCharts.com
We see that the Nasdaq topped out around mid-February, incidentally around the same time the 10-year and other key rates began to make notable moves. The consensus seems to be that rates should continue to rise. This creates a negative headwind for the economy and the stock market due to higher borrowing costs. Furthermore, there's an additional headwind to the stock market because higher yields on major bonds offer an attractive alternative to owning stocks and other risk assets.
Are Rates Really the Problem?
S&P 500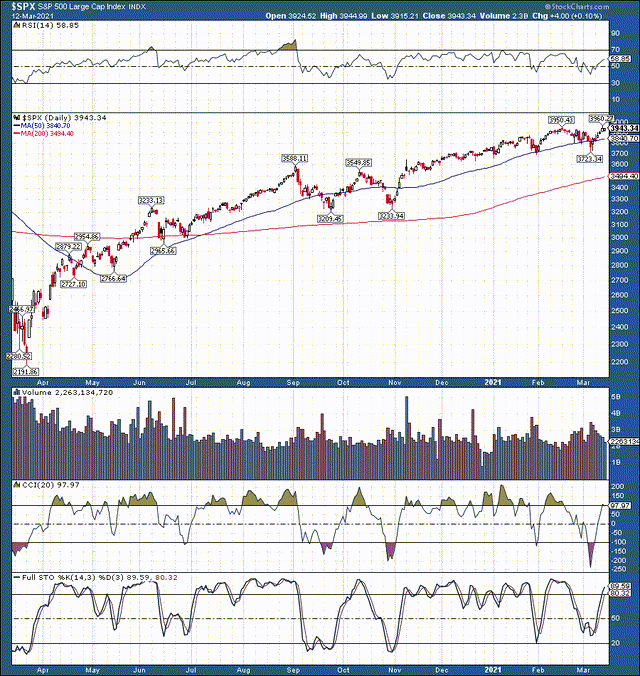 If we move away from the Nasdaq for a minute, we see that the SPX is back up near all-time highs ("ATHs") once again. This is despite the 10-year roughly tripling in yield since its low in August 2020. Also, if we look back on the recent correction, stocks likely declined due to several coinciding factors, not just a rise in interest rates. Along with a rise in rates, equities were confronted with frothy valuations in certain sectors, sell the news type events (end to earnings season, passing of fiscal stimulus), profit-taking, as well as other factors.
Disclosure: I/we have no positions in any stocks mentioned, and no plans to initiate any positions within the next 72 hours.
Disclaimer: This article expresses solely my opinions, is ...
more