'Deflationary Undercurrent': Stock Market Update For The Week Ahead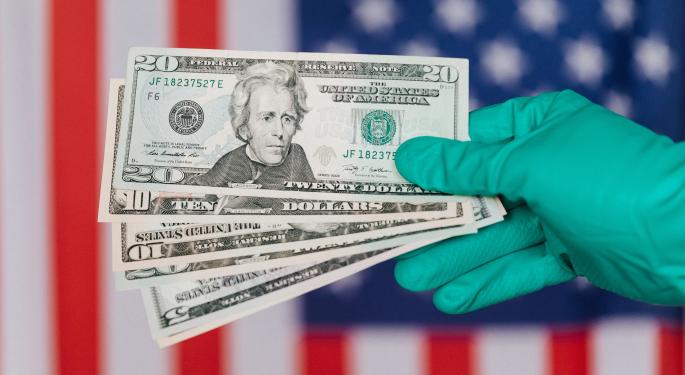 The Past Week, In A Nutshell
What Happened: Last week ended negative on relative weakness from the technology sector.
Remember This: "August benefited from multiple tailwinds, resulting in one of the best Augusts on record. Those tailwinds look stretched and at risk, however," said Brad McMillan, CIO for Commonwealth Financial Network.
"September is also historically one of the weakest months for the market, raising risks on a calendar basis, even before we consider the real possibility that the medical, economic, and market risks will reassert themselves."
(Click on image to enlarge)
Pictured: Profile chart of the Micro E-mini S&P 500 Futures
Technical: Broad-market equity indices ended the week lower with the S&P 500 correcting nearly 7%.
Recapping Last Week's Action: Alongside bets of an economic revival backed by prolonged central bank support, the S&P 500 established an overnight all-time high, prior to correcting lower, below value, and trading responsively into the close. On upbeat manufacturing data, Tuesday's trade built on the prior day's positive delta, finishing higher on a late spike.
Fueled by momentum in tech, Wednesday's session opened on a gap, accepted the prior day's spike, and placed initiative buyers firmly in control. After a brief test lower, regular trading discovered prices higher, leaving value and delta behind. At one point sellers finally entered and established excess on a spike high, suggesting the area could be resistive on subsequent tests.
Indices dropped overnight, Thursday, ahead of economic releases, catching up to the prior day's divergent delta. After an open below the prior day's excess, participants rejected higher prices and fueled an emotional liquidation that repaired numerous sessions worth of poor structure. In Friday's auction, participants continued the push lower before rejecting the low-volume area at $3,400 on a virgin test, and rotating back to test the supply area near $3,460.
© 2020 Benzinga.com. Benzinga does not provide investment advice. All rights reserved.