Deficit Spending May Yet Cause Inflation
The biggest question for long term investors is why bond yields remain so low. The Equity Risk Premium (see Stocks Are Still A Better Bet Than Bonds) has favored equities for most of the time since the 2008 financial crisis. Inflation expectations remain well-anchored and are noticeably lower than a year ago. Investors don't expect it will even rise to the Fed's 2% target within the next three decades, despite the Fed's professed objective to overshoot this.
Should inflation, and therefore interest rates, move surprisingly higher, a key support for the bull market would be knocked away.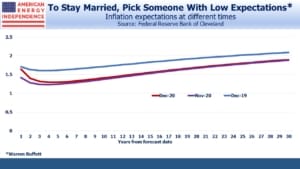 Betting on higher inflation, or even worrying about it, has been a wasted effort for as long as any of us can remember. My own career began in 1980, around the time inflation peaked. Bond yields have been falling ever since. Jim Grant's Interest Rate Observer has been warning of resurgent inflation for this entire period. That he retains so many subscribers shows how erudite prose beats accurate forecasts.
The most likely outcome remains low inflation. However, it's safe to say that few investors are prepared for a surprise. Should it happen, the resulting market response is likely to be traumatic.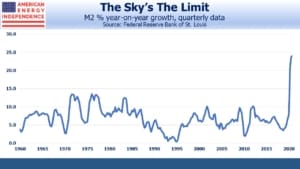 There are reasons to worry. M2 is rising faster than at any time in the past 50 years, exceeding even the inflationary late 70's and early 80's. The link between money supply and inflation appears to have broken, and any analysis of current conditions must consider that Covid has affected everything. Nonetheless, 24% year-on-year growth means something.
The Federal deficit, invariably nowadays the subject of hand–wringing but inaction, is forecast to be $3.3TN this year, at 16% of GDP the highest since 1945. The Congressional Budget Office expects total debt outstanding to reach 109% of GDP by 2030, exceeding the 1945 peak at the end of World War II. Unlike then, it is expected to remain at elevated levels.