Commodities Are Dead… Long Live Commodities!
Spoiler Alert: We have no inflation in commodities.
Healthcare, Education, Concert Tickets … absolutely.
But what about the stuff we consume and use every day?
CRB Commodities is made up of the following weighting:
Softs (Coffee, Sugar, Orange Juice) 23.5%
Energy 17.6%
Grains 17.6%
Precious Metals 17.6%
Industrials (Copper & Cotton) 11.8%
Meats 11.8%
Commodities – Big Picture on a Monthly Time-frame – show that we are still in a multi-decade low.
Yields have been falling, reflecting concerns about global growth, and also the dramatic change of direction by central banks, which was itself largely driven by fears for growth.
The 10-year Treasury yield is now almost a full percentage point lower than it was two years ago, and its trend is clearly downward. Indeed, if we take inflation expectations into account, the real 10-year Treasury yield has just gone negative.
According to the Bloomberg commodity indexes, industrial metals have now under-performed precious metals over the period since Donald Trump was elected U.S. president; and the price of oil is collapsing anew relative to gold. These moves only make sense if people are worried about growth. John Authers, Bloomberg
Sounds dreary, and John's commentary was before the CoronaVirus outbreak really grabbed American businesses' attention.
Despite my bearish leanings as detailed here: Perfect Storm: CoronaVirus and Market Risks, from my vantage point, we 'should' bounce soon (yellow circle). If not, we have more serious deflation to deal with – not just disinflation in the commodity patch.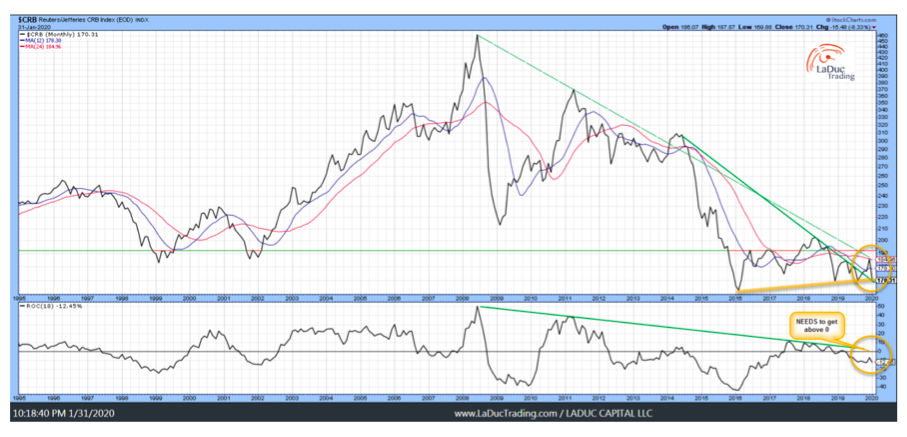 Now let's drop the USD softly behind the same chart and add some annotations. We have potential for a bounce, but also a lot of resistance and indecision. No clean signal yet. Still, chop. And a DXY that has been range-bound for 4 years! Clearly, the US Dollar makes the weather for commodities and Foreign Exchange volatility as at an All Time Low. You know my saying: Outliers Revert With Velocity. Watch the USD for The Tell.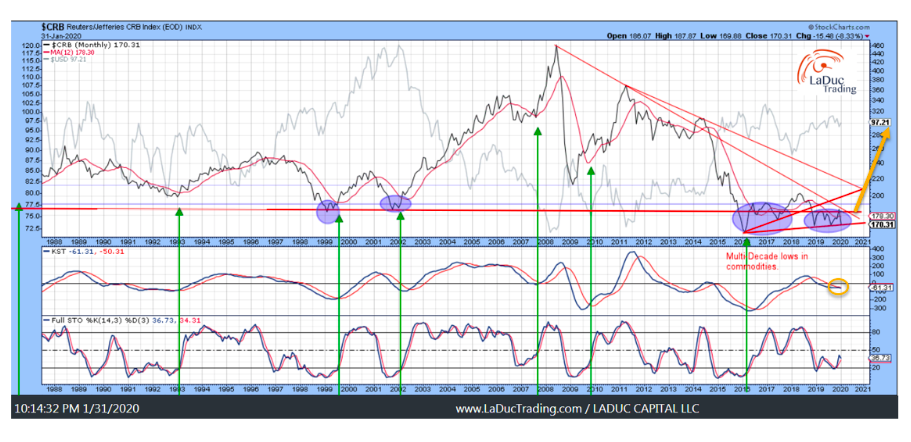 I should also add to this Intermarket analysis with the Macro read: it's bearish inflation.
@ISABELNET_SA Chart is suggesting that M2 velocity YoY leads US core inflation by 21 months. It has been quite accurate for more than 20 years. And it portends lower.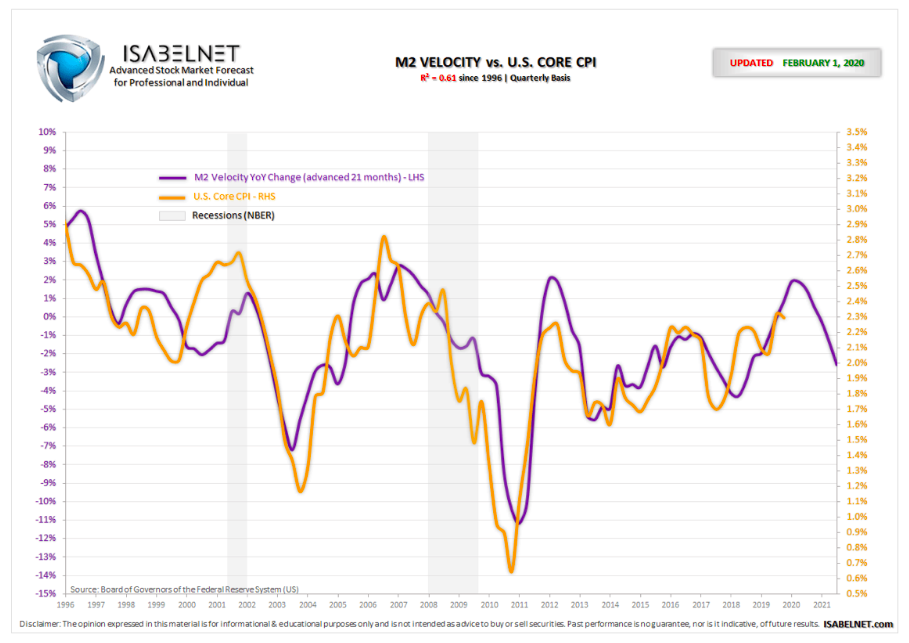 Commodities Dead? Long Live Commodities?