Broken Debt
Modern technology is amazing, but our ancient forebears built some wondrous things, too. Long-ago historians organized them into "Seven Wonders of the Ancient World." Of course, their "world" was the Mediterranean and Middle East. Other wonders existed elsewhere.
Last week I noted how some call compound interest the Eighth Wonder of the World. Is it really on par with the Colossus of Rhodes? Maybe. But today the Colossus is gone. So are the Hanging Gardens of Babylon. In fact, six of the seven wonders are now dust, and the Great Pyramid is slowly joining them. Compound interest seems headed in the same direction; great while it lasted, but nothing lasts forever.
The miracle of compounding happens only when two things occur:
First, interest rates are a positive number significantly greater than zero.
That has been less so in recent years, and low inflation expectations are a prime reason. Which brings us to the second thing:
Interest rates have to exceed inflation.
There is no positive benefit to compounding interest rates below the rate of inflation. My last article explained how official government inflation measurements are low in part because our benchmarks distort some important costs like housing. Today I'll show how the same applies in healthcare.
Then we'll ask who benefits from persistently low interest rates. The answer is borrowers, which is problematic when the biggest borrowers (the Fed and the US government) control rates and provide the data to justify it. Is it any wonder we have a debt problem? And a lot of the debt comes from healthcare, so it's all a big circle. The outlook is bad and getting worse.
Of course the market, in the forms of TIPs and similar instruments, projects inflation higher than the government measures. They can't both be right. We are going to look at broken debt and broken measurements, and then look at how Fed leaders painted themselves into a corner by shifting to a reactive stance this week.
For investors, this is about more than just policy. We could see both rising rates and rising inflation, with the Federal Reserve behind the curve. In fact, with this week's announcements, I think the Fed is intentionally putting itself behind the curve. I can't remember one instance where rising inflation and/or rising interest rates were good for the stock market in general.
But let's start with the measurement dilemma.
Inflated Healthcare
Last week I shared this table, breaking down expense weightings in the two primary inflation benchmarks, Consumer Price Index (CPI) and Personal Consumption Expenditures (PCE). Let's look again, but this time focused on healthcare instead of housing.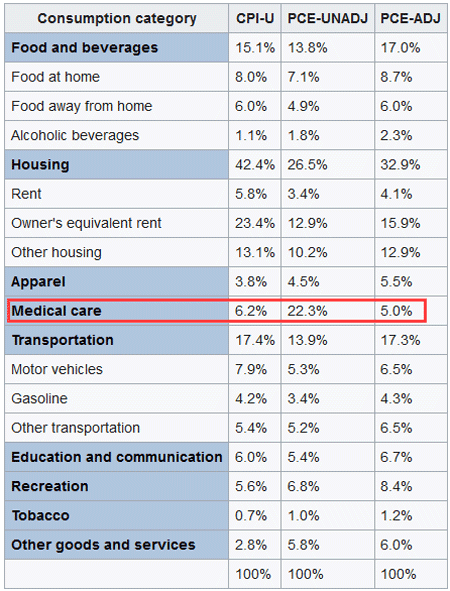 Source: Wikipedia
The first thing to notice is a huge difference between CPI and unadjusted PCE. This has to do partly with including employer insurance contributions. Healthcare is, in most cases, costlier than the consumer actually feels.
According to the Kaiser Family Foundation, in 2020 the average annual premium for employer-provided family healthcare coverage was $21,342. Of this, the average worker contribution was $5,588. (Note this is only for the insurance, not any deductibles or copays.) Of course, those vary by region, employer size, etc.
This next chart shows the actual total expenditure on healthcare for the last 50 years in the US.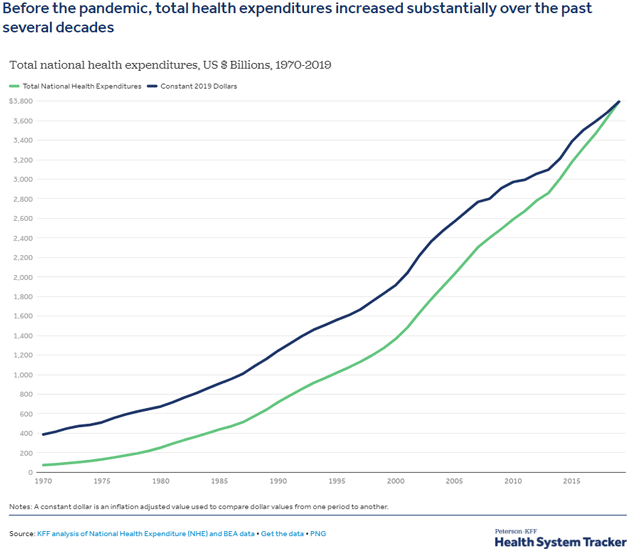 Source: Health System Tracker
Healthcare costs have been rising more than 4% on average every year for the last decade.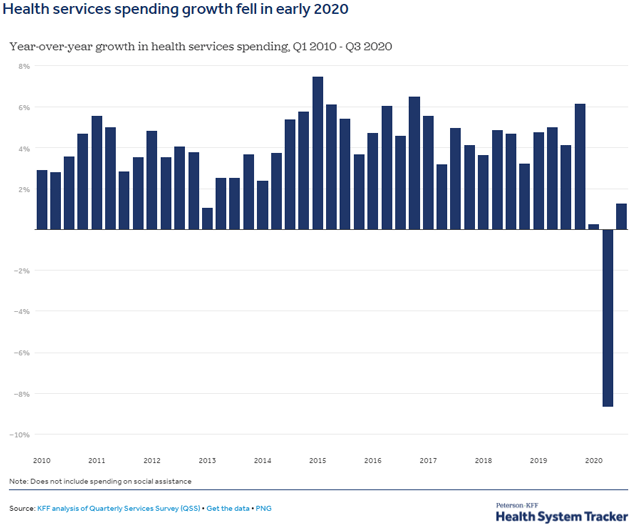 Source: Health System Tracker
In CPI and PCE, a substantial part of healthcare spending isn't captured as such, but is instead diffused in the prices of other goods and services. But let's go back to those premiums. Kaiser says the average worker with family healthcare coverage (I know, not all workers have it) pays $5,588 a year in premiums ($465 monthly).
The median two-parent household with children, per Census Bureau data, has an income of $88,149. That would mean they spend 6.3% of their income on health insurance premiums—a little more than PCE shows and very close to the CPI medical care weighting. But we're not done.
Disclaimer:The Mauldin Economics website, Yield Shark, Thoughts from the Frontline, Patrick Cox's Tech Digest, Outside the Box, Over My Shoulder, World Money Analyst, Street Freak, Just One ...
more