Bond Volatility Soars To 3 Year High
Over the past two years, there has been a distinct trend in capital market volatility: after several years of relatively higher bond market vol as measured by the MOVE index, which coincided with fading implied equity vol (especially in the record low for volatility 2017), equity vol exploded on two distinct occasions: the infamous February 2018 VIXtermination event, and the December 2018 mini bear market. On those two occasions, bonds were relatively well-behaved even as the VIX spiked above 35.
All that changed in August.
Amid growing risks of recession, an ongoing trade war, and geopolitical pressure in Hong Kong, Italy, and Argentina, stock markets had a modest increase in volatility in August. Indeed, as of 16-Aug, the S&P 500 (SPX) has seen an intraday high/low trading range of at least 1% for 13 consecutive days, only the 9th time this has occurred since the end of 2011 (the streak came to an end on Monday as the S&P's intraday range was only 0.60%). What's more, the index's intraday high/low range has risen dramatically to 1.66% on average over the last 10 days (and as high as 1.80% on 13-Aug), the widest since January 19 and in the 94th percentile since 2011.
(Click on image to enlarge)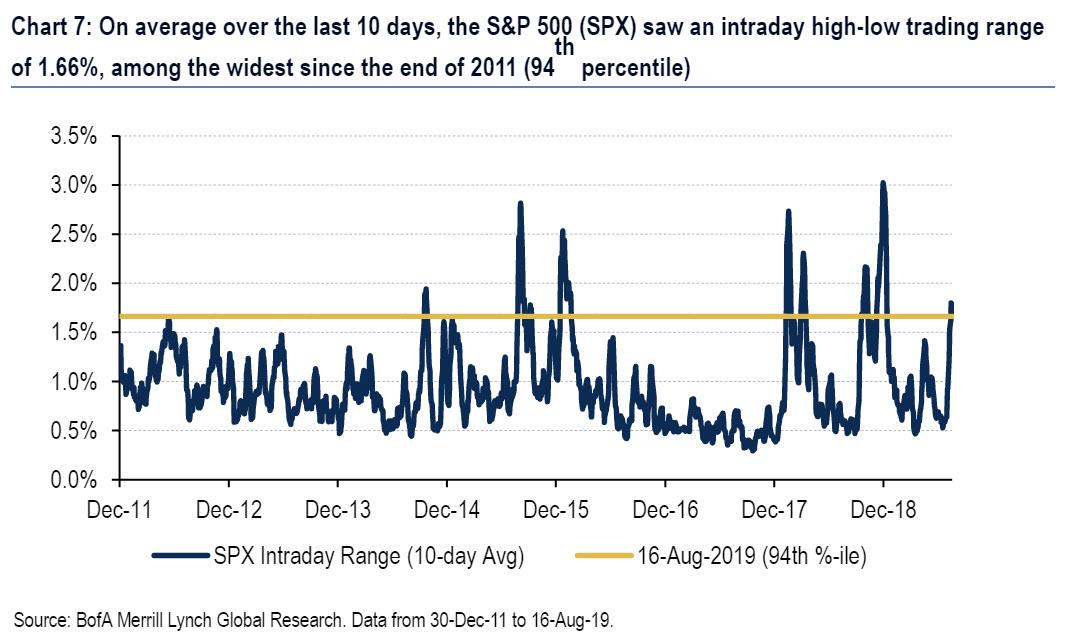 As a result, S&P realized vol has been driven substantially higher, from as low as 6% in mid-July (in the 6th percentile since 1990) to above 25% recently in the 91st percentile since the start of 1990. Meanwhile, after rising as high as 25, implied vol, or the VIX index, has resumed its slide and was trading below 17 at last check, below its long-term average of 20.
Yet while implied equity vol remains artificially suppressed thanks to activist central banks who - either directly or indirectly - sell vol, bond market vol has been rather excitable, and as shown in the chart below, the MOVE bond vol index hit a 3 year high late last week...
(Click on image to enlarge)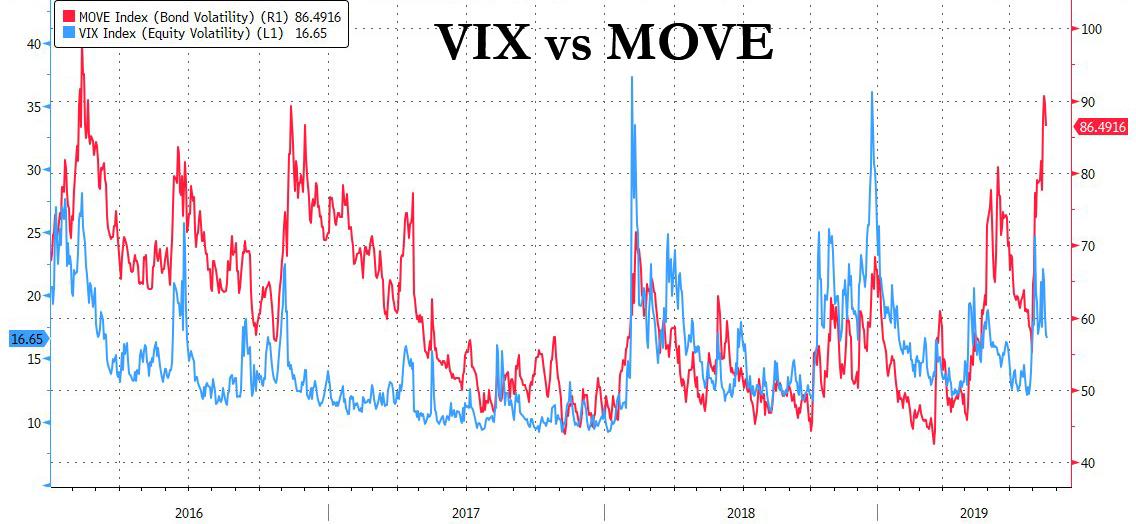 ... as overall market volatility has shifted and safe assets have inverted with stocks now far less jumpy than bonds, which are seen as the fulcrum class in the central bank transmission mechanism which is also why recently the average yield on non-US bonds dropped to negative.
Disclosure: Copyright ©2009-2019 ZeroHedge.com/ABC Media, LTD; All Rights Reserved. Zero Hedge is intended for Mature Audiences. Familiarize yourself with our legal and use policies every ...
more