Blue (Wave) Beats Gold
What a week! First gold soared to almost $1,960, but then its price (London P.M. Fix) plunged to $1,863 on January 8, as the chart below shows.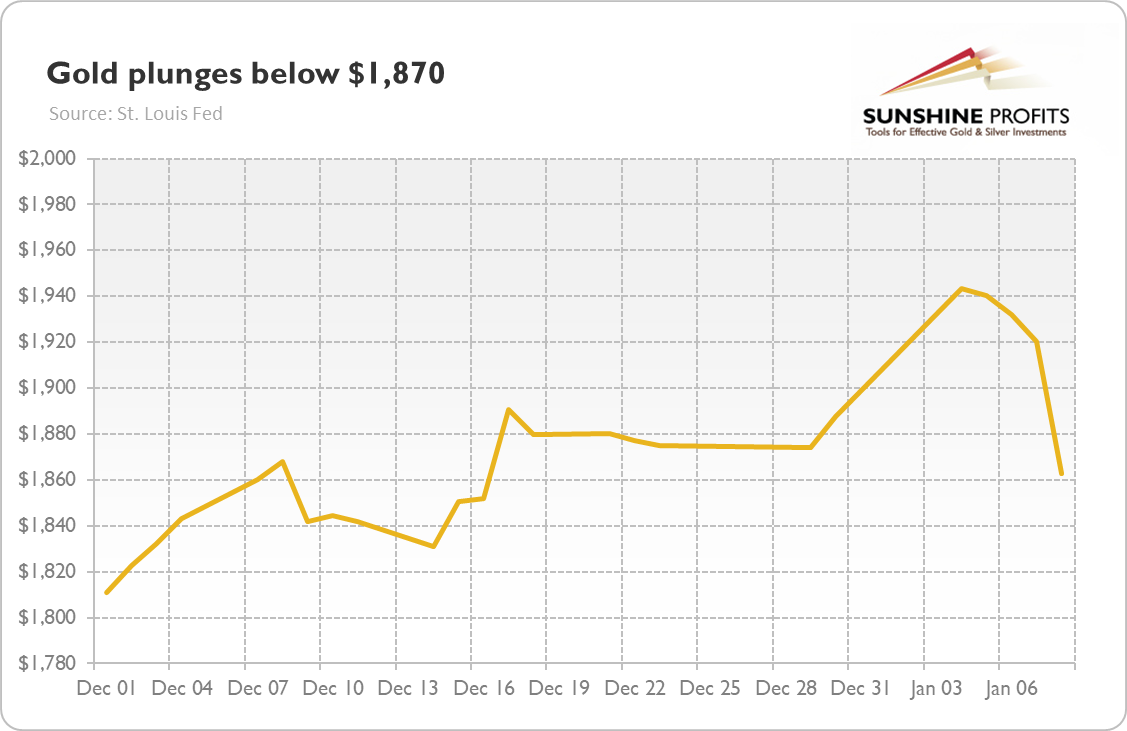 This is quite strange (and bearish) behavior, given what happened last week. First, there were violent pro-Trump protests in Washington D.C. The rioters stormed the U.S. Capitol. During these riots, five people died. Given the chaos in the capital, gold, which is a safe-haven asset, should shine.
Second, the December Employment Situation Report came out. It turned out that the nonfarm payroll employment declined by 140,000 last month. The numbers fell short of expectations, as the pundits expected that the U.S. economy would add 50,000 jobs. The contraction in the nonfarm payrolls means that the winter wave of the COVID-19 pandemic hit the U.S. labor market rather significantly.
Third, despite the rollout of vaccinations (which is rather sluggish), the epidemic in the U.S. is taking its toll. The number of daily new cases of the coronavirus is above 250,000, the record high, as the chart above shows. So, we see the impact of the winter holidays showing up in the data.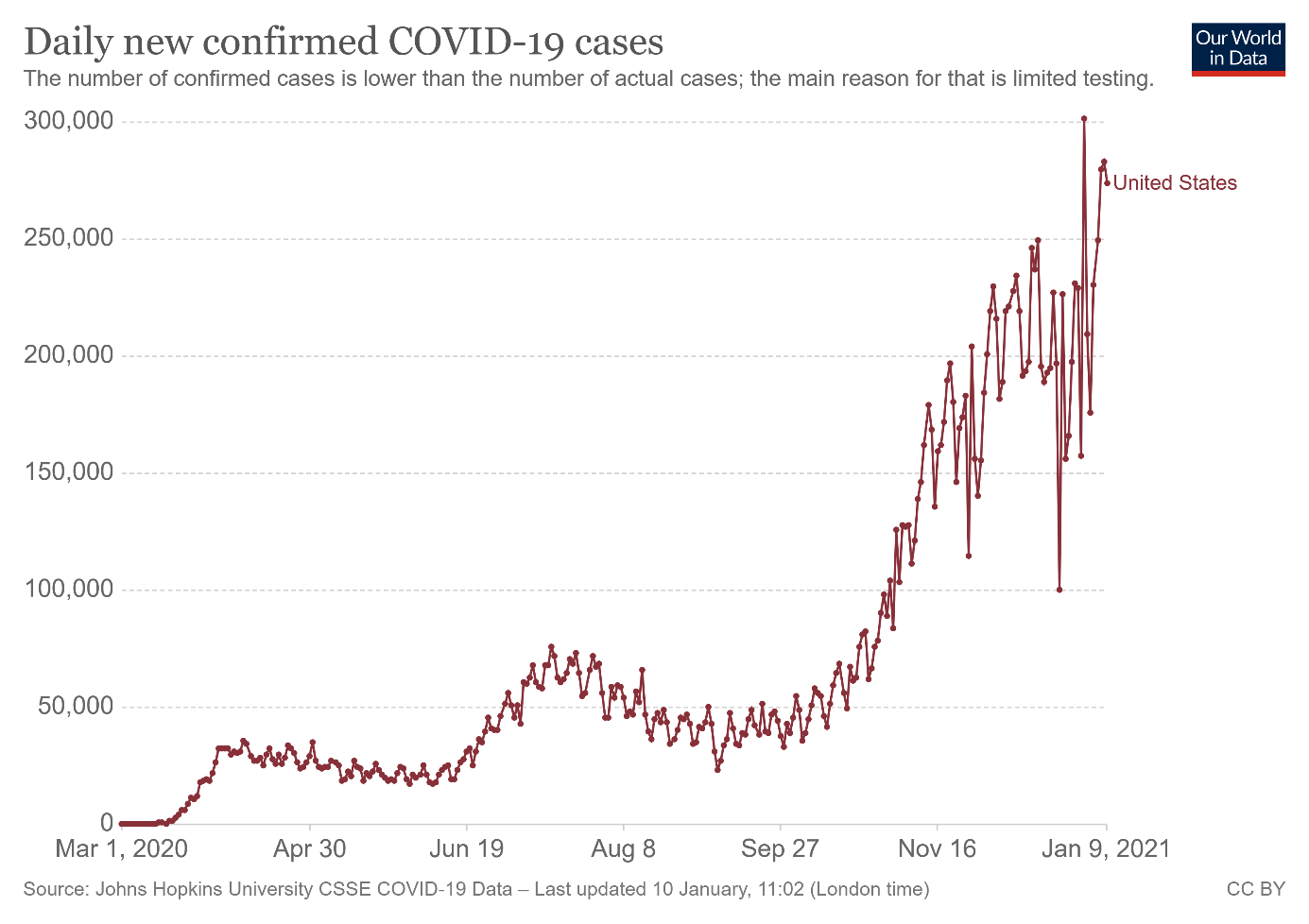 Rioting will also not help in limiting the spread of the coronavirus. Furthermore, hospitalizations and deaths are also rising. The past week saw the first time the U.S. reporting more than 3,900 deaths in a single day, as the chart below shows.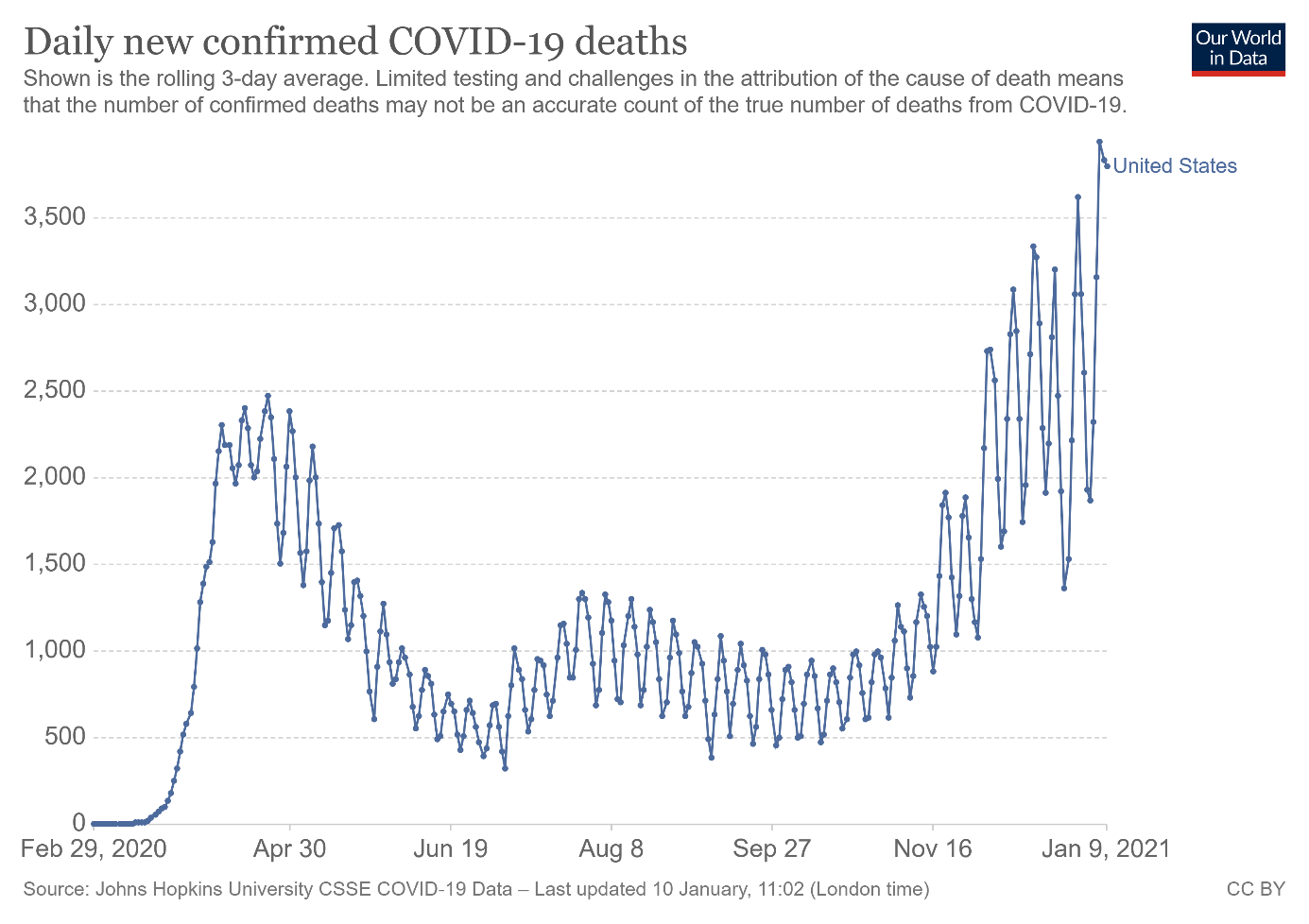 Lastly, both Democratic candidates won the runoffs in Georgia, which means that Democrats took control over the Senate. The unexpected blue wave raised expectations for higher taxes and larges fiscal deficits, which should be positive for gold.
Implications for Gold
These factors should have been bullish for gold and they should have made the price of the yellow metal rally, but they weren't and they didn't. It seems that investors generally welcomed the blue wave and focused on a positive side of that development, or it might have been the case that the gold market was reacting to technical developments, not the fundamental ones. In any case, we can see the replay of the 2016 presidential election when everyone expected that Trump's victory would be bad for the equity markets and positive for the precious metals market. But back then shares soared while gold plunged. We are currently witnessing something similar. Everyone thought that a blue wave would be the best scenario for gold, but the yellow metal dropped again.
Disclaimer: Please note that the aim of the above analysis is to discuss the likely long-term impact of the featured phenomenon on the price of gold and this analysis does not indicate (nor does it ...
more