Bitcoin: Why I Am Buying This Dip
Altcoins on Sale
VeChain (VET-USD)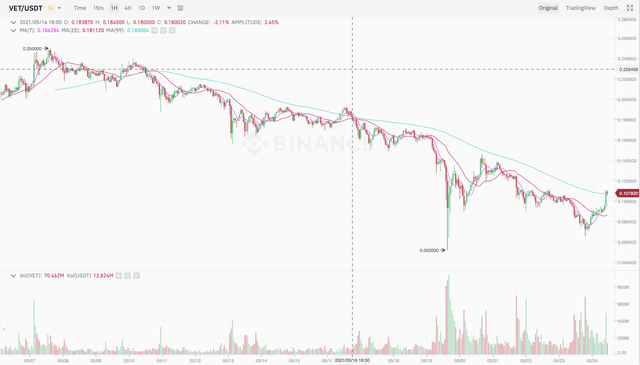 Source: Binance.com
VeChain, a top 20 coin, dropped by a jawdropping 80% from its recent top just days ago. VeChain, like many other coins, experienced an apparent flash crash during the hottest part of the meltdown. After the initial reversal, VeChian and other altcoins followed Bitcoin to a retest of the correction lows.
Ethereum (ETH-USD)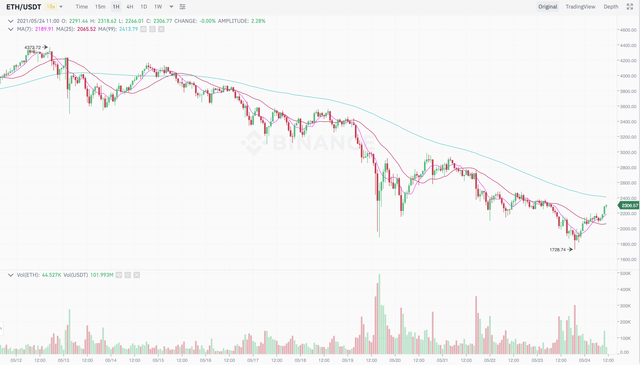 Source: Binance.com
Ethereum, the world's second-largest cryptocurrency by market cap, dropped by around 60% from its recent ATH and was down by over 40% on the day the initial meltdown occurred. Again, look at the massive volume and panic selling that occurred during the height of the correction process. We also see a confirmed retest on lower volume.
Zilliqa (ZIL-USD)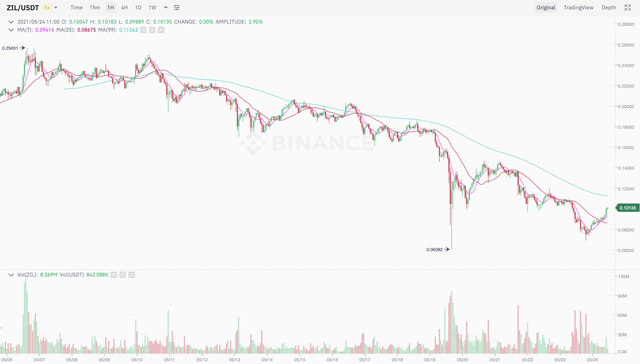 Source: Binance.com
Zilliqa dropped by 76% from its recent ATH, after which we saw a retest of correction lows.
Binance Coin (BNB-USD)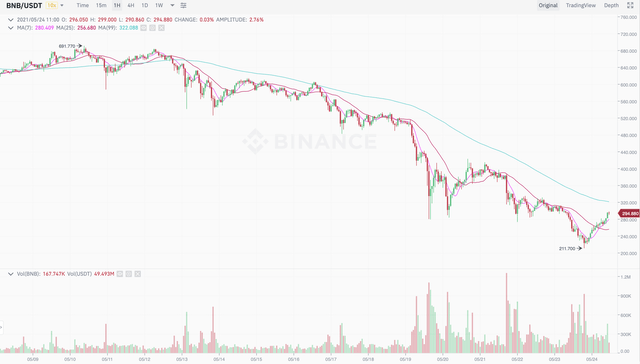 Source: Binance.com
Binance Coin, the number three digital asset by market value, dropped off by 69% from its peak during the cryptocurrency meltdown and the subsequent correction process.
The Bottom Line
Regardless of how many charts we see, a very similar pattern emerges in just about everyone. The digital asset segment went through a sharp correction that culminated in a flash crash on massive volume. Most assets in this sector experienced drops of over 50%, and some went down by 80% or more within days. Also, we see clear evidence of retests in Bitcoin and many other digital assets. Bitcoin's meltdown carries the hallmarks of a massive correction inside of a bull market cycle. Despite the recent headlines, the fundamental image has not changed materially. The Fed continues to balloon the monetary base, and Bitcoin's supply remains limited. I bought this dip as Bitcoin's price should recover and may go on to make new ATHs soon.
Risk Factors
Bitcoin remains a volatile asset and is not suited for everyone. Numerous factors like increased government regulation, hacking, functionality issues (such as speed, cost, and scale), fraudulent activity, and other detrimental elements could impact Bitcoin's popularity and affect its price negatively.
Disclosure: I am/we are long BTC-USD, VET-USD, ZIL-USD, ETH-USD.
Disclaimer: This article expresses solely my opinions, is produced for informational purposes only, and is not a ...
more