Bitcoin: Undervalued Digital Assets - Revisited
Fed's Balance Sheet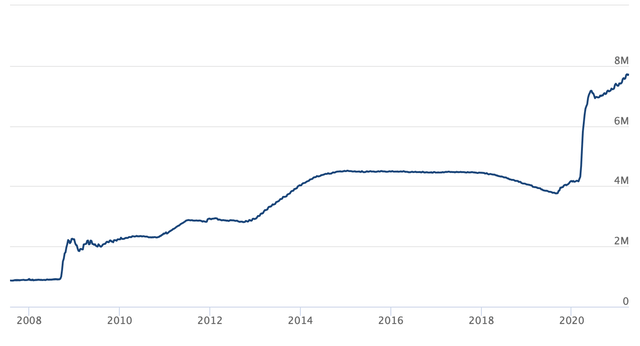 Similar image in the Fed's balance sheet, as we were looking at about $7 trillion around a year ago, and are now approaching $8 trillion. Furthermore, we can see about a nine-fold increase in the Fed's balance sheet since around 2008. This is quite massive, and it illustrates just how distorted the current monetary order has become. Central banks can essentially manipulate, expand, and devalue fiat currencies at will, something that cannot be done with Bitcoin, and with other truly decentralized digital assets.
Valuation Wise

It was much easier to argue for undervaluation a year or so ago when the cryptocurrency complex sported a market cap of about $200 billion and not $2 trillion like it does now. We also can see that the total market cap of all digital assets in circulation is more than double that of the previous top in early 2018. However, to put things into context, there are more than 9,000 different cryptocurrencies now, nearly twice as many as there were during the peak in 2018. Also, while $2 trillion may seem like a great deal of money, it is less than the value of just one very successful technology company, Apple (AAPL).
How Much Money?
If we look at all the "money" in the world, we can see that Bitcoin and the digital asset segment still have relatively small market shares. Despite the segment's appreciation over the last year, we can see that even by today's market value, all the digital assets combined are worth only around one year of the world's military spending, or just about one half of one year of the U.S.'s Federal budget deficit. There are single companies that are worth more, or close to as much. All of the world's gold is worth about 5 fold more, the broad monetary base is worth roughly 50x as much, all of the global debt is worth around 125 times as much, and derivatives, about 500 times more. So, we can see that in the greater scheme of things the expanding digital asset segment is still worth far less than many other asset segments, and likely has a lot more growth in the years ahead.
Disclaimer: This article expresses solely my opinions, is produced for informational purposes only, and is not a recommendation to buy or sell any securities. Investing comes with risk to loss ...
more